BlueAnt Supertooth Light Bluetooth Speakerphone
By
Introducing BlueAnts Supertooth Light
As more and more state and local legislation is passed to bar the use of cell phone activity in automobiles, users of wireless devices are looking for solutions to their needs of true hands-free devices. Here in California, the Govinator signed into law regulations banning the use of driving while using a cell phone unless the user uses a headset, earbud or other technology that frees both hands to concentrate on driving. Lest you think that this is one of those crazy laws that only Californians have, you need to wake up since California will be the fourth state (after New York, New Jersey, Connecticut, and Washington, DC) to implement such laws. There are at least 35 other states considering such laws. It is estimated by the end of 2008, all states will have introduced a law limiting the use of mobile devices in automobiles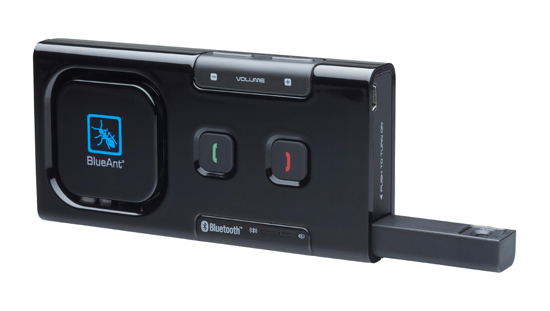 For most people, these laws arent really an issue. They can just use the wired headset that come with their nice new phones and call it a day. Many people have purchased 3rd party wireless headsets for use with their mobile devices. For others, earbuds, and other headsets arent the best solution for their particular case.
At Legit Reviews, we have been fortunate to review some great wireless Bluetooth headsets for use with popular mobile devices. These Bluetooth headsets have been for a variety of jobs including: listening to stereo music, chatting on-line using VOiP, and just plain old chatting.
The common thread in all the devices that we have reviewed thus far has been that they either fit on, or inside the ear allowing the user to communicate. Today, we look at a device that does neither. The BlueAnt Supertooth Light Bluetooth handsfree speakerphone is an easy way to create a hands-free environment in your automobile. It easily mounts to your sun visor and comes with noise-cancelling technology powered by a Cambridge Silicon Radio (CSR) Digital Signal Processor (DSP). The Supertooth Light retails for $99 and comes in two colors, White and Black. Our friends at BlueAnt sent us over a production unit for the Legit Reviews road warriors to battle test.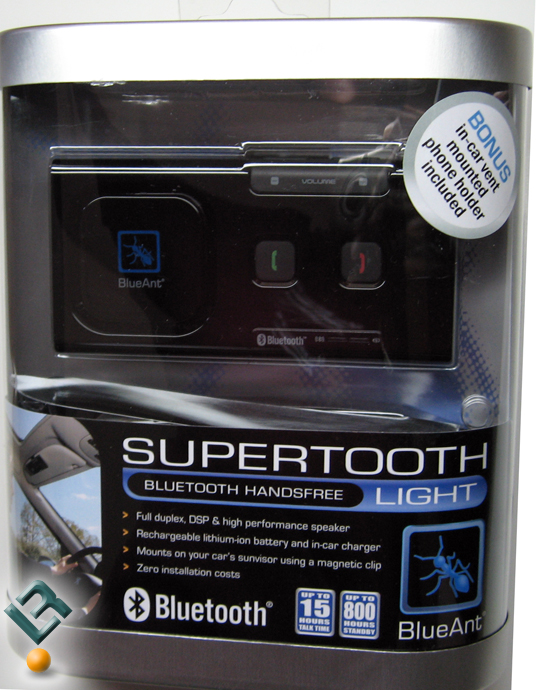 For those not aware, BlueAnt Wireless is Australias largest supplier of Bluetooth devices. BlueAnts product list includes hands-free, stereo audio streaming. Their large catalog of wireless communication products offer up some pretty nice and cutting edge technology and features. Based in Melbourne, Australia, BlueAnt has expanded its operations to the U.S with a North American office located in New York.
With the never ending boom in wireless devices in North America, we in the States are starting to see more and more BlueAnt products creep into our local wireless store and become more and more popular on the net. Their combination of features and low price make their product one that Legit Review just had to take a closer look at.
Featured Specifications:
Bluetooth Version 1.2
Operating Range: 10 meters
Frequency: 2.4 GHz
Talk Time: 15 hours
Stand-by Time: 800 hours (or 33 days)
Battery Type: Rechargeable Lithium Ion
Digital Sound Processor (DSP) for noise & echo cancellation