Bitfenix Nova Mid-Tower PC Case Review
By
BitFenix Nova Mid-Tower Case

I can remember the first time I heard of BitFenix, they were an unknown company that was pushing the boundaries by releasing a case with four USB 3.0 ports, at a time when many case manufacturers were just beginning to include two USB 3.0 ports. From that point, BitFenix is one of those companies that has never failed to impress me with their products. They focus on manufacturing high quality products, while keeping to a budget friendly price. One of their latest cases is the Nova, it is a mid-tower case, that is geared to the extreme budget minded individuals.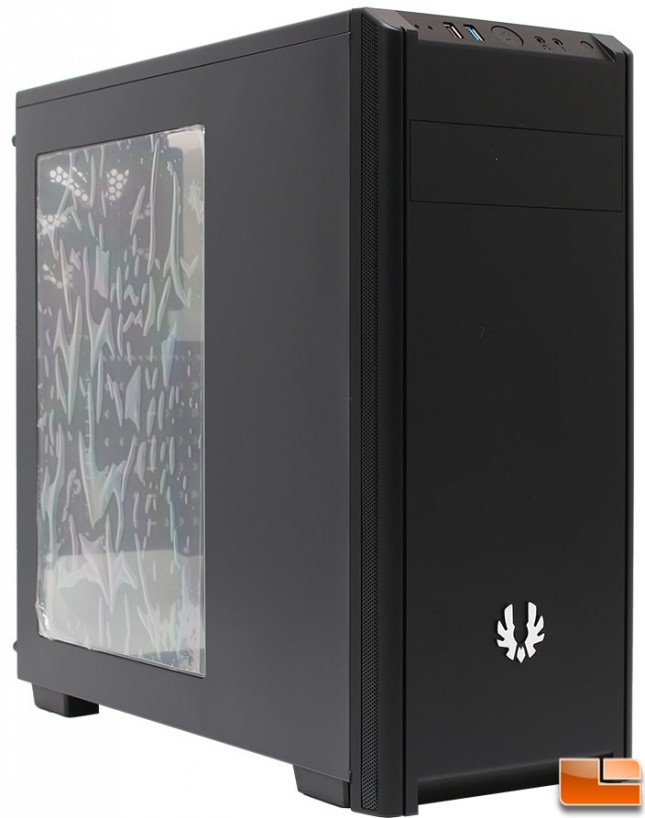 The BitFenix Nova can be found online starting at $58.97 with free shipping depending on the model you choose; of which there are a total of two main models, offered in Black or White. We will be looking at the Black Windowed version of the Nova, which is sold under part number BFX-NOV-100-KKWSK-RP, and can be purchased for $69.00 with free shipping.
No matter which version of the BitFenix Nova you purchase they are similar in overall features. These features include a single 5.25″ device bay, front USB 3.0, multiple storage options, high quality construction, a solid noise-blocking front panel, and several other features squeezed into a budget friendly case.
Like most manufacturers, BitFenix has opted to package the Nova in a no-frills plain cardboard box. This doesn't detract from the case as it is a very common method of packaging, and most are purchased online. The front of the box provides a glimpse of the case and the make/model. If you do need to know a little about the case, BitFenix has you covered on the back of the box, where they have placed a couple different views of the base, along with listing the cooling and storage features. As shipping is the most common delivery method, the case is packaged in a standard fashion, nestled between two large foam blocks that will protect it from most shipping damage.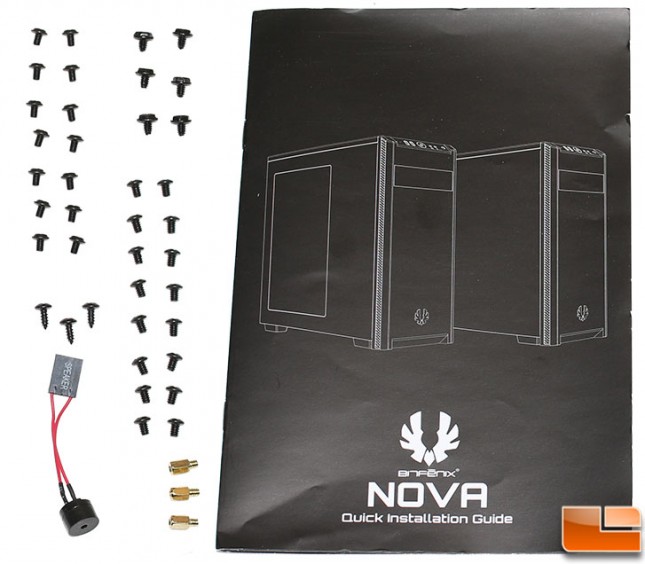 For a low cost case, you shouldn't expect too much in the way of accessories. There should be plenty of screws to successfully build your system. According to the installation guide, BitFenix includes 10 motherboard screws, 3 front panel screws, a speaker, 4 2.5″ hard drive screws, 16 3.5″ hard drive screws, and 3 motherboard standoffs. Our review sample included all of these, plus some extra screws.
BitFenix Nova Features
Closed front panel to block noise
Front panel side vents for good airflow
Pre-installed mainboard stand-offs
Ruberized anti-slip casefeet
PSU dust filter
BitFenix Nova Specifications
Colors
Black – White
Motherboard
ATX, Micro ATX, Mini-ITX (7 expansion slots)
CPU Cooler
up to 160mm tall
VGA
up to 320mm long and up to 140mm tall
Power Supply
up to 220mm long
5.25″ ODD Slots
1
3.5″ HDD Slots
4
2.5″ SSD Slots
2
Dust Filter Bottom
slide-out PSU Dust Filter
Cooloing Front
120mm x 2
Cooling Rear
120mm x 1 (included)
Radiator Rear
120mm
I/O
USB 3.0 x 1, USB 2.0 x 1, HD Audio Mic & Headphone, Power LED (white), HDD LED (red)
Dimensions
183 x 437 x 465mm – 7.20 x 17.20 x 18.30 inch
Materials
Steel, Plastic
Weight
4.8Kg – 10.6lbs
Part Numbers
Nova Window
Black – BFX-NOV-100-KKWSK-RP
White – BFX-NOV-100-WWWKK-RPNova Steel Side Panel
Black – BFX-NOV-100-KKXSK-RP
White – BFX-NOV-100-WWXKK-RP
Let's take a quick look at what the BitFenix Nova looks like.