BIOSTAR Hi-Fi Z77X Intel Z77 Motherboard Review
By
BIOSTAR Hi-Fi Z77X High Definition Audio Performance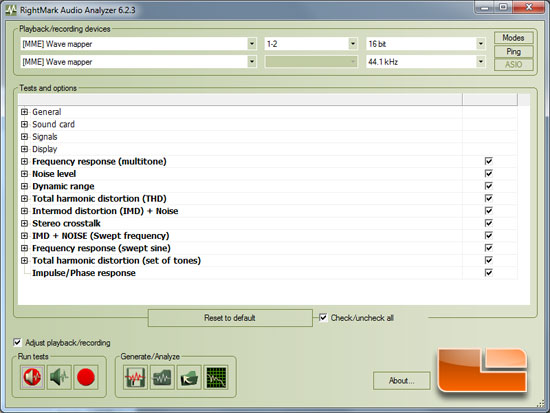 The RightMark Audio Analyzer suite is designed for testing quality of analog and digital paths of any audio devices, be it a sound card, an MP3 player, a consumer CD/DVD player or an acoustic set. The results are obtained by playing and recording test signals passed through the tested audio path by means of frequency analysis algorithms. The latest version of RightMark Audio Analyzer can be found here.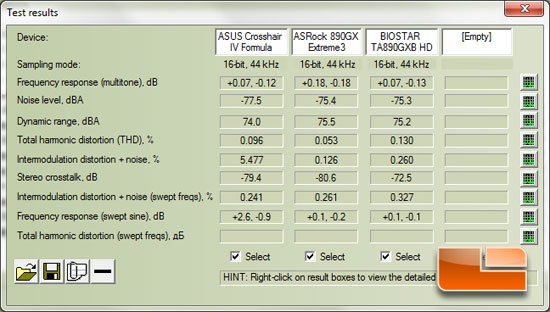 Rightmark Audio Analyzer Comparison Chart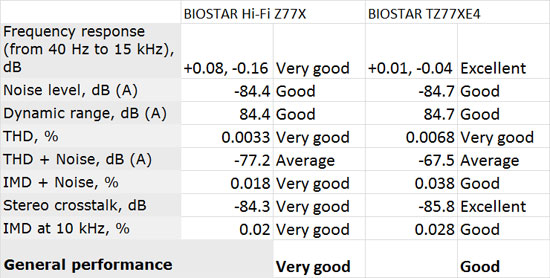 BIOSTAR Hi-Fi Z77X – Realtek ALC898 W/ Hi-Fi Components
BIOSTAR TZ77XE4 – Realtek ALC898
The BIOSTAR Hi-Fi Z77X brought it's A-Game in our Rightmark Audio Analyzer testing today. The Hi-Fi Z77X was able to step up the overall performance to 'Very Good' compared to the TZ77XE4 overall performance of 'Good'. We are glad to see that there is a measurable difference between the two boards despite using the same Realtek ALC898 High Definition Audio Codec.