BIOSTAR Hi-Fi Z77X Intel Z77 Motherboard Review
By
BIOSTAR Hi-Fi Z77X Bundle and Motherboard Hi-Fi Audio Features
The BIOSTAR Puro Hi-Fi is the best audio solution available on BIOSTAR motherboards. Using a BIOSTAR Hi-Fi series motherboard like the BIOSTAR Hi-Fi Z77X we have today will allow you to experience virtual surround sound without the added cost of a dedicated sound card.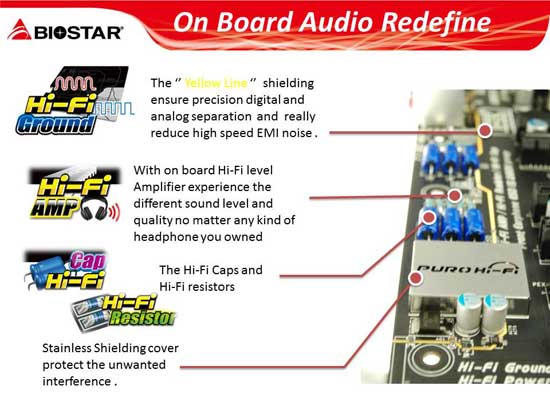 Above we can see the key components for the BIOSTAR Hi-Fi. The 'Yellow Line' that shields the audio components from the rest of the PCB, the Hi-Fi AMP, Hi-Fi Caps, Hi-Fi resistors, and the Stainless Shielding cover to protect the Realtek ALC898 high definition audio codec.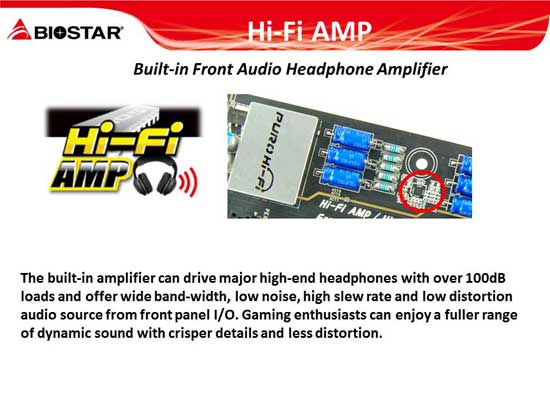 The BIOSTAR Hi-Fi Z77X uses a built in amplifier that can drive high-end headphones with over 100dB loads. It also offers a wide bandwidth, low noice, high slew rate and low distortion audio signal at your front audio ports.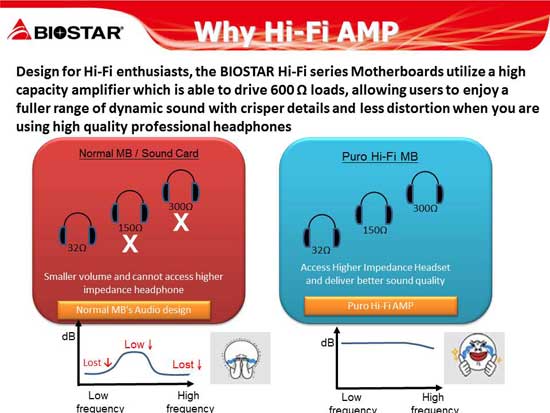 The BIOSTAR Hi-Fi AMP allows us to experience better overall sound when using high end headsets.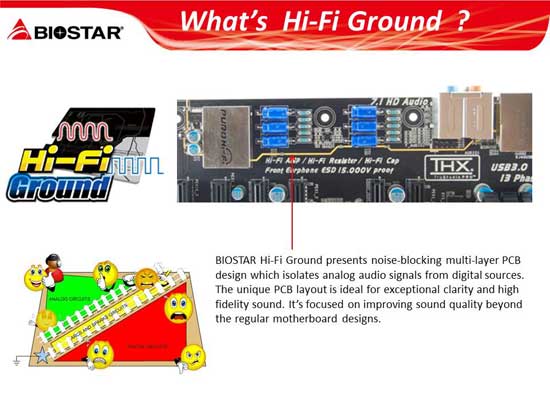 The BIOSTAR Hi-Fi Ground or the 'Yellow Line' helps protect the audio signal from any interference on the rest of the Hi-Fi Z77X motherboard.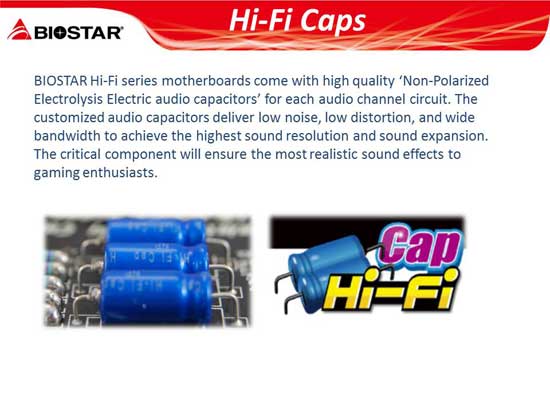 The BIOSTAR Hi-Fi Z77X uses an individual 'Non-Polarized Electrolysis Electric audio capacitor' per audio circuit. Each of these capacitors are customized to deliver low noise, distortion, and wide bandwidth for the highest sound resolution and expansion.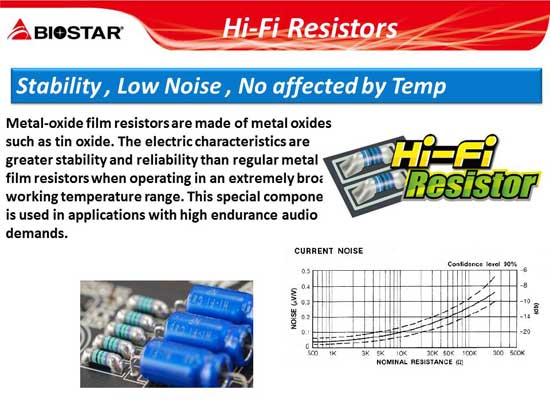 The Hi-Fi Resistors that BIOSTAR uses on their Hi-Fi motherboars offer greater stability and reliability than regular metal film resistors.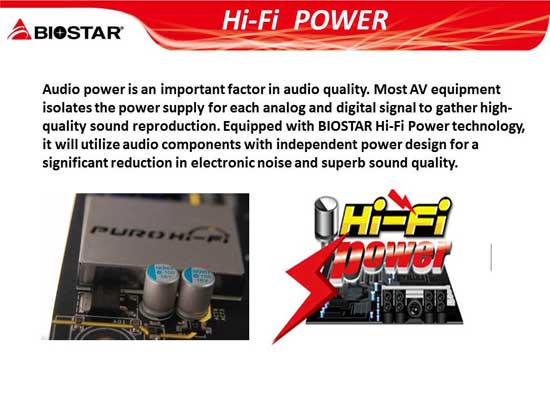 The BIOSTAR Hi-Fi Z77X is equipped with Hi-Fi Power, the Hi-Fi Power is an independent power supply for the audio circuitry. This allows for a significant reduction in electronic noise and better sound quality.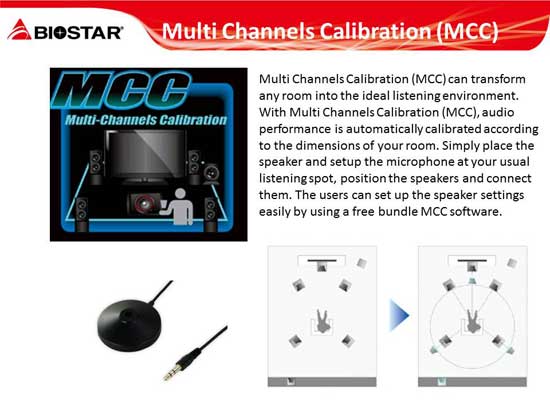 By utilizing the MCC (Multi Channel Calibration) and the included microphone, we can automatically configure the audio settings.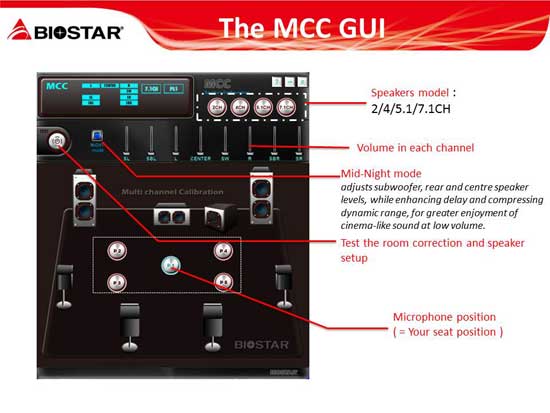 Above you can see the MCC GUI and a few of the different options like Mid-Night mode, volume for each channel, and the surround sound mode.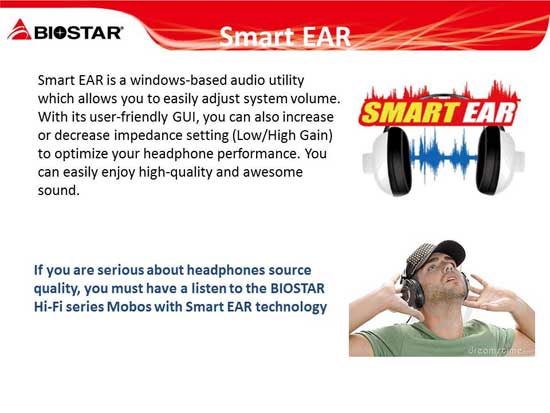 The Smart ear utility from BIOSTAR allows you to adjust the impedance settings, and customize it to the headphones that you use for the best listening experience.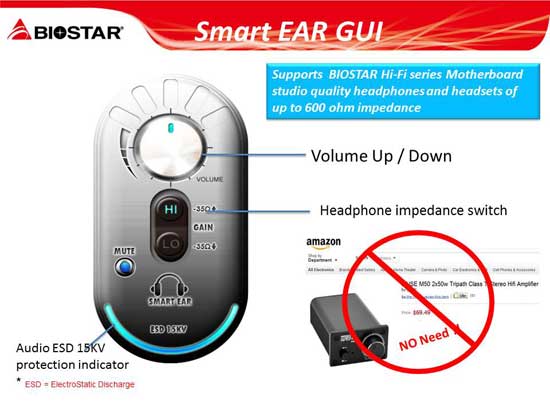 The Smart Ear GIU lets us adjust the volume, impedance, as well as having a audio ESD (ElectroStatic Discharge) indicator.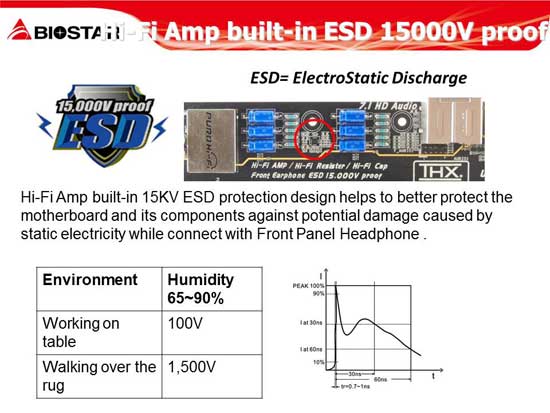 The BIOSTAR Hi-Fi series of motherboards has built in protection of up to 15000 Volts of ESD.