ASUS VivoTab Smart ME400 10.1 inch Windows 8 Tablet Review
By
ASUS VivoTab Smart 10.1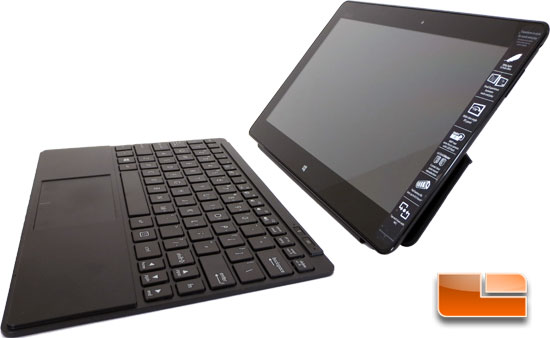 ASUS recently sent over one of their latest tablets for us to play with. The ASUS VivoTab Smart is a 10.1 inch tablet that runs the full version of Windows 8 and has all the bells and whistles one would expect. Hardware wise, the VivoTab Smart is a pretty well stacked piece of equipment. At the heart of the VivoTab Smart is an Intel Atom Z2760 dual core processor backed up by 2Gb of DDR3 DRAM. The ASUS VivoTab Smart has 64GB of storage built into the unit with an additional 32GB of online storage for three years from ASUS. Currently you can pick up the ASUS VivoTab Smart for only $449.99 shipped, the ASUS TranSleeve Keyboard is available for only $99.98 shipped.
One of the (many) key points of the ASUS VivoTab Smart is the battery life. ASUS claims that the VivoTab Smart is capable of over 9.5 hours of mobile computing! Though, their idea of mobile computing for battery life is 720p video playback with 100 nits brightness, default volume with headphones and Wi-Fi active. Not sure that that is exactly mobile computing, but we will be sure to see how the battery holds up with Futuremark Powermark.
Some of the Windows 8 Tablets out there run the neutered version of Windows 8, commonly known as Windows RT. Windows RT has some limitations, one of the main ones that comes to mind is the software is quite limited at this time. While RT has software limitations, the version of Windows 8 on the VivoTab Smart is the full blown version of Windows 8! What does this mean for us, well, we can install and run just about any Windows software out there. The only thing we are limited by is processing power. The Intel Atom processor isn't nearly as powerful as a processor like the Intel Core series. We may be able to run everything, it just may take a little longer to run.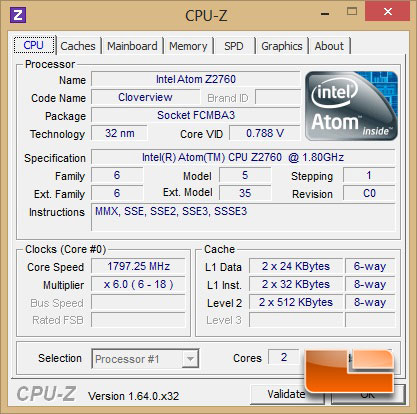 The Intel Atom Z2760 dual core processor runs along at 1.8GHz and turned out to be a pretty solid processor for the VivoTab Smart. Of course there is always room for more speed, but that would come with a sacrifice of battery life.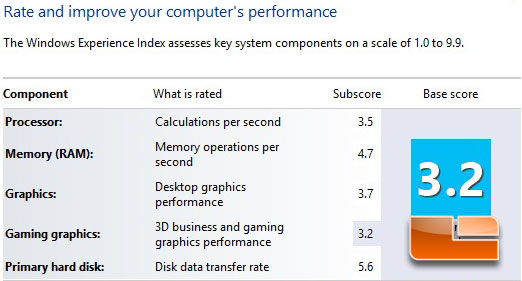 It's not exactly surprising that the VivoTab Smart didn't score to high on the Windows Experience Index. A score of 3.2 is relatively low by most standards today, though the WEI is mainly meant for desktop/laptop hardware.
ASUS was going for a versatile, user friendly piece of equipment with the VivoTab Smart. First impressions tell me that they have hit the nail on the head! Let's take a look at the specifications below and we can continue on our tour!
ASUS VivoTab Smart ME400 Specifications
Operating System
Display

10.1″ with Multi-Touch Screen WXGA (1366×768) Screen
IPS Panel

CPU

Intel Atom Z2760 Dual-Core

Memory
Storage

64GB
32GB 36 Months ASUS Webstorage Space

Wireless Data Network
Camera

2 MP Front Camera
8 MP Rear Camera

Audio
Interface

1 x 2-in-1 Audio Jack (Headphone / Mic-in)
1 x micro HDMI
1 x Micro USB
1 x Micro SD Card Reader(SDHC)

Sensor

G-Sensor, Light Sensor, Gyroscope, E-compass, Hall sensor, NFC

Application

SuperNote
Guide
Vibe Lite
ASUS Camera
MyLibrary
MyDictionary
Asus WebStorage
Amazon Kindle

Battery

8.5 hours; 25Wh Li-polymer Battery

Color
Dimensions

10.33 x 6.73 x 0.38 inch (WxDxH)

Weight