ASUS PCE-AC66 Dual-Band 802.11 AC PCIe Wireless Card Review
By
5GHz Test Results at 15 Feet:
We wanted to test the PCI-E wireless adapter in a real world application so we connected the installed it inside our custom water cooled Mini-ITX PC running Windows 7 64-bit and configured it using "Automatic" settings for both 2.4Ghz and 5Ghz bands. To test the wireless performance we used the Alienware M17x R4 gaming laptop that was directly connected to the ASUS RT-AC66U Dual-Band Wireless-AC1750 Gigabit 802.11ac Router. The Alienware M17x R4 features an Intel i7-3610QM CPU with 6GB RAM running Windows 7 64-Bit, and an NVIDIA GeForce GTX 660M video card.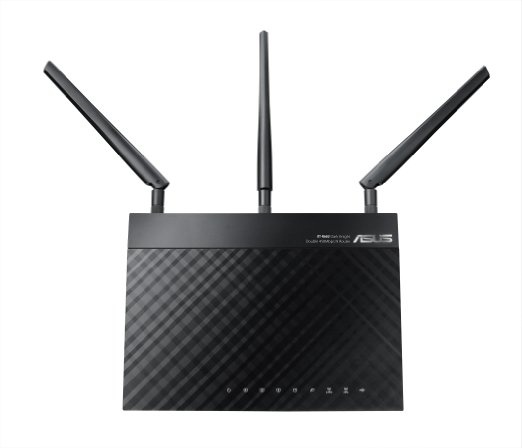 We used the laptop to run LAN Speed Server and then ran LAN Speed Test on the system with the wireless card to test throughput. We took our Alienware laptop and the ASUS RT-AC66U router and moved it 15-feet and then 30-feet away from the test machine to check out performance with both 1MB and 100MB packets.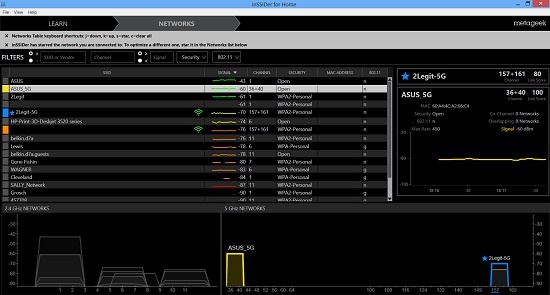 We left the router in default mode, so the SSID name for untouched and we let it automatically choose the channel to connect to. This means that the router was left in "Unsecure Mode" (for fastest data throughput), and with WMM / QoS turned ON. After connecting, we ran the PC application LAN Speed Test (LST) to measure file transfer and network speeds. LST builds a file in memory and then transfers the packet without the effects of windows file caching. It then reports the time and calculates the network speed. We ran inSSIDer to make sure the networks were not overlapping with any of the 20+ surrounding ones and they were not.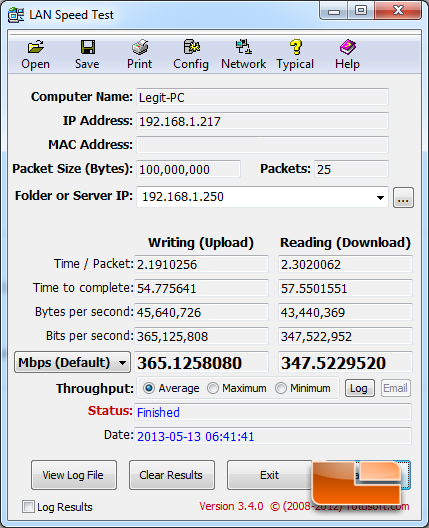 So, now that you know how we tested we can compare the Broadcom 802.11n solution that came integrated on the ASUS P8Z77I-Deluxe motherboard versus the Broadcom 802.11ac solution that is used on the ASUS PCE-AC66 wireless network card. This is a great comparison as both are powered by Broadcom SoC's and are implemented on devices by ASUS. It doesn't get much better than that.
1MB Packets: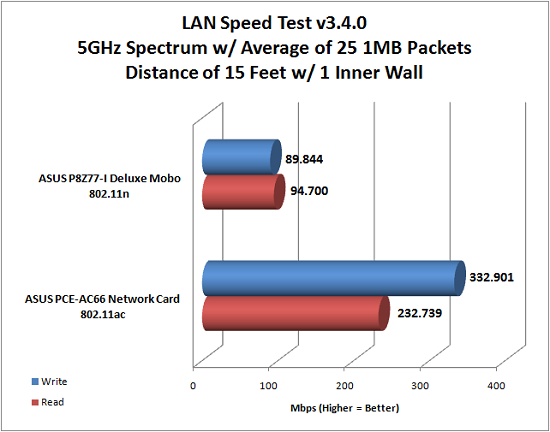 100MB Packets: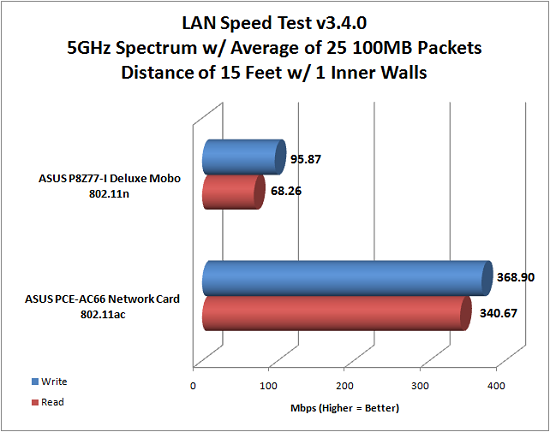 Benchmark Results: As you can the 802.11ac PCIe card absolutely dominated in this benchmark where there is just 15 feet between the desktop PC and the wireless router. We tested this through one inside wall with normal 2×4 construction that half inch drywall on both sides. This is just shy of a 4x performance difference and it's one that we could really tell on the system. For example 95Mbps (11.8MB/s) was keeping us from reaching the true potential of our cable internet service and at 369Mbps (46.2MB/s) we were able to do so. We were also able to stream multiple HD movies with an all 802.11ac network, which is something we were unable to do before on 802.11n.