ASUS MeMO Pad 7 Tablet Review – ME176C
By
ASUS MeMO Pad 7 Tablet Software – Android, ZenUI and Overall Usability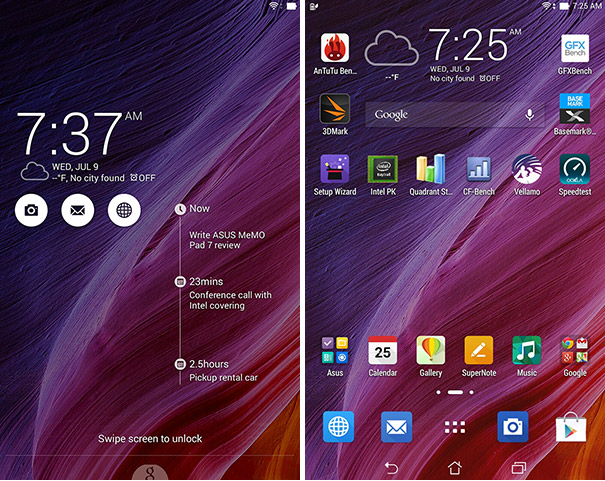 ASUS is using the company's new ZenUI mobile interface over Android 4.4 (KitKat). This is basically an Android wrapper that customizes the user interface and makes it ASUS unique. ASUS claims that the ZenUI features 200 separate enhancements over a standard Android install and also brings a colorful fun looking user interface to the table. One of the big features of the ZenUI is the ability to put your most important appointments on your daily schedule and then the ZenUI will let you know about it as the day goes on. There is the ability to schedule future things and even a 'Do It Later' option that allows you to sorta skip a task that you won't be able to do at the originally scheduled time. Some people don't like customized Android installations, but the ASUS ZenUI is pretty clean and we couldn't feel any slow down on Android 4.4 KitKat with the ASUS ZenUI running on top. The MeMO Pad 7 was quick to open up applications and scrolling through images, web pages and other applications were found to be very smooth. The Intel Atom Z3745 certainly has enough power to run this software without issue.
Here is a quick video overview of the ASUS ZenUI for those that have never heard about it before.
Here are some screen captures that we took of various screens to show you what the user interface looks like as well as the ever so important virtual keyboard. ASUS says that the MeMO Pad 7 tablet comes with over $270 worth of content and services, but you won't find any codes or mention of that in the retail packaging. We then looked for the eMusic and Zinio apps on the device itself thinking that ASUS might have pre-installed them for the consumer. They weren't. It turns out that you need to install eMusic and Zinio manually and that the 'Over $270 worth of content and services included' is broken down like this. If you install ZINIO you get 6 free Mini-Subscriptions to your favorite magazines and a $10 voucher at registration. With eMusic you get 75 complimentary music downloads.
Here is a closer look at the settings menu as well as the about and storage pages.
Now that we have the basics covered we can move along to performance testing!