ASUS Eee Top Review – Touch Screen Desktop PC
By
Benchmarks
CPU-Z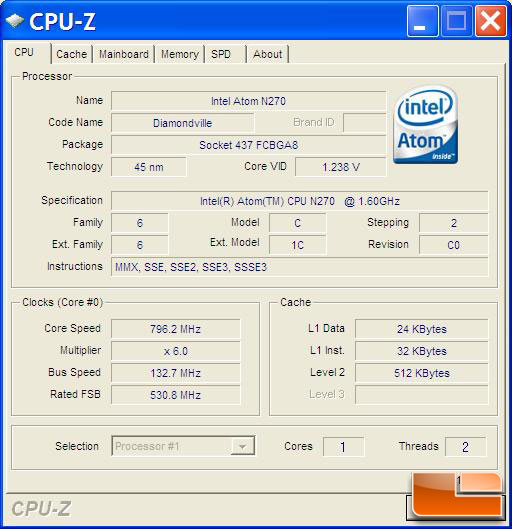 HDTune
HDTune is a free benchmark that measures the disk's transfer rates, access time, burst rate, and CPU utilization when reading from the disk.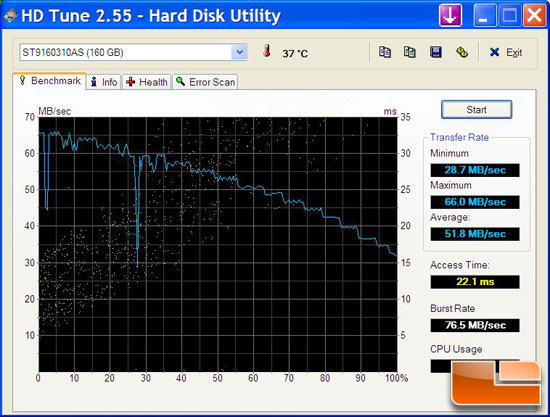 Results: There is really nothing special to see here. The drive performed pretty much how we expected it to.
PCMark 2005
PCMark05 is an application-based benchmark and a premium tool for measuring overall PC performance. It uses portions of real applications instead of including very large applications or using specifically created code. This allows PCMark05 to be a smaller installation as well as to report very accurate results.
Results: The ASUS N10Jc-A1 netbook and the ASUS Eee Top each sport an Intel Atom N270 Processor, 1 GB DDR2 RAM, a 160 GB HDD and Intel GMA 950 graphics. They are virtually identical machines, however, for some reason the Eee Top falls slightly behind in PCMarks.
3DMark 2006
3DMark 06 is still a popular standard in advanced 3D game performance benchmarking and the latest version in the popular 3DMark series available to run on Windows XP. 3DMark06 tests include HDR/SM3.0 graphics tests, advanced SM2.0 graphics tests, AI and physics driven single and multiple cores or processor CPU tests and a collection of comprehensive feature tests to reliably measure next generation gaming performance.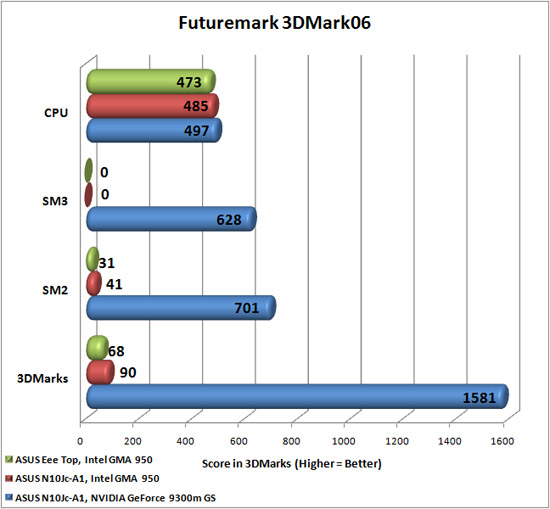 Results: The ASUS makes no claim that the Eee Top was built for gaming, and that's a good thing. However, we are still slightly confused as to why the Eee Top falls behind the N10Jc-A1 here when they have the same graphics?
Cinebench Release 10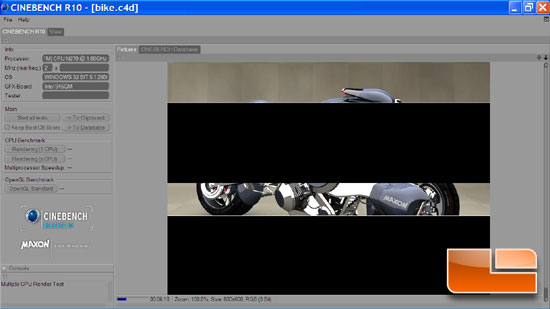 CINEBENCH is the free benchmarking tool for Windows and Mac OS based on the powerful 3D software CINEMA 4D. Consequently, the results of tests conducted using CINEBENCH 10 carry significant weight when analyzing a computer's performance in everyday use. Especially a system's CPU and the OpenGL capabilities of its graphics card are put through their paces (even multiprocessor systems with up to 16 dedicated CPUs or processor cores). The test procedure consists of two main components; the first test sequence is dedicated to the computer's main processor. A 3D scene file is used to render a photo realistic image. The scene makes use of various CPU-intensive features such as reflection, ambient occlusion, area lights and procedural shaders. In the first run, the benchmark only uses one CPU (or CPU core), to ascertain a reference value. On machines that have multiple CPUs or CPU cores, and also on those who simulate multiple CPUs (via HyperThreading or similar technologies), MAXON CINEBENCH will run a second test using all available CPU power. Again, higher Frames/Second and lower rendering time in seconds equal better performance.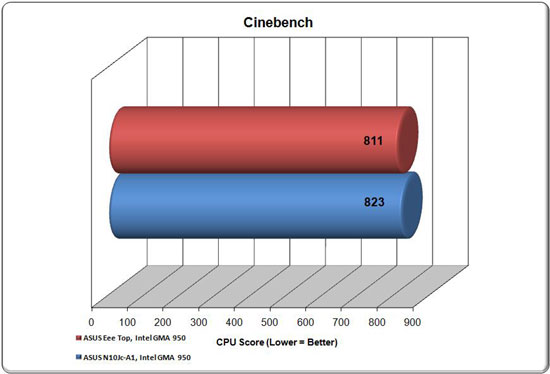 Results: Here, the ASUS Eee Top fares slightly better than the ASUS N10Jc-A1. With that said, it is still obvious that the Eee Top was built for specific purposes, and high performance was not one of them.
wPrime
wPrime uses a recursive call of Newton's method for estimating functions, with f(x)=x2-k, where k is the number we're sqrting, until Sgn(f(x)/f'(x)) does not equal that of the previous iteration, starting with an estimation of k/2. It then uses an iterative calling of the estimation method a set amount of times to increase the accuracy of the results. It then confirms that n(k)2=k to ensure the calculation was correct. It repeats this for all numbers from 1 to the requested maximum.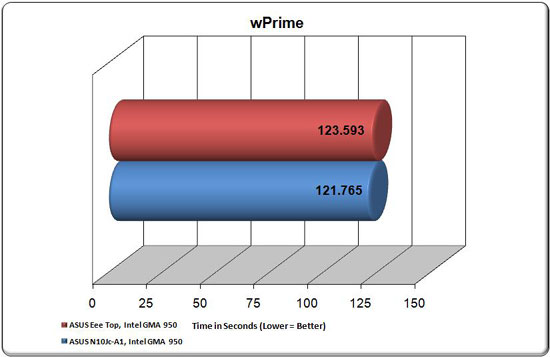 Results: Again, the ASUS Eee Top performs as well as we expected. There is nothing special here.
Sandra 2009 Memory Bandwidth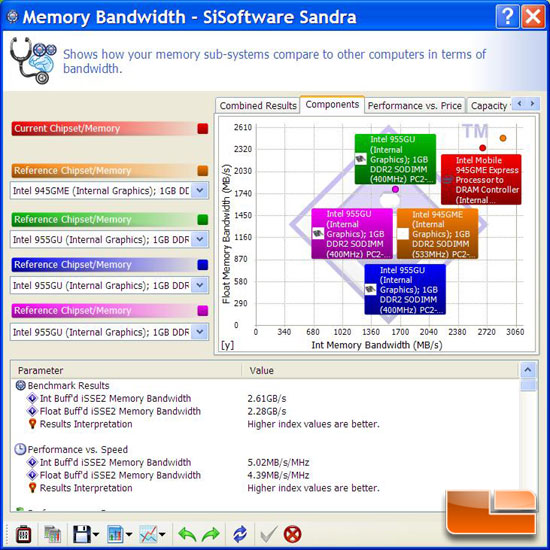 The Sisoft Sandra 2009 benchmark utility just came out recently and we have started to include it in our benchmarking. With Sandra 2009 you can now easily compare the performance of the tested device with its speed and its (published) power (TDP)! Sandra XII SP2 also has SSE4 (Intel) and SSE4A (AMD) benchmark code-paths, which is great for those of you testing next-generation AMD & Intel chips.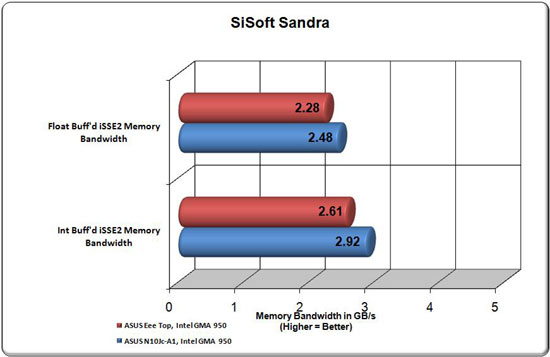 Results: The memory bandwidth of the ASUS Eee Top was slightly lower than that of the ASUS N10Jc-A1, but still comparable.