Are You Ready for Virtual Reality Gaming?
By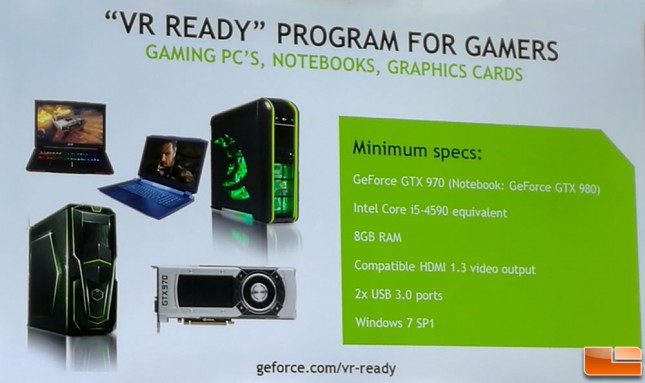 Its only the first month into the year of 2016, and Virtual Reality is already taking the technology sector by storm. Manufacturers from all backgrounds are working on their own versions of a head mounted display with motion tracking capabilities. Sony, Oculus, HTC/Valve, and Samsung are the major players that have been working on the technology behind such devices.
2016 serves as the first year in which each company takes Virtual Reality to new heights. The HTC Vive and Oculus Rift have launch dates for their new devices scheduled for Q2 and Q3 of this year. If you have been following virtual reality tech, you likely already know that these devices require a relatively powerful PC in order to power these advanced displays to their maximum potential. Today we'll over some of the requirements, why they are important, and ultimately we'll try to answer the question, Are you ready for VR?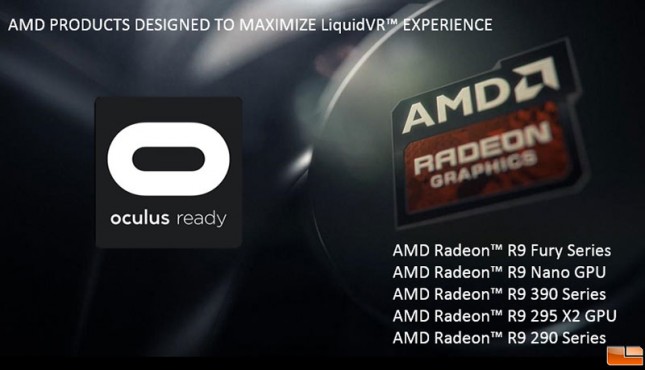 The Hardware
The following is suggestions reported by AMD/NVIDIA/Oculus for recommended hardware requirements. Remember that the Oculus CV1 and other Virtual Reality devices have not been released yet, so these requirements are subject to change once they actually release later this year.
GPU: NVIDIA GeForce GTX 970 4GB / AMD Radeon R9 290 4GB or greater
CPU: Intel Core i5- 4590 equivalent or greater
Memory/RAM: 8GB+ RAM
Outputs: 2x USB 3.0 ports, HDMI 1.3
OS: Windows 7 SP1 or newer
These system requirements are quite high considering the average gaming PC is only suited for 1080p (1920×1080) gameplay. According to NVIDIA, there are only be 13 million computers in the world that have fast enough hardware to get the power needed to run virtual reality games.While this may sound like a large number, 13 million accounts for less than 1 percent of the world's 1.43 billion computers, according to estimates from research firm Gartner. Steam's monthly Hardware Survey provides confirmation that the majority of the consumer base is under equipped for a proper VR experience. You'll need a system capable producing high frame rates at even higher resolutions. Video cards like the NVIDIA GeForce GTX 970 4GB video card are said to be the minimum when wanting a discrete graphics solution that is capable of rendering multiple screens at higher than 1080p resolutions, which you'll need because the Oculus Rift CV1 comes equipped with duel screens with resolutions around 2k. This will limit the user base for VR as you'll need right around a $1,000 off the shelf PC to use Oculus's hardware that already runs $599.
1920×1080, 1080p or Full HD resolution at 60Hz is generally seen as the standard target setting for modern gaming. That also happens to be about one-quarter the raw pixel rendering cost of a VR headset display at 90Hz. So, you could think of the raw pixel demands of VR gaming at 90Hz as being approximately 4 times the demand at 1080p/60Hz. Another simple comparison: VR gaming has roughly 90 percent the pixel demand of gaming at 4K resolution (3840×2160) at 60Hz. If youre familiar with gaming benchmarks, youll know that achieving 60 FPS at 4K resolution is no simple feat.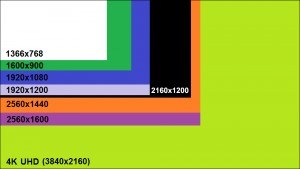 tl;dr Given the challenges around VR graphics performance, the Rift will have a recommended specification to ensure that developers can optimize for a known hardware configuration, which ensures a better player experience of comfortable sustained presence. The recommended PC specification is an NVIDIA GTX 970 or AMD 290, Intel i5-4590, and 8GB RAM. This configuration will be held for the lifetime of the Rift and should drop in price over time. – Oculus
If you are looking for some suggestions on what Graphics Cards would work the best for you, check out some of our reviews in links below:
The Virtual Reality Head Mounted Displays (HMDs)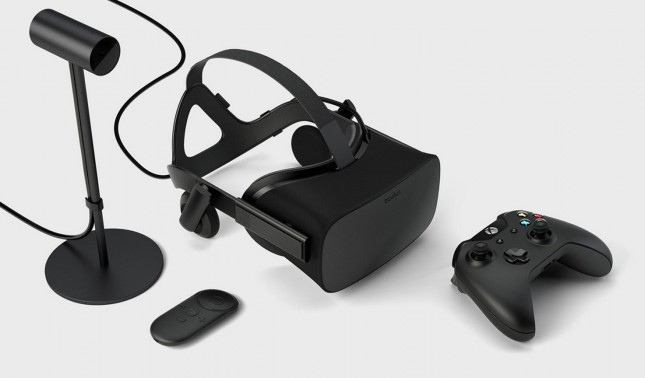 The Rift is a virtual reality head-mounted display developed by Oculus VR (Which was purchased by Facebook). It was initially proposed in a Kickstarter campaign, during which Oculus VR (at the time an independent company) raised US$2.5 million for the development of the product.
The Rift (Also known as CV1 for Consumer Version 1) is scheduled for release on March 28, 2016, making it one of the first consumer-targeted virtual reality headsets. It has integrated headphones which provide a 3D audio effect. The Rift has rotational and positional tracking. The positional tracking is performed by a USB stationary IR sensor, which normally sits on the user's desk, allowing for using the Rift while sitting, standing, or walking around the same room. The Rift CV1 also is coming packaged with a Xbox One controller, and a small remote for specific function (like the ones found on the side of the Samsung Gear VR) as well as the space shooter Eve: Valkyrie and a new adventure game Lucky's Tale.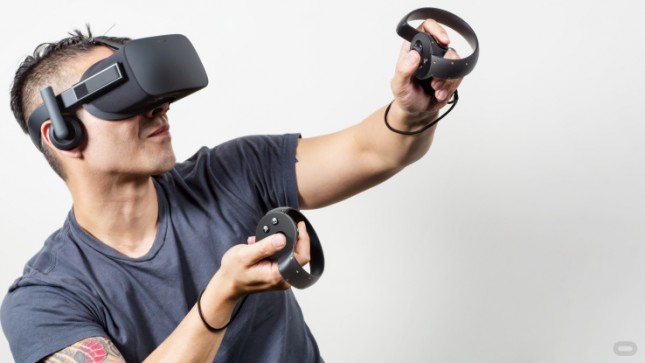 It should be mentioned that Oculus has a set of motion controllers in development as well (aptly named Oculus Touch); however, recently the launch date of the product was delayed months past the release date of the CV1 and as such it will not be packaged together with the VR headset, and will remain a separate product.
The Rift has gone through various prototype versions in the years since the Kickstarter campaign, around 5 of which were demonstrated to the public. Two of these prototypes were made available for purchase as 'development kits', DK1 in late 2012 and DK2 in mid 2014, to give developers a chance to develop content in time for the Rift's release. However, both were also purchased by a large number of enthusiasts who wished to get an early preview of the technology.
Price $599 USD
Preorder is OPEN

HTC Vive is an upcoming virtual reality head-mounted display being developed in co-production between HTC and Valve Corporation. It is also part of Valve Corporation's SteamVR project. It is unique in comparison to other HMDs in that it incorporates 2 Lighthouse sensors to track a larger area of the users movements and combines that with two custom designed handheld motion controllers.
The device uses more than 70 sensors including a MEMS gyroscope, accelerometer and laser position sensors, and is said to operate in a 15 feet by 15 feet (4.5 by 4.5 meters) tracking space if used with the "Lighthouse" base station. Lighthouse system uses simple photosensors on any object that needs to be captured; to avoid occlusion problems this is combined with two lighthouse stations that sweep structured light lasers within a space. The front-facing cameras allow the software to identify any moving or static objects in a room. It's part of the Chaperone safety system to prevent and warn users of hitting an obstacle (an object, or a wall) in game.
Price is unknown at time of writing
Pre-order Opens February 29th 2016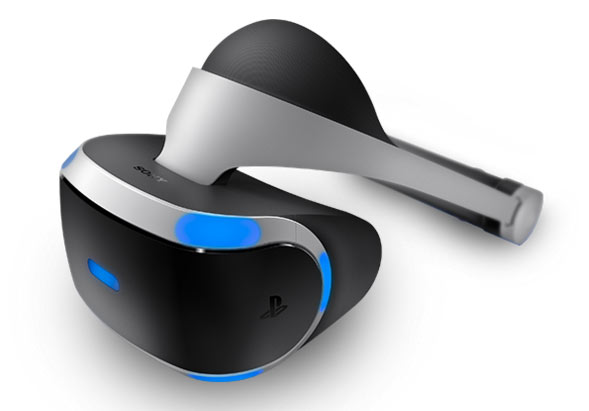 The market for VR, augmented reality, and head mounted displays is still in a obviously very early stage of development. Thankfully there are many developers and manufacturers working on the technology in various areas such as mobile and home gaming consoles.
Sony Morpheus – This HMD is built from the ground up for a VR experience at the couch in your living room, using only your Playstation 4 console. The design will allow the PS4 to use your TV display at the same time the VR headset is being used to enable multiplayer support among other tasks. Due to the limited scope of applications this device can be used to it will be put in this category, however I believe this product will potentially be able to a much more accessible way to play full gaming experiences using VR over much more pricey aforementioned devices that would require a high-end PC to power them.
Microsoft Hololens – Microsoft wants to take VR and Augmented reality, put them together and disconnect from the requirement of needing a PC to power it, thus taking VR into a whole new niche of communications, education, and training possibilities that wouldn't be possible with other HMDs.
Razer's OSVR – The OSVR isn't a rival to the likes of Oculus Rift, PlayStation VR and Samsung Gear VR. It's intended to make life easier for developers to make applications VR hardware without technical (software and hardware) limitations getting in their way. The development of the OSVR is open source, breaking down limitations that hinder development even on Oculus Rift.
The Games
When we talk about Virtual Reality, it can be hard to describe the experience without explaining the application or game used. If you have used the DK1, DK2, or Samsung Gear VR before, you've likely already dived into some very memorable experiences. Developers from all walks of life are working on creating either new VR experiences or revamping old experiences for virtual reality. Some older games like Valve's Half-Life 2 has been updated to natively support VR. Others like Rockstar's Grand Theft Auto 5 have been retrofitted with VR capability using third-party mods.
Generally speaking, since the environment for Virtual Reality is ever changing, you're likely to see your favorite game see some type of support for VR, either from the software developers themselves, or from the modding community. Try performing a Google search for the game you want play, and if it supports VR. The steps for setting up VR in the first place for your games can usually be found either on VR specific community forums, or game specific communities.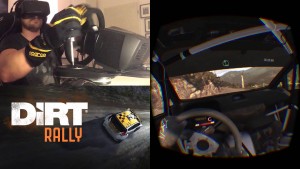 Some games will convert much more easily to virtual reality than others. For instance, driving simulators typically already have a First Person Camera mode while driving. Converting this camera mode to work with VR requires much less work than than many other types of games. Games like Project Cars and Euro Truck Simulator 2 already have support for VR headsets. The development team behind Asseto Corsa (Another excellent driving simulator found on Steam) stated they will work on VR capabilities once the final product of the Oculus releases.
We have a review of the GTX 970 vs. the Radeon R9 390 while playing Codemaster's Dirt Rally (An excellent game BTW)
Of course there is a whole host of games that are either built from the ground up for virtual reality or have been modified by the developers to support VR. Steam has these games categorized by "VR Ready" here.
Resources
Here is some good links to reference to for more information about VR devices and more:
Are you Ready for VR?
The bar is being raised pretty high with the first generation of VR. And that could very well be a good thing considering, we'll need VR to work the best that it can if it is to succeed. Things like display resolution, high refresh rates, device weight, and build quality are major factors that could make or break the VR experience. The main draw for VR is the immersion factor (Feeling like "being in" the game). Cutting costs that would affect these items would ultimately look bad not only for the developer/manufacturer but for the industry and the VR movement itself. So expect to pay decent sum of money for these devices and the PC hardware required to run them. The industry will undoubtedly improve on manufacturing and prices will drop across the board over time, which should lower the barrier of entry over the next few years.
Assuming money isn't a barrier to you, then congratulations, you're ready to experience the beginnings of this amazing new technology. Us first adopters will help pave the way for advancements in hardware as well as software technology. The larger the market is for VR users, then more developers will take the tech more seriously, meaning even more choice and applications of use for VR.
Don't forget to make sure you have room to experience all that…VR. The Oculus Rift does have a IR sensor that needs a clear vision of the HMD, meaning that your messy desk may need some improvements before these devices launch. Oculus also recommends using a swivel style chair, as it will make movements in VR much easier. I can tell you from first-hand experience that many games and experiences in VR have you looking behind you, which having a swivel chair will assist in. Don't forget that you'll need a clear path between you and you PC for the cables and wires to run that come off of the HMD.
With the HTC Vive, you'll need a decently large space if you plan to utilize that standing full body VR experience, and why wouldn't you? The base stations can cover a play area of about 15 feet x 15 feet, and need to be positioned above head height. If you have some bookshelves in your living room, those will probably be perfect mount points. Otherwise, you might be looking at wall-mounting. Obviously, youll need to clear your intended VR space of furniture, rugs, and any other tripping hazards. Keep in mind that your planned playspace doesnt have to be as large as Lighthouse supports. Also remember that you'll be dealing with the cables for HTC's HMD as well. In demo's of the product (like at CES) a second person held the cables for the user and made sure they didn't trip over them, however in your own home this might not work. For now HTC, advises that you just clip the cables onto your belt to keep them away from your legs while walking…hopefully.
I'll plan to talk more about VR as time progresses and receive my own Oculus Rift preorder in March. If you think I left anything out, or have any questions we didn't answer here, please leave them in the comments section below.