XFX Radeon R9 390 Black Edition OC 8GB Video Card Review
By
Is AMD's Radeon R9 390 Black Edition Video Card Enough For Gaming and VR?
It has been a long time since we've looked at any AMD Radeon R9 390 video card here on Legit Reviews. Steve's article way back in June 2015 on the Sapphire Nitro R9 390 8GB video card was the first and only review we've done on a Radeon R9 390 8GB video card here on the site. Most gamers spend around $200 for their graphics cards, but those with Ultra HD display panels need more power. Many enthusiasts and gamers that are interested in Virtual Reality and you'll need to spend more than $200 if you want a card that is recommended. AMD fans that want to get in on the first wave Virtual Reality products coming to market this year should be looking at getting a card that meets the AMD LiquidVR technology suggestions for the Oculus Rift.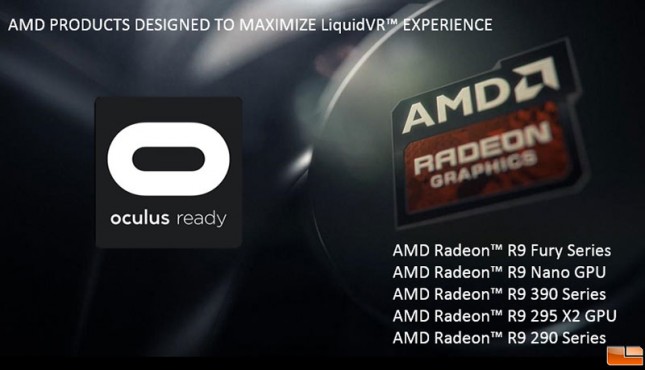 The AMD Radeon R9 390 series is the entry-level cards that are recommended for the Oculus Rift . Therefore, you can safely surmise that a Radeon R9 390 8GB video card should have enough horsepower and memory to keep you happy for the foreseeable future. The AMD Radeon R9 290 series also meets the guidelines, but those cards are End of Life (EoL) and getting pretty hard to come by. The updated version of the Radeon R9 290 series is the R9 390 series. The AMD Radeon R9 390 cards have come down slighting in price since debuting in June 2015 at $330 as you can often find them for under $275 after rebate.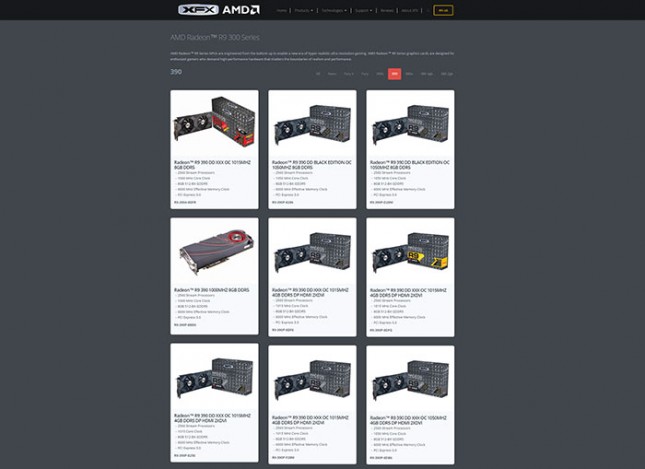 XFX is one of the many AMD board partners that has brought a number of Radeon R9 390 video cards to market. In fact, they've brought five AMD Radeon R9 390 8GB video cards and four AMD Radeon R9 390 4GB video cards to market over the past eight months. That seems a bit overkill to us, but XFX explained it to us that the different SKU's are for different regions and channels. Here in North America there are really only two models that are widely available to purchase right now. You have the R9-390P-D28M that is at Amazon and most Canada retailers and then the R9-390P-8286 that is at Newegg and others. XFX says that having different SKU's allows them to differentiate the bundles and accessories, but we also know it's an easy way to prevent price matching and retailers like that.
That said, the two models widely available on Amazon here in the United Sates are the XFX Radeon R9 390 Double Dissipation XXX OC 8GB at $319.99 shipped with a 1015MHz core clock speed and then the XFX Radeon R9 390 Black Edition OC 8GB that retails for $339.99 shipped with 1050MHz core clock speeds. Besides the clock speeds the cards are basically identical, so a 35MHz overclock will cost you 20 bucks.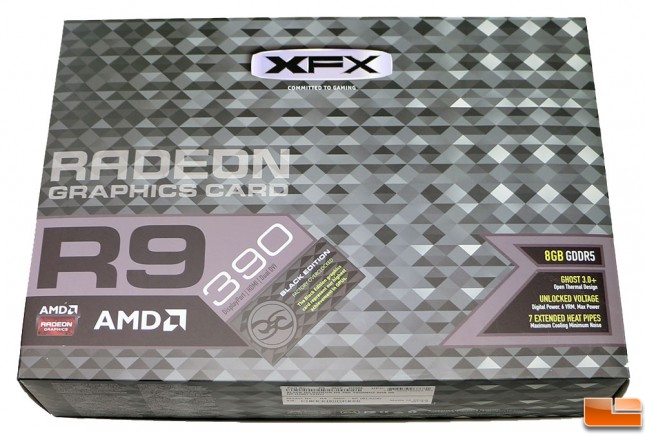 The card that we are going to be reviewing today is the XFX Radeon R9 390 DD Black Edition OC 1050MHz 8GB DDR5 that features model number R9-390P-D28M. This card is factory overclocked with all 2,560 stream processor inside the 28nm Hawaii GPU core running at 1050 MHz. The 8GB of GDDR5 memory is running at 1500 MHz for an effective clock of 6000 MHz. This is the highest core clock that XFX offers for the Radeon R9 390, so it doesn't get any better than this until you do a little manual overclocking.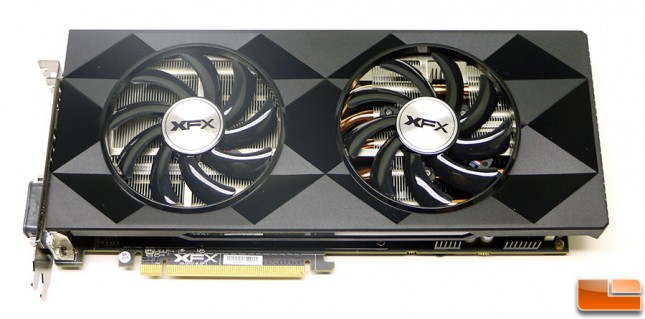 The XFX Radeon R9 390 Black Edition is a dual-slot graphics card that fairly long at 11.5-inches in length. XFX went with a mostly black design for this card, so the PCB, fan shroud and fans are all black.
On the back of the card you'll notice that XFX went with a backplate that improves the visual appearance of the card when it's installed, but also helps add rigidity and protects the components that sit under it. Note that the aluminum finned cooling arrays for the GPU go above the PCB. The overall height of this card is 5-inches, so if you are trying to put it in a narrow case this number might be important to you.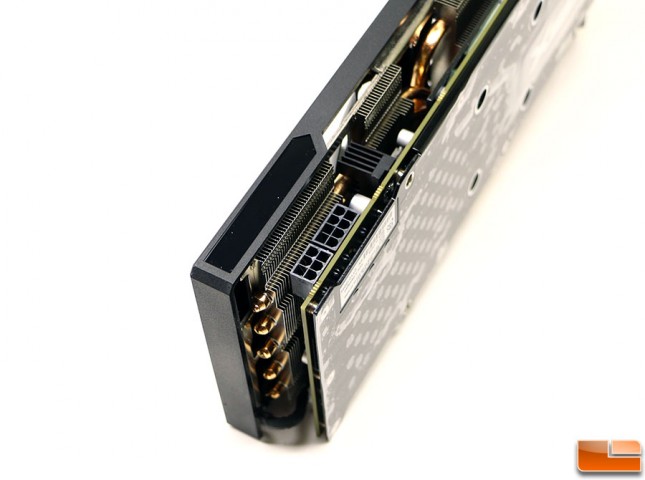 In the shot above you can see the 8-pin and 6-pin PCIe video card power connectors that are needed for operation. XFX includes a dual 4-pin Molex to 6-pin PCIe power adapter as well as a dual 6-pin to 8-pin PCIe power adapter for those that don't have the proper cables available on their power supply. XFX recommends a 750 Watt or greater power supply to properly power this video card.
The Ghost 3.0 Double Dissipation cooling solution features seven copper heatpipes, five extend to the end of the card and are visible. If you look in the image above you can see how XFX is using another passive heatsink to cool the digital power components. XFX says that their XFX Extreme VRM and Memory Cooling helps drop VRM temperatures by up to 30C and GDDR5 temperatures by up to 20C. These lower temperatures help reduce fan noise as well as the card is running coller. XFX is using a 6-phase full digital power design on this card with unlocked voltages, so you have full control over the voltages if you want to use a 3rd party utility to push your card to the limit.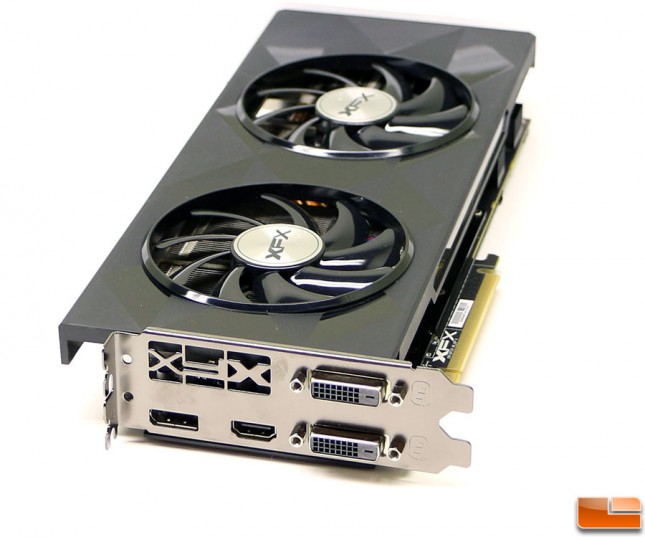 When it comes to video connectors the XFX Radeon R9 390 Black Edition OC 8GB comes with a pair of Dual Link DVI-D ports, HDMI 1.4a and one standard sized DisplayPort 1.2 video outputs. The I/O bracket also has a small section that should allow for some venting of the hot exhaust from XFX's Double Dissipation GPU Cooler. The fan shroud also extends up and over the top of the card to help direct the airflow from the two 90mm IP-5X fans for maximum cooling.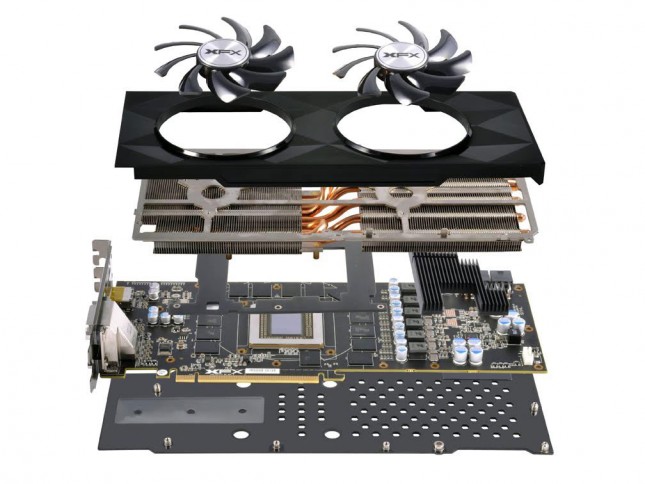 Here is an exploded diagram of the XFX Radeon R9 390 Black Edition that better shows the Ghost 3.0 Double Dissipation Cooling solution.
Here is a quick look at the AMD Radeon R9 390 reference card specifications compared to the XFX Radeon R9 390 Black Edition OC
| | | |
| --- | --- | --- |
| | AND Radeon R9 390 | XFX Radeon R9 390 Black Edition OC |
| GPU Architecture | 28nm Hawaii | 28nm Hawaii |
| Shader Cores | 2560 | 2560 |
| GPU base clock | 1000MHz | 1050MHz |
| Texture Units | 160 | 160 |
| Texture Fillrate | 160.0 GTexel/s | 168.0 GTexel/s |
| ROPs | 64 | 64 |
| Pixel Fillrate | 64.0 GP/s | 67.2 GP/s |
| Memory | 8GB GDDR5 | 8GB GDDR5 |
| Memory clock | 1500MHz (6000MHz) | 1500MHz (6000MHz) |
| Memory interface | 512-bit | 512-bit |
| Memory Bandwidth | 384.0 GB/s | 384.0 GB/s |
| 0dB Fanless Idle | No | No |
| Length | 10.5-inches | 11.5-inches |
| Recommended PSU | 750 Watts | 750 Watts |
| Power Connectors | 1 x 6-pin & 8-pin | 1 x 6-pin & 8-pin |
| Street Price | N/A | $339.99 |
On to the benchmarks!