Antec Signature Series S10 Full Tower EATX PC Case Review
By
Antec Signature Series S10 Full Tower E-ATX Case Internal Impressions
The side panels of the Signature Series S10 are held to the case by a magnetic strip that is glued to the door. This is the only attachment mechanism keeping the door shut on the case and there is no way to lock the doors to keep curious hands out.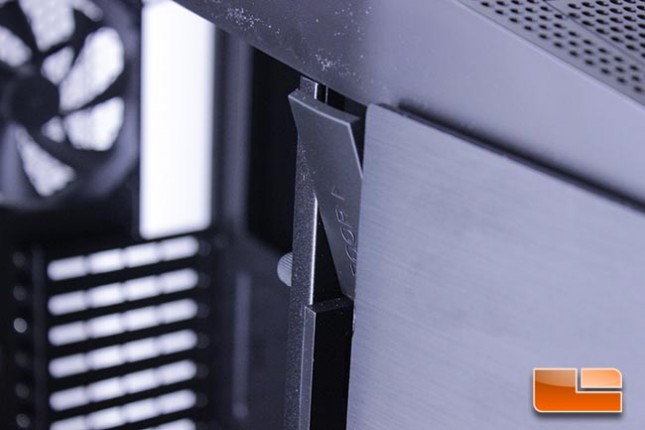 Once we press the "Door" latch, the door is pushed open and swivels out. All this latch does is bump the door forward, so it is very simple. Though these are made of a cheap plastic that doesn't complement the beautiful aluminum of the panels, the door opening system works well. One good thing about these latches being plastic is that they aren't as prone to picking up fingerprints and oils, like aluminum.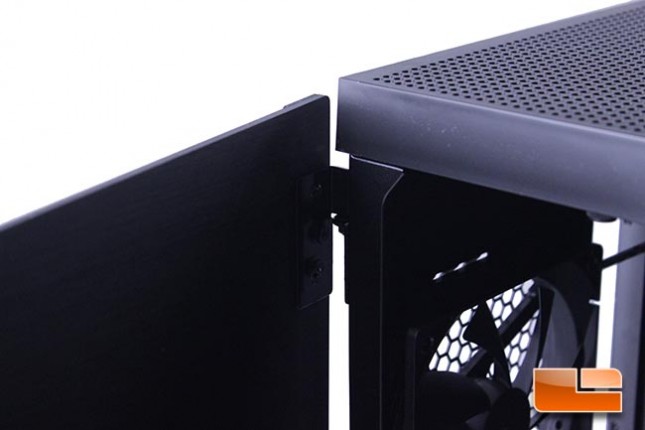 There are rubber stops on the case rear to keep the door from hitting the metal on the case when opened all of the way. The side panels are only held on by these swivels and can be easily lifted off. We worry about the long term durability of these swivels, because there is a plastic tab that couples the door into the swivel. Having plastic support such heavy metal can definitely cause fatigue over time.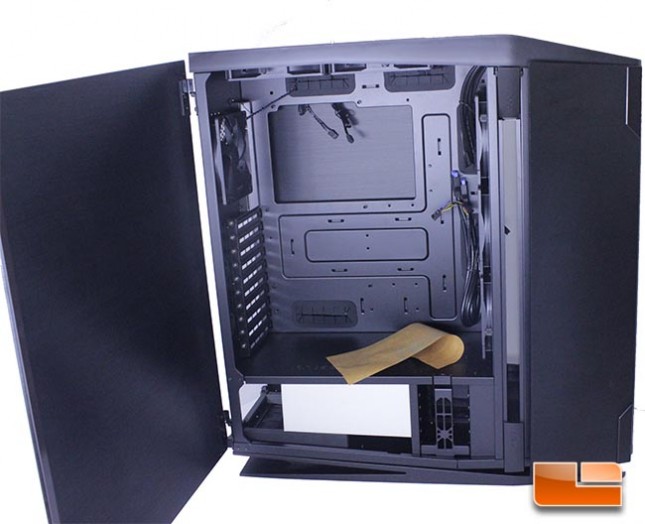 Once we open the main chamber, we see a E-ATX layout, with cable routing holes with rubber grommets to the side, top and bottom of the motherboard mounting area. These grommets sit quite a bit away from where a standard ATX motherboard will sit, so their effectiveness in cleaning up cables is limited on smaller motherboards, since the cables will still have to run across the motherboard tray. Also, the grommets are partially covered by the fans and come out very easily. The motherboard tray has six standoffs installed, which is a nice time saver, though I doubt people are going to buy the Signature Series S10 and run anything less than a full sized ATX board, so Antec should install nine standoffs. Overall, the main component chamber is standard, with adequate cable routing holes, a solid motherboard tray and plenty of PCI-E expansion capability.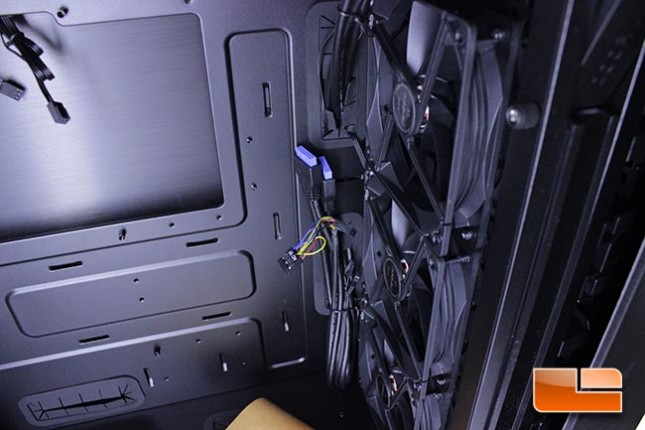 There are three 120MM Antec fans attached to a removable bracket in the main chamber of the Signature Series S10. If Antec truly wants to please enthusiasts, including premium fans in their case would have been a nice step, as the included fans are basic OEM fans without any type of speed control. Another issue is that the top half of the intake is blocked off. Where the top thumbscrew is on the fan bracket is where the intake is cut off and there is solid material behind the fan. Why have three intake fans and then choose to cripple the performance of one of them?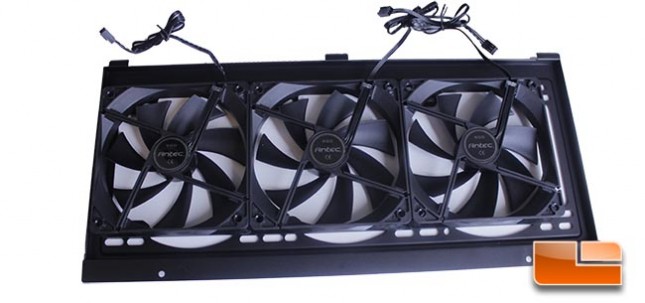 Removing the fan bracket takes just seconds once you remove the two thumbscrews and removal allows for easier installation of front radiators. The top panel fans feature a similar bracket, as the top panel cannot be removed.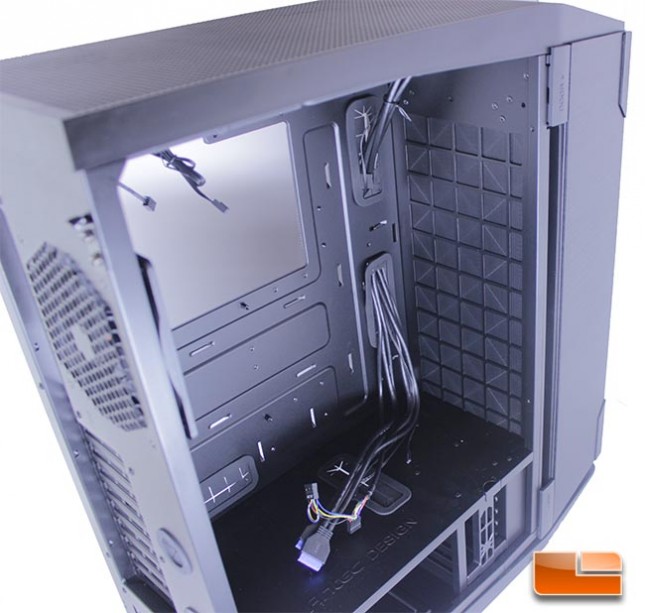 Once the fan bracket is removed, you have better access to the cable routing holes. This is a good design element, but Antec didn't execute it as well as they could have by blocking off intake areas and omitting cable route tie downs on the bracket itself to better organize the fans.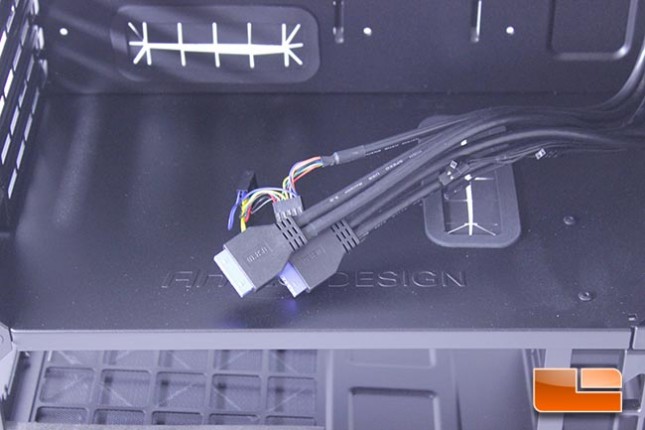 It's nice to see that Antec has made the header panels all black, but the audio cable is throwing me back a few years. Again, this is a premium chassis that is designed towards enthusiasts. Who uses AC'97 audio anymore? Certainly the type of consumer purchasing this chassis is going to be using a modern motherboard with HD Audio, if not a standalone sound card. Antec should have ditched AC'97 and extended the cable wrap to the end so that no colored wires are showing. This is a premium chassis, so these little details are an expectation. I also have to note that the header cables are stiff and not as flexible as others we have worked with, with a lot of small kinks and bends from the factory.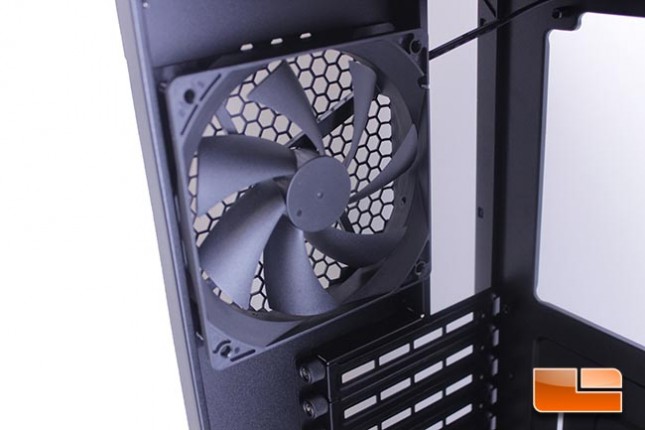 There is a single 120mm exhaust fan installed in the rear of the main chamber. There is no support for 140mm exhaust fans here, nor can you adjust the position of the fan upwards or downwards, which is disappointing, given that this is a flagship case targeted towards the enthusiast market and most other enthusiast cases are now offering these provisions.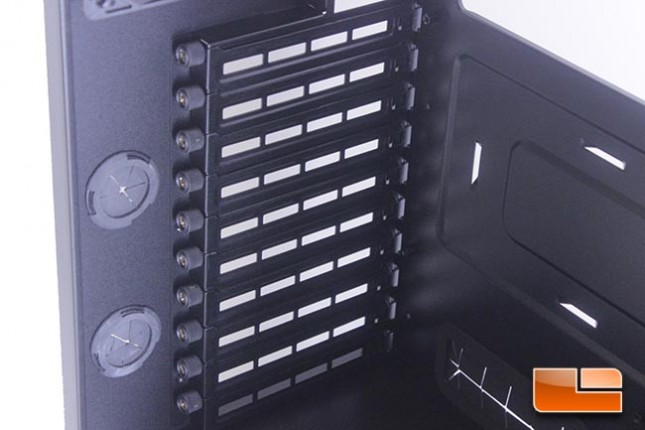 Ten PCI-E expansion slots are available on the Signature Series S10, which makes it an ideal candidate for a multi-GPU setup, especially if the GPU's are to be air cooled. Antec is using quality, removable metal PCI-E slot covers with slits in them aid with airflow. The slot covers are all attached via thumbscrews with rubberized outsides.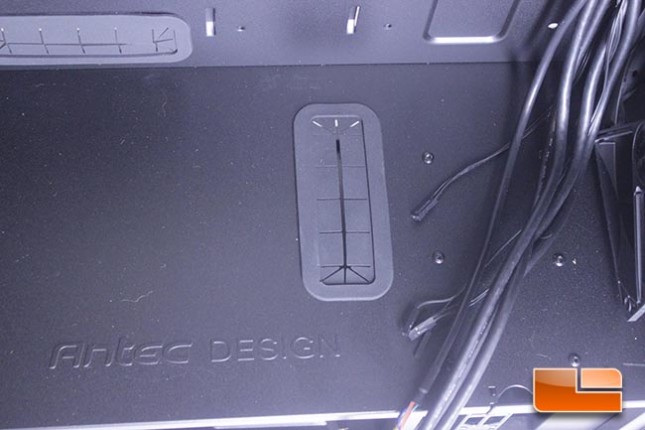 There is a routing hole with rubber grommet on the floor of the main chamber of the S10, which will allow you to route cables to graphics cards in an aesthetically pleasing fashion.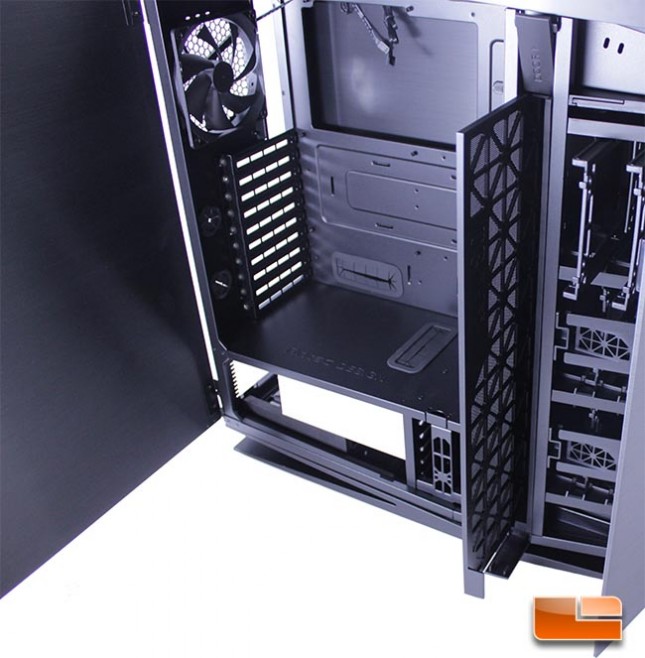 Removing the front fan filter is very easy. Just push the "Vent" tab and the filter will pop out slightly and you can then pull it out the rest of the way to easily clean it. Kudos to Antec for making this filter easy to remove, as it is responsible for filtering the entire main chamber intake and will get dirty in no time.
Unfortunately, The Signature Series S10 comes with a coarse mesh type of filter, which will let lots of dust through. On the plus side, this type of filter should allow for optimal airflow vs. a filter using finer materials. Cleaning is simple, just run the filter under water and let it dry.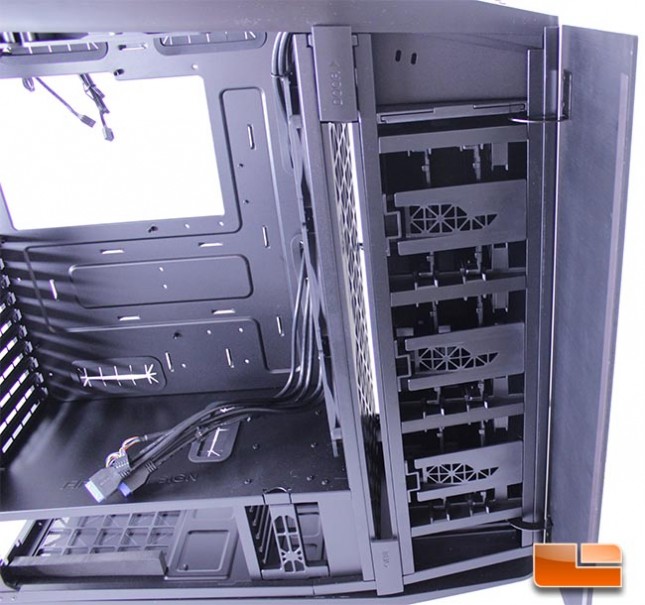 The front chamber design on the Antec Signature Series S10 is limited in functionality and doesn't offer much in the way of expansion. Support for six 3.5″ hard drives and three 2.5″ SSD's in this dedicated chamber is disappointing when you consider that all this chamber is dedicated to is storage. This chamber cannot be used to house other components, sd the cages can't be removed in favor of watercooling equipment or optical drives. We think Antec really could have done a lot more with this dedicated space to really make the Signature Series S10 more functional.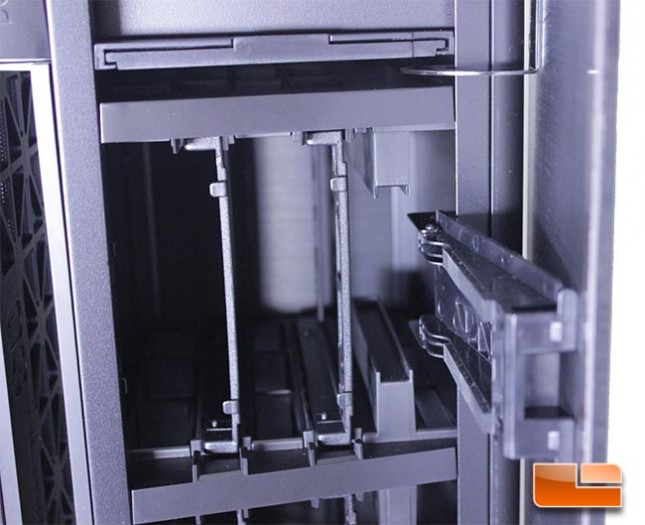 Antec could have included caddies compatible with both 2.5″ and 3.5″ drives and gotten rid of the dedicated SSD slots in the drive cages, thus allowing the case to support nine storage drives of any type in the front chamber. Recently reviewed mid-towers like the be quiet! Silent Base 800 are able to run seven 3.5″ hard drives, while retaining support for several SSD's, all using a traditional case layout with removable drive cages. While ambitious, the front chamber design of the Signature Series S10 is lacking and I don't think it will end up appealing to many enthusiasts.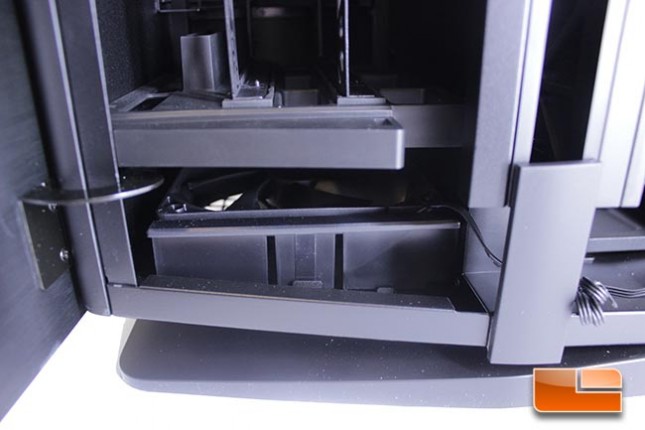 The Antec-branded fan at the bottom of the front chamber is actually blowing down and is designed to pull cool air from the top of the case through the ventilation holes. The chamber is protected from dust by the same type of mesh filter as the main chamber, albeit smaller. This filter simply pulls out, though it was a bit tricky to pull out at first, as there isn't much of a handle to grab onto and most of the handle sits in the cutout space.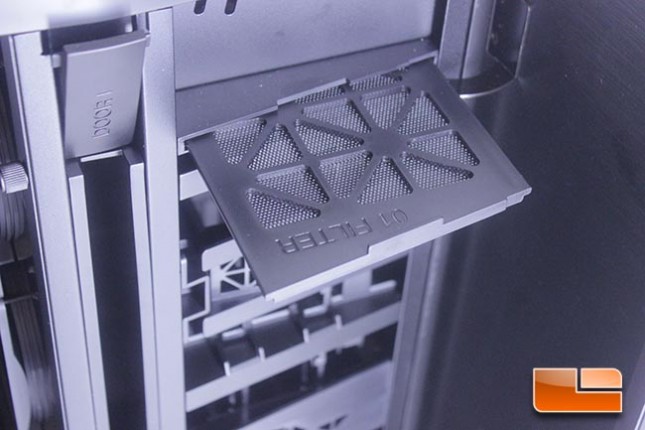 This design unique and different, though I have to question how effective this is versus traditional cooling where the drives are cooled by fresh air pulled from the front intakes, as there is nothing really forcing cool air into the case except for whatever small amount of pressure the fan can generate to pull air through the filtered top vents in the chamber.
The bottom chamber features a non-removable six-bay 2.5″ SSD cage that drives simply slide into and then lock with a clip. This is a nice mechanism and should work well, but why is it non-removable? This part of the case would have been perfect for a pump in a watercooled setup. Antec could have done something really innovative with this space, but instead riveted the drive cage there, limiting the function of the bottom chamber to storage for six SSD's. Going back to the front chamber, if Antec had thought things through, it would offer enough support for any combination of nine 2.5″ or 3.5″ drives, which is going to be adequate for most users. Instead, they've limited the capabilities of both the front and bottom chambers of the Signature Series S10 through bad design choices.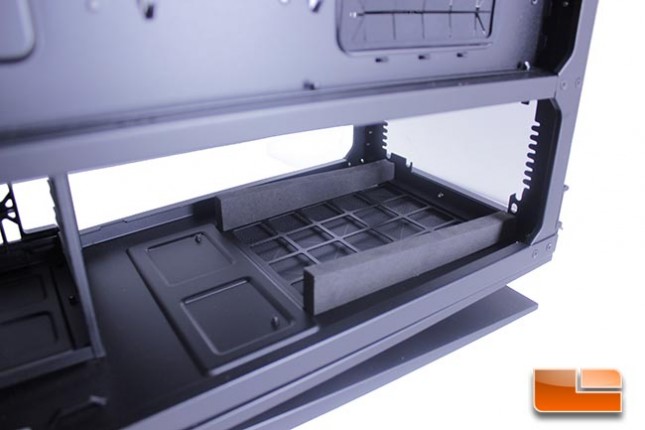 The power supply is mounted on thick foam strips, which help reduce noise and also keep the PSU straight, since the cases angled design would offer no underneath support for the PSU, otherwise. The PSU area is filtered and the bottom intake isn't restrictive, so your PSU can intake adequate air to keep itself cool. Unfortunately, the PSU chamber itself is cramped and there is no way to remove the SSD bracket during your install so that you can install modular cables more easily.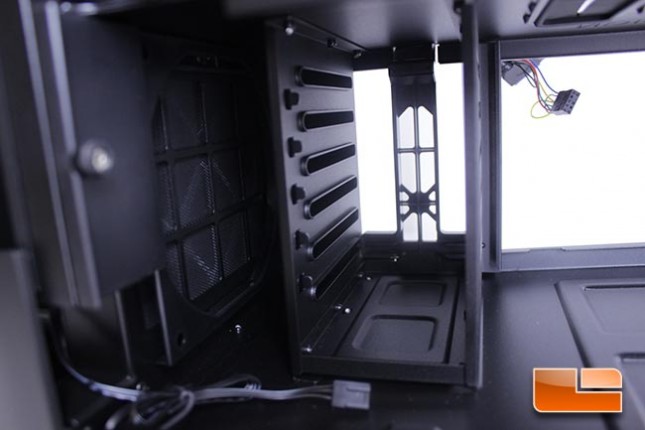 There is also an optional fan mount in the lower area, but it's functionality is limited, at best. SSD's don't generally require additional cooling and this fan would merely serve to create additional noise. Also, there isn't a dedicated exhaust area, so air that is taken in doesn't have a clear path for removal.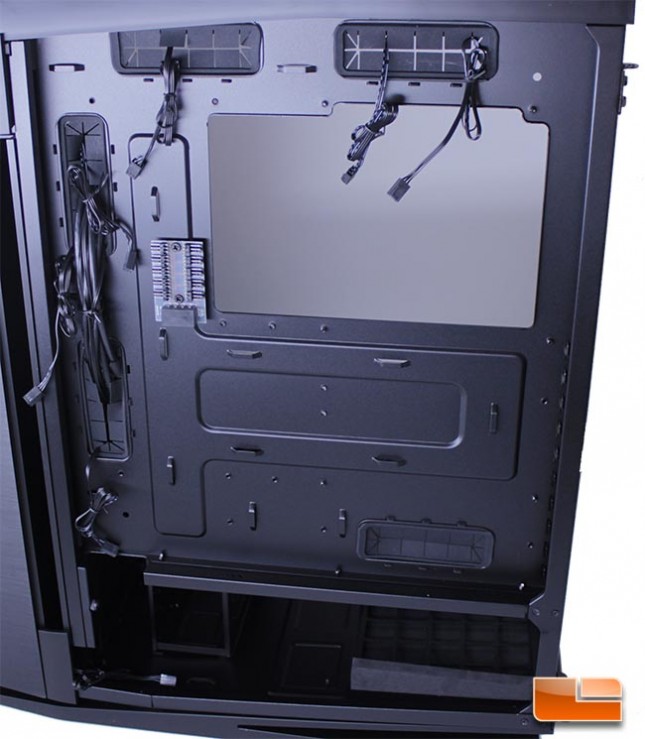 Looking at the rear of the motherboard tray, we see an ample amount of cable tie-down points and a ten-fan hub that is powered via 4-Pin Molex. This hub is not able to be speed controlled by the motherboard like ones we've seen from Phanteks and NZXT and doesn't support 4-Pin fans, so it's functionality is limited at best.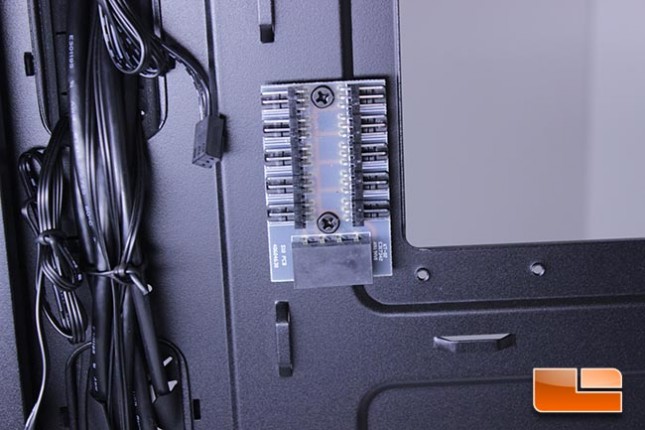 Antec should have included a high quality fan controller with the ability to connect to the motherboard for RPM control. We've seen several areas where Antec has skimped on this case when they could have gone with higher quality components for just a slight increase in manufacturing cost. This is a $370 case, why is Antec including a two dollar fan hub?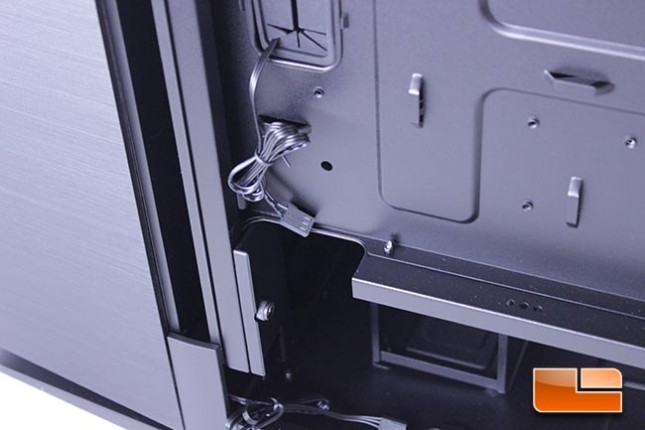 There is a very small area to route cables behind the motherboard tray from the bottom chamber and it's frustrating, because it means that with most power supply units you can't run the 8-Pin CPU connector behind the motherboard tray, as it simply won't be long enough. The hole you see is cutout from a bar that runs alongside the bottom of the tray and chamber. You cannot run cables over this bar. Antec should have put an additional break in the crossbar to allow for a cabling run for the 8-Pin connector.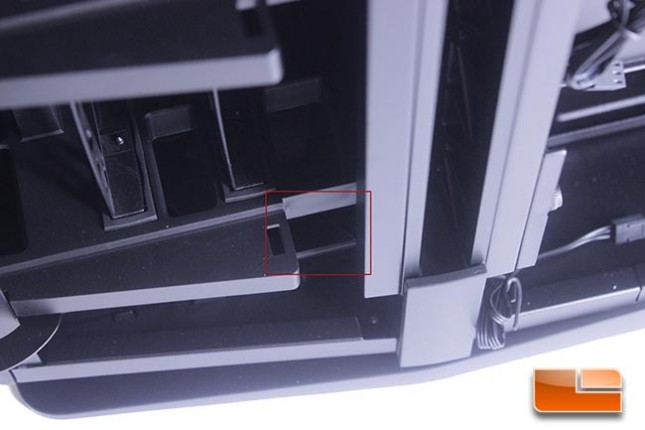 Running data and power cables to your drives must be done through the small area we've outlined in red. This is frustrating, to say the least, as this area is very tight and it's hard for me to envision running power and data cables to multiple drives, let alone running them to a fully populated front chamber. This small cable routing area is just another frustrating design element we've noticed and we haven't even built into the case, yet.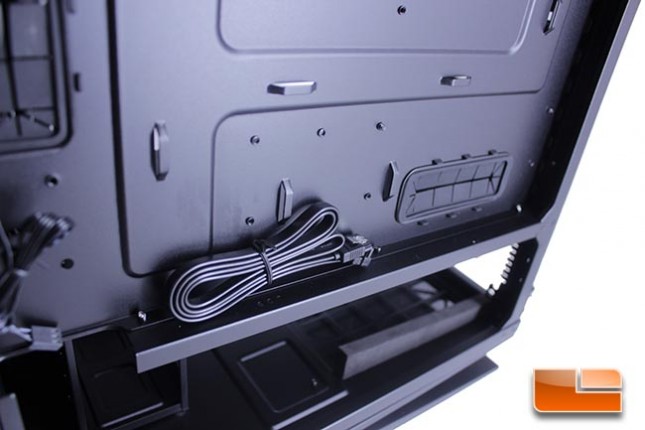 The width of the bar you see is how much room you have to run cables and we've placed a SATA cable on the bar to give a better perspective on how little actual space there is behind the tray. If you run cables past this bar, you can't shut the panel. You can't do the old smash the panel down and slide it trick if you have a lot of cables behind the panel, either, since these panels swing shut and are only held by a magnet. The wiring space is adequate, but if one were to really populate the Signature Series S10 with multiple drives and components, running cables would get to be quite a pain.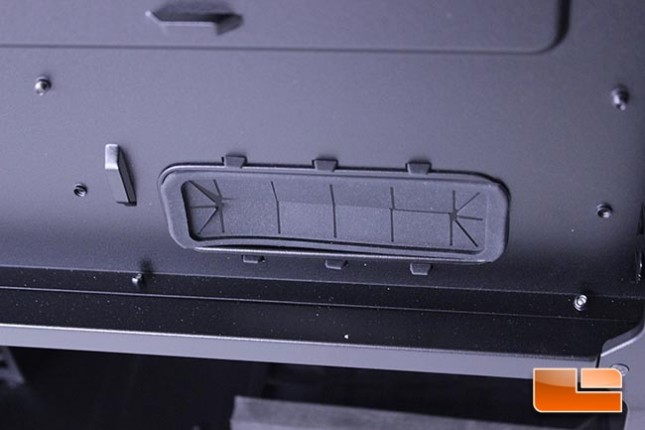 We've taken a look at the internals of the Signature Series S10 and while there are solid traits, we've come away somewhat unimpressed. The lack of cable routing space and other small issues we noted, such as the loose grommets, cheap fan hub, blocked off fan intake and more, make us really wonder how Antec could have overlooked so many minor things? It's as if Antec hasn't taken any queues from the enthusiast community and continues to do their own thing, while other manufacturers actually have modern internal features that are enthusiast friendly. The Antec Signature Series S10 does have a very well-made, sturdy frame, with very nicely machined metal that will last for a long time, but Antec needs to be aware that PC enthusiasts want a well-built chassis that allows for excellent cable management and ease of use, not a monolithic tank.
Now that we've looked at the external and internal features of the Signature Series S10, we're going to build a system into it and note anything unique we may run into.