Antec Mobile Products SPzero Bluetooth Speaker Review
By
Antec Mobile Products SPzero Bluetooth Speaker Introduction
Tinny music from your mobile phone speaker sounds awesome, doesn't it? It thumps right along, providing rich and clear sound that you can easily make out the words to songs, right? Ok, we're just kidding! Mobile phone speakers are some of the worst speakers that your ears can tune to, so many manufacturers have developed external Bluetooth solutions for your music listening needs. Antec Mobile Products (A.M.P) has a couple different products in their arsenal, and we even looked at one in the past, so today we're going to check out a very portable Bluetooth speaker called the SPzero.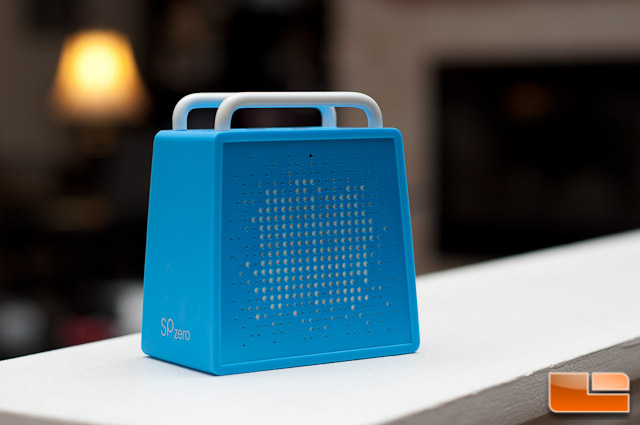 The cowbell shaped SPzero is the smallest, but newest sibling to the SP line of Bluetooth speakers by AMP, which arrived to the market late 2013. Sure the shape may be goofy, but it's the sound quality that matters to us! There are so many portable Bluetooth speakers out there that exclaim the fact that the woofer pounds hard and you can see it move, but if it sounds like crap it doesn't matter how hard the woofer is pounding. This speaker being small and lightweight also makes it much more portable than the SP1, so taking it with you on-the-go will be a much easier task.
The SPzero does have a tolerance to moisture, so it could definitely be perfect to use while you're taking a hot shower; just don't take it in the shower with you it isn't that water resistant!
You can purchase the SPzero in 7 different color combinations, with the blue/white version being looked at today. The MSRP on this speaker is a whopping $79.99, but you can currently pick this speaker up for $42.24 plus shipping on Amazon and it comes with a one year warranty.

Many lower end products will make you drop in your own batteries, but AMP has you covered in this category; one of the greatest things with this speaker is the built-in lithium-polymer rechargeable battery. Antec claims up to 8 hours of use, which should prove to plenty to get you through your day and possibly outlast your mobile phone battery.
Based on the specifications below, this speaker should have a decent amount of power behind it to crank it up and it actually has a pretty good frequency response. The only concerning item is the THD (Total Harmonic Distortion) as 10% is pretty high. I guess we'll have to see what our ears think and how acceptable this is.
Technical Specifications:
Bluetooth Standard: Bluetooth V3.0
Wireless Range: Up to 10m
RMS: 3W (THD 10%)
Frequency Response: 20Hz – 20KHz
Microphone: Built-in Omni-direction Microphone
Battery Type: 750mAh Rechargeable lithium-polymer battery
Support Profiles: A2DP, AVRCP, HFP, HSP
Interface: Micro USB Power Port, Audio-In, Audio-Out
Buttons/Controls: Talk/ Play/ Pause, Volume down/up
Size: 86(H) x 57(W) x 94(D) mm
Weight: 218g
Warranty: 1 year
Let's move on and see more of what this speaker looks like and how it works!