Antec AMP SP1 Portable Wireless Bluetooth Speaker Review
By
An Affordable Bluetooth Wireless Speaker – AMP SP1
Antec has been a popular brand for high-performance computer components and accessories for the PC upgrade and do-it-yourself (DIY) markets since 1986. Times are certainly changing in the PC industry and many companies are evolving in order to stay relevant. Antec noticed that the market was changing and in 2012 they introduced a new global electronics division called Antec Mobile Products or A.M.P with the goal of putting state of the art mobile and audio technology into the hands of every user. AMP has introduced a number of headsets, USB power banks and even a speaker. Today, we'll be looking at the AMP SP1 Bluetooth Speaker, which is the companies first and only speaker solution.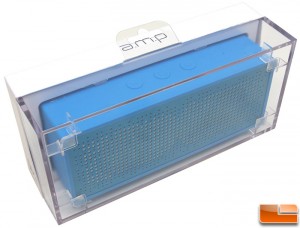 The Antec AMP SP1 was first introduced in 2012 with an MSRP of $99.99, but you can now find it for as little as $77.87 shipped for some of the off colors. When it comes to Bluetooth wireless speakers, you are generally looking at products in the $59.99 to $179.99 price range. You have competing products like the Jawbone Jambox at the high-end of the price spectrum and others like the Phillips SBT310/37 on the low-end. Most of the lower end products run off a pair of AA batteries and last just five hours, so those models will eat up a set of batteries each time you go to use it! The AMP SP1 uses a rechargable Li-Ion battery that lasts up to 10 hours, so for a $10-$20 more than the base models you are getting nearly twice the battery life and a device that is rechargeable.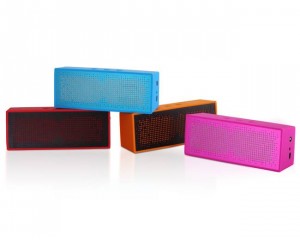 Antec AMP SP1 Bluetooth Speaker Specifications:
Dimensions: 158(H) x 41(W) x 62(D) mm
Weight: 0.38 kg
Communication Range: 10 M (30 ft)
Playback Time: 10 hours
Frequency Response: 2.402 ~ 2.480 GHz
Battery Capacity: Li-lon Battery 3.7V
Power Source: DC 5V 0.5A
Bluetooth Standard: Bluetooth 2.1+EDR
Color Choices: Black, Blue, Green, Orange, Pink, Red or White
Support Profiles Supports Enhanced Data Rate (EDR) Advanced Audio Distribution Profile (A2DP) 1.2, Hands-Free Profile (HFP) 1.5, Headset Profile (HSP) 1.1
1-Year Warranty
Inside the AMP SP1 retail box, you'll find a thin ribbon or flat style USB cable for charging, a thin 3.5mm auxiliary audio cable and the instruction manual. The battery does not come fully charged, so you'll need to fully charge it before the first use.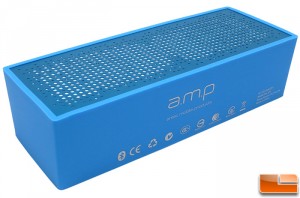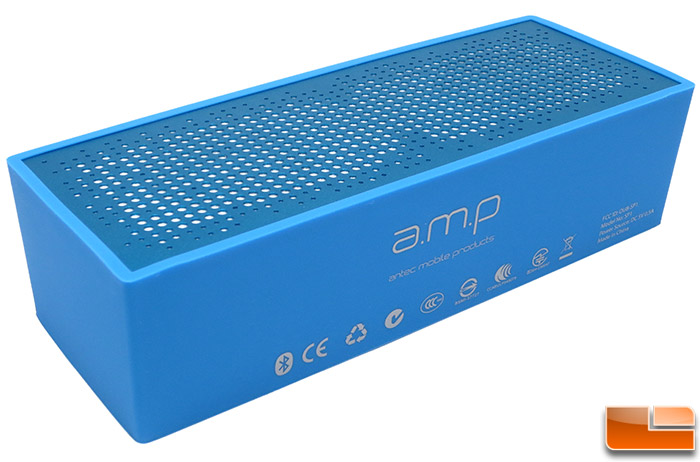 The AMP SP1 measures in at 158(H) x 41(W) x 62(D) mm and has a weight of 12.4 ounces or 0.78 pounds. There are grills on the front and back for the front facing speakers and rubber-like 'beauty' ring that wraps around the unit. This holds the grills on and provides a pretty good slip free way to sit down the Bluetooth speaker.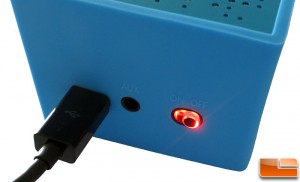 The power switch on the AMP SP1 Bluetooth Speaker has a status light on it. It glows red when it is low on power or white when it is fully charged when plugged in and charging via the USB port. The same light is also used to show when the unit is paired with a Bluetooth device (glows a solid white), when it is not connected (does a slow white blink) and when it is in search mode (rapid white blink). Next to the power switch is the 3.5mm headphone jack for the included 3.5mm stereo headphone connection cable for those that don't want to use Bluetooth. To the left of that you have the USB charging port. It should be noted that no wall charger or power plug is included, so you'll have to plug it into a computer or another USB charger in order to charge it.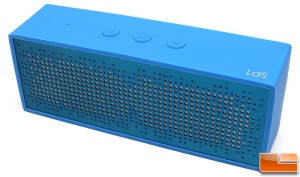 How do you pair the AMP Bluetooth SP1 speaker with your Bluetooth device? There's 3 buttons on top of the AMP SP1: a negative sign (-) to turn volume down, a positive sign (+) to turn volume up, and then a middle dot button (.) to put the device into pair mode. Pairing is easy, just hold the button down till the side light starts blinking and then go into your Bluetooth device (tablet, smartphone or computer) and connect to it.