Antec Kuhler H2O 620 CPU Water Cooler Review
By
Antec Kuhler H2O 620 Water Cooler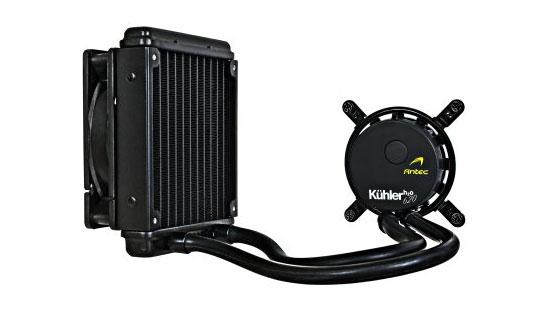 Antec has been around for as long as I can remember; my very first custom system I built used an Antec case. Now Antec has thrown their hat into the cooling world and one of the offering they have is the Kuhler H20 620. Now, if the Kuhler H20 620 looks familiar youre not crazy. Its a team effort between Antec and Asetek, just like the H50/H70 was for Corsair and Asetek, but this last year Corsair moved away from Asetek to CoolIt Systems for their new H60 from their Hydro Series coolers.
Now, before assumptions are made that the Kuhler H2O 620 and the H50 are the same since at first glance it seems they are, but looking closer it is obvious they are not. The Kuhler H2O 620 has the thin radiator like the H50, but the low profile pump and cold plate like the H70. There are also other changes. For instance, the coolant tubing is not corrugated like on the Corsair coolers; the non-corrugated tubing is more flexible making it easier to install and position the radiator. The Kuhler H20 620 also has the newest generation cold plate.
With all the design updates to an already proven design Im very interested to see how this newest offering performs. Costing $62.95 plus $11.46 shipping directly from Antecs online shop or $79.99 plus $3.99 shipping from Newegg, the Kuhler H2O 620 is about as inexpensive of a step into water cooling as you can get. It should be noted that Antec is doing a 10% off promotion right now, but either way it is cheaper to buy the cooler directly from them than Newegg. This came as a shock to us as well, so if you are going to be buying one of these be sure to take note of that! Lets take a look at the features and specifications for the Kuhler H2O 620.
Features of the Antec Kuhler H2O 620 CPU
Low profile pump ensures exceptional liquid circulation while preserving internal airflow
Non-corrugated easy-bend tubes for maximum flexibility in radiator positioning
Intelligent noise / speed-control fan for quiet, efficient cooling
Latest generation copper cold plate for optimal conduction
Cooling Liquid – Safe, environmentally-friendly, anti-corrosive
Specifications for the Antec Kuhler H2O 620 CPU
Socket Compatibility: Intel LGA 775, 1155, 1156, 1366, AMD AM2, AM3, AM2+, AM3+
Fan Speed: 1450 – 2000 RPM
Fan Dimensions: 4.7″ x 1.0″ / 120 mm x 25 mm
Air Flow: 81.3 CFM
Fan Noise: 36bB @ 2000 RPM
Tubing Length: 13.0″ / 330 mm
Radiator Dimensions (HxWxD): 5.6″ x 4.7″ x 1.1″ / 151 x 120 x 27mm
Cold Plate + Pump Height: 1.1″ / 27 mm
Net weight: 1.5 lbs / 0.7 kg
Warranty: Antec Quality 3 year limited warranty on parts and labor