Anime Expo 2015 Part 1: Impressions of a Bigger AX
By

We were a bit surprised to notice the welcoming reception towards our first ever coverage of Anime Expo last year so weve brought it back again. Like last year, the Legit Reviews coverage of Anime Expo 2015 is split into three pieces. Two of those are photograph galleries that follow this article where I share my impressions.
Anime Expo 2015 Part 1: Impressions of a Bigger AX
Anime Expo 2014 Coverage: Part 1 Part 2 Part 3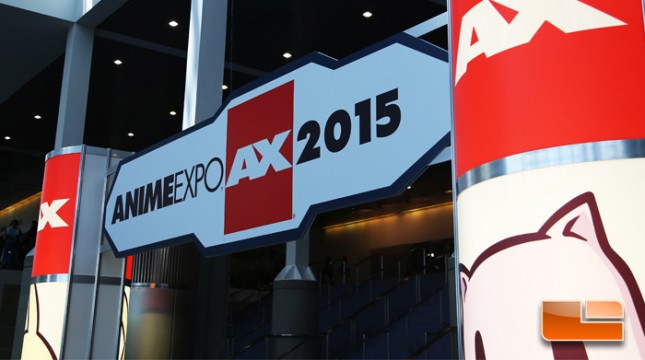 Last year was the first Anime Expo I attended and brought back some fun stuff to share with my readers. In retrospect, it really was fun taking hundreds of cosplayer photographs, but the con did have its glaring problems, some of which I considered more seriously as to what those could bode poorly for Anime Expos future. The annual event is the largest of its kind in North America with 2014 drawing 80,000 unique visitors and 220,000 turnstile attendees. Additionally, this is first year AX has activated the entire LA Convention Center showing a part to the testament to how big this event continues to become. However, is Anime Expo becoming too big for its own good?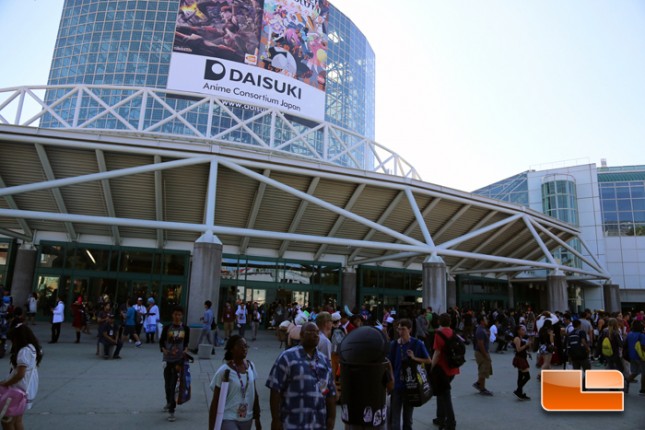 Last years event was riddled with long and mismanaged queue lines at every space exacerbated by the dry heat of 90 degree weather. Otherwise, running the lines indoors would exceed the building capacity allowed by the fire marshal. As it so happened on Day 2 and Day 3, the ticketing line outside the front door had to be frozen because the convention halls had reached capacity, something that came as a surprise because check-in and badge pick-up at ticketing was ridiculously slow due to poor internet condition and an efficient system.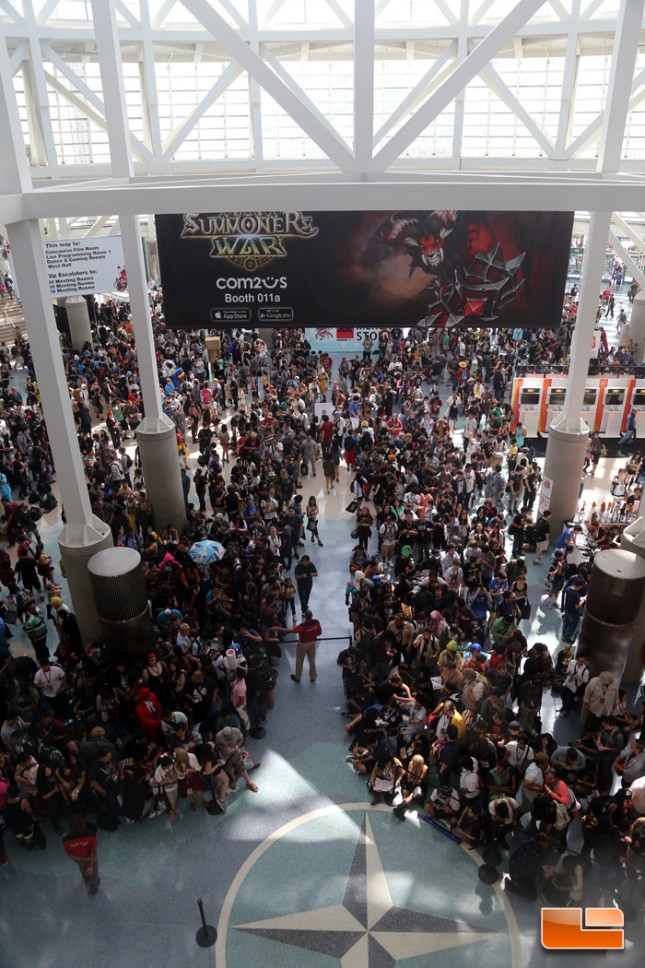 The exhibit hall itself was something of a themed swap meet or collectables show except with lots of people. This is no E3 or PAX where corporate powered tradeshow exhibits are out to make a big impression. Its clear that the humble and modest spirit of Anime Expos foundation is still there even if it quite doesnt match the enormous scale of the venue.
With so many attendees having such a poor fan experience, a good number voiced their dissatisfaction on the Anime Expo forum, some also noting the same problems with previous years.
Things have changed it seems and it seems the Anime Expo organizers, the non-profit Society for the Promotion of Japanese Animation have actually committed to making 2015 their best event. The website has been completely overhauled, the outdoor ticketing lines are now shaded, the overhauled ticketing system from Eventbrite have sped up check-in substantially to just minutes, and the entire convention center is being rented permitting greater indoor capacity. Even the weather has relented and Downtown LA is far from unbearable at 80 degrees and thats a big deal since so many attendees are in costumes.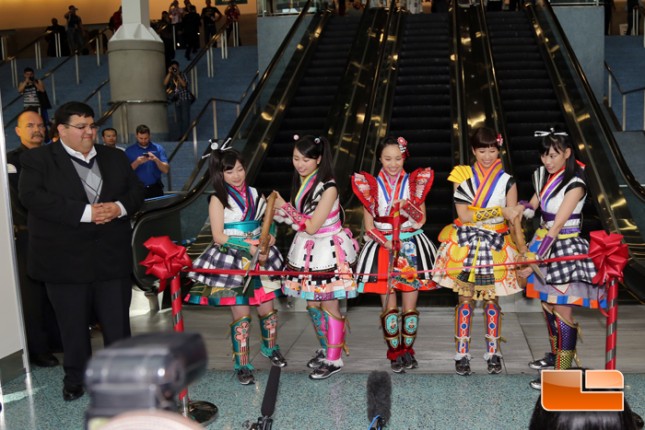 Society for the Promotion of Japanese Animation (SPJA) CEO Marc Perez (far left) and the five members of the Japanese tween idol girl group Momoiro Clover Z
Indeed, the most amazing thing about Anime Expo, and really most other anime and comic conventions are the cosplayers. Our Anime Expo cosplay album last year contained more than 300 images which still only accounted for a fraction of all the cosplays. This is the rare chance of seeing fan devote themselves to an art of channeling their favorite characters from movies, music, television, comic books, and video games through themselves into our world.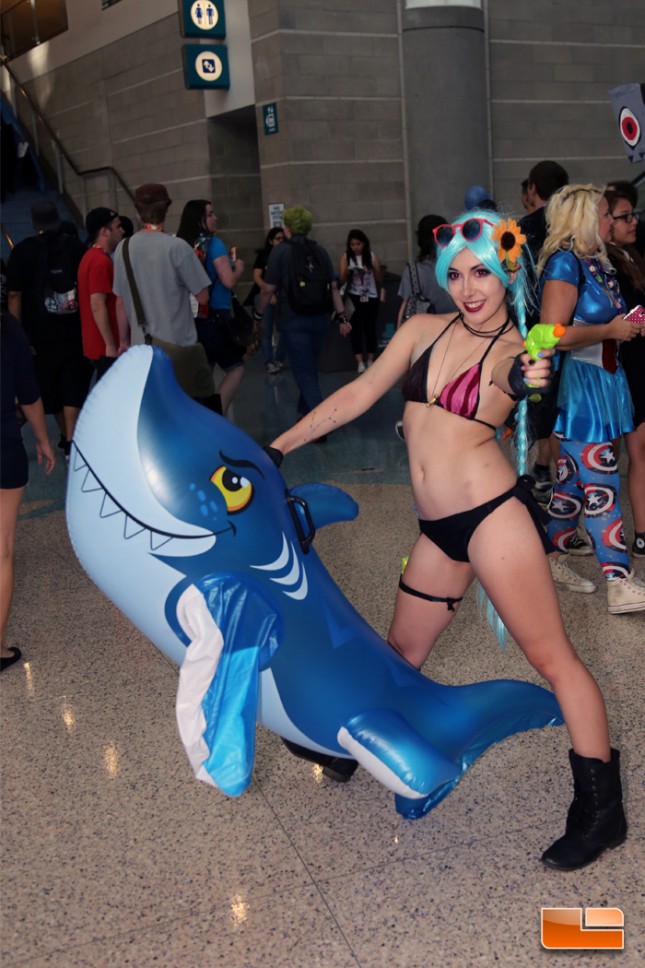 While the best is being saved for last, this years Legit Reviews Anime Expo 2015 cosplay album also promises to be another huge affair.
The event coverage is going to be much lighter this year and so Im actually just going to write about it in this article which comes off sour. Increased restrictions on reporting media mostly at the behest of the performer have blocked the use of photography and thats fine. However, the restrictions on one event, the flagship Momoiro Clover Z concert at the Microsoft Theater next door was a result of gross miscommunication between the contracted PR firm for that event, Asbury PR Agency, and the upper management of the Anime Expo organizers. 15 members of the press were denied access to the concert under the lame reason that there were enough reporters in attendance, what seemed to be around 10 we would later determine. General audience was not permitted any recording or photography.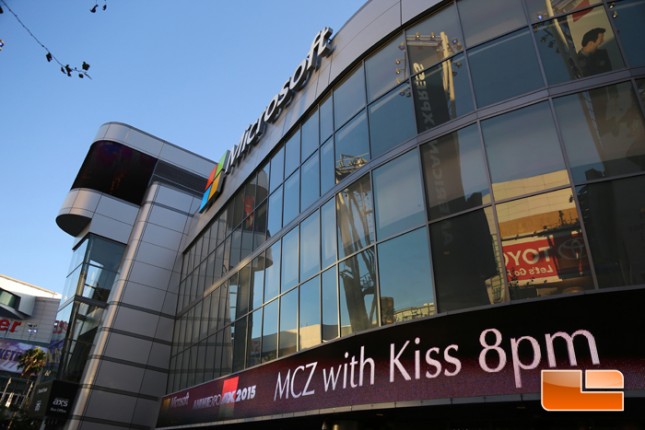 It was the theater staff taking it upon themselves to be actually helpful with the stranded members of the press by humbly suggesting that we store our photography equipment in a hotel room, return to the theater, and take one of the apparently many empty seats. Was there really any good reason to arbitrarily limit the amount press seating on the spot to just one row? About two-thirds of the seats in that entire theater hall were filled! Another low we the press witnessed was the Anime Expo organizing CEO being denied entrance by the organizing PR firm. That really speaks to the incompetence and unprofessionalism of Asbury PR, rather ironic in that Anime Expo was expected to become bigger and that contracting the help of outside public relations would ease that. Some of the denied press did make it back in, including myself though it was obvious the no video and no photography rule amongst general audience was hardly being enforced. Segments of the concert have already been uploaded to YouTube, but because the sound system was terrible, those videos also sound bad, but I'll get to why that was the case in the first place. I took a few pictures with my phone under those low light conditions just to be able to demonstrate what I'm talking about.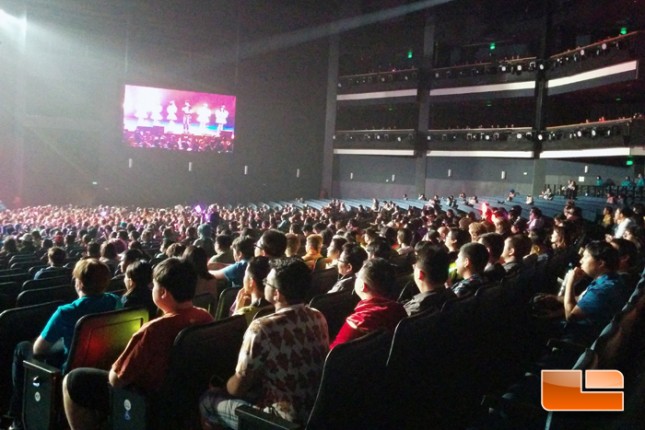 I used my phone for this picture since I was denied use of high-end photography equipment. That's a lot of empty seats over there.
It gets worse yet even. The Momoiro Clover Z concert itself was riddled with problems. This event was promised to feature a collaboration American rock band KISS on stage. Instead two members, Paul Stanley and Gene Simmons, walked on stage without the signature makeup or outfits, said a few words, then left. The Momoiro Clover Z and KISS collaboration was nothing more, but the five girls singing to a prerecording backtrack that one could be assume to have been by KISS since the music video on the offstage screens were showing KISS archive footage. I say assume because the sound system was terrible, but I'll get to that. Not only did I find that segment completely laughable, many in the audience expecting KISS were completely disappointed that the legendary rock band was not realized in any real way on that stage.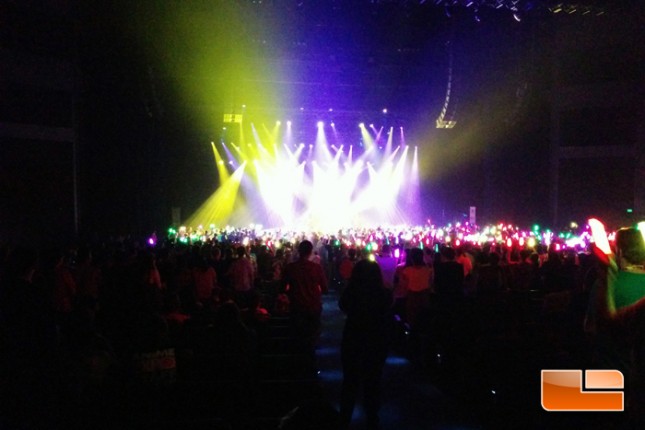 My better camera can pierce that fog. Nonetheless, the fog machine was either leaking too much or was being worked like an abused, terrified mail-order bride.

Then there was the awful stage audio system that completely ruined the experience for me and really all the people who walked out during the show clutching their ears. The sound technician who had the wretched idea to amplify the speakers so high not only to painful hearing levels, but also so loud to clip and completely distort the audio out of those speakers, should be sacked. Ill believe the girls performed great, but I really couldnt tell if they did because all that I could hear was really loud bass beats and whiny vocals.
Im disappointed that the concert wasnt as good as I had hoped, but Im more upset that I wont have any event coverage this year around. Amongst Anime Expos proudest hallmarks are those kinds of concerts and its a shame I couldnt share any of that with you my readers. Stay tuned for the other things.