AMD's Newest Speed King — FX-53
By
Introduction:
Today AMD is releasing the next processor in their enthusiast line, the AMD Athlon 64 FX-53. The FX-53 is now the fastest processor that AMD has in their aresnel and packs 64-bit processing for upcoming 64-bit applications. The Athlon 64 FX line is aimed at the heart of the power user, since the processor is unlocked from the factory and offers a 400MHz Dual Channel memory solution. As far as changes in the processor goes the FX-53 is simply a 200MHz increase and not a new core please feel free to refference our FX-51 review that covers the specifics of this 64-bit processor.
The FX-53 in its natural habitat: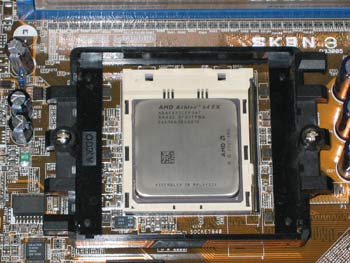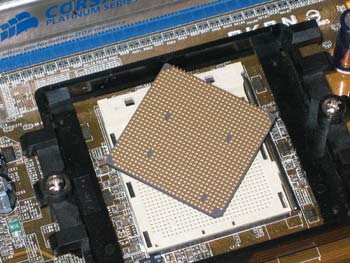 The Athlon64 FX-53 is clocked at 2.4GHz (12×200) and has 1MB of L2 cache. It is in a 940-pin package and is supported by dual channel DDR400 registered memory.
AMD's even been able to increase the frequency without having to have increase in the core voltage, which remains at 1.5v!
CPU-Z shots of the FX-53 in action: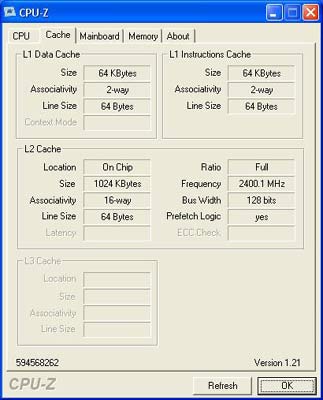 Everything looks good when viewing the processor under CPU-Z version 1.21! Looks like the standard FX specifications with a little speed boost.
General Athlon 64 FX Information:
L1 Cache Size: 64KB data + 64KB instruction = 128KB
L2 Cache Size: 1MB
CPU Core Frequency: 2.40GHz
CPU to Memory Controller: 2.40GHz
Memory: Integrated 128-bit wide memory controller
Types of Memory: PC1600, PC2100, PC2700 and PC3200 Registered DDR memory
HyperTransport Links: 1
Packaging: 940-pin ceramic micro PGA
Fab location: AMD's Fab 30 wafer fabrication facility in Dresden, Germany
Process Technology: 130nm (.13-micron) Silicon on Insulator
Approximate Transistor count: 105.9 million
Approximate Die Size: 193mm squared
Nominal Voltage: 1.50 V
Max Ambient Case Temp: 70 degrees Celsius
Max Thermal Power: 89 W
Max Icc (processor current): 57.4A
Since many don't follow processor roadmaps or look at the technical specifications of AMD processors they are posted above to help give one a better understanding of where AMD is going and how the FX fairs against other AMD products.
Now that you know what processor we are looking at and how this is just a basic speed increase let's take a look at some real numbers!