AMD Ryzen 9 5900X and Ryzen 5 5600X CPU Review
By
Power Consumption
Power consumption is something that you should be aware of with regards to processors as someone is going to be paying the electric bill. The processors that we have tested have a wide range of TDPs that you can find in the bullet list below.
AMD Ryzen TR 3970X 280W TDP
AMD Ryzen TR 2990WX 250W TDP
AMD Ryzen TR 1950X – 180W TDP
AMD Ryzen 9 5900X – 105W TDP
AMD Ryzen 5 5600X – 65W TDP
AMD Ryzen 9 3950X 105W TDP
AMD Ryzen 9 3900X 105W TDP
AMD Ryzen 7 3700X 65W TDP
AMD Ryzen 5 3600X 95W TDP
AMD Ryzen 3 3300X – 65W TDP
AMD Ryzen 3 3100 – 65W TDP
AMD Ryzen 7 2700X 105W TDP
Intel Core i9-10980XE 165W TDP
Intel Core i9-9900KS 127W TDP
Intel Core i9-9900K 95W TDP
Intel Core i7-9700K – 95W TDP
Intel Core i5-9600K – 95W TDP
Intel Core i5-9400F 65W TDP
Intel Core i3-9100 65W TDP
Intel Core i7-8700K 95W TDP
Intel Core i5-8400K 65W TDP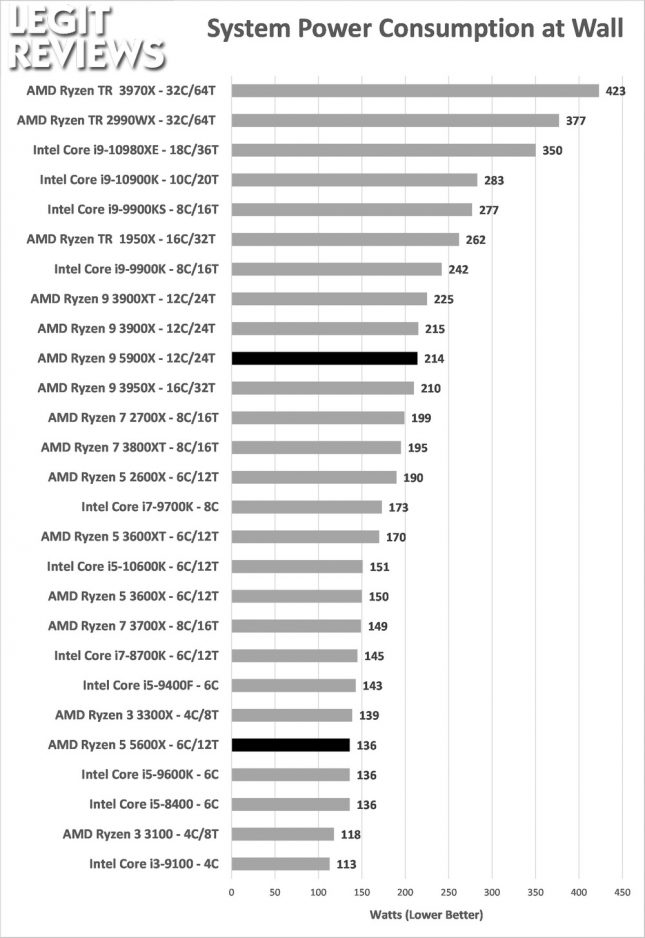 Power consumption on the new AMD Ryzen 9 5900X and Ryzen 5 5600X processors is excellent! Power consumption has gone down from the Ryzen 9 3900X and Ryzen 5 3600X from the previous generation, so we are getting way better performance while using less power.