AMD Ryzen 7 3700X and Ryzen 9 3900X CPU Review
By
Power Consumption
Power consumption is something that you should be aware of with regards to processors as someone is going to be paying the electric bill. The processors that we have tested have a wide range of TDPs that you can find in the bullet list below.
AMD Ryzen 7 3900X – 105W TDP
AMD Ryzen 7 3700X – 65W TDP
AMD Ryzen 7 2700X – 105W TDP
Intel Core i9-9900K – 95W TDP
Intel Core i7-8700K – 95W TDP
Intel Core i5-8400K – 65W TDP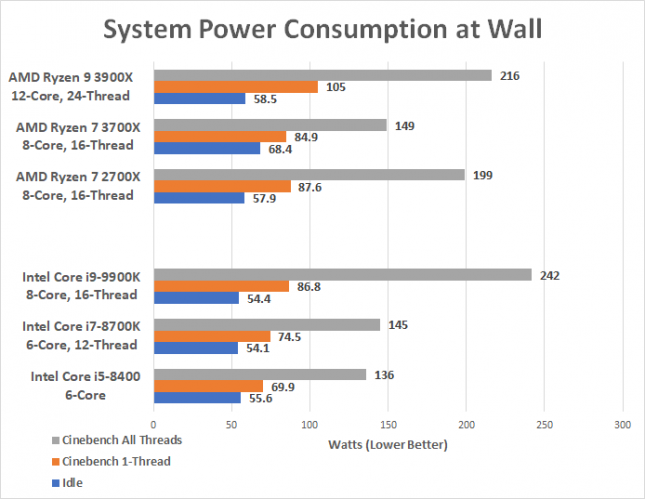 When you look at power consumption you can really see that AMD has made some major improvements with Zen 2. The power draw at the wall on the 3700X was right under 150 Watts running Cinebench R20 on all threads, which is 50 Watts lower than what the Ryzen 7 2700X! The 12-core Ryzen 9 3900X came in at 216 Watts, but that is great for a processor with this many cores and threads. It used less power than the Intel Core i9-9900K!