AMD Ryzen 7 3700X and Ryzen 9 3900X CPU Review
By
AMD Goes 7nm on Ryzen 3000 Series CPUs
Last week AMD Ryzen 3000 series desktop processors based on the Zen 2 architecture finally came to market. AMD launched six new desktop processors of which five are available today. Of the processors that are out today they range in price between $199 to $499. The six model coming later would be the flagship Ryzen 9 3950X 16-core, 32-thread beast will be coming in September 2019 for $749.
Today, the 'best' processor that you can buy would be the 12-core, 24-thread Ryzen 9 3900X at $499. This processor competes directly with the Intel Core i9-9900K at the $499 price-point and should be able to compete with Intel across the board. This is the first time in many years that AMD has been able to rival Intel on the performance front. This is all thanks to the new Zen 2 architecture that is built on the 7nm manufacturing process with a redesigned cache structure, and support for new technologies like PCI Express 4.0. AMD has steadily been improving their single-thread performance over the years and has taken multi-threaded performance to the next level by offering more cores and threads than their competitor. The fact that they have been adding to the cache (GameCache) like crazy also doesn't hurt as you want to keep as much data as you can by the cores to boost performance and reduce latency.
AMD Ryzen 3000 Series Desktop Processors
Model
Cores / Threads
Base / Boost
GameCache
TDP
Price
Competition
Ryzen 9 3950X
16 / 32
3.5 Ghz / 4.7 GHz
72MB
105W
$749
Ryzen 9 3900X
12 / 24
3.8 Ghz / 4.6 GHz
70MB
105W
$499
Core i9-9900K
Ryzen 7 3800X
8 / 16
3.9 GHz / 4.5 GHz
36MB
105W
$399
Core i7-9700K
Ryzen 7 3700X
8 / 16
3.6 GHz / 4.4 GHz
36MB
65W
$329
Core i5-9700K
Ryzen 5 3600X
6 / 12
3.8 GHz / 4.4 GHz
36MB
95W
$249
Core i5-9600K
Ryzen 5 3600
6 / 12
3.6 GHz / 4.2 GHz
36MB
65W
$199
Core i5-9600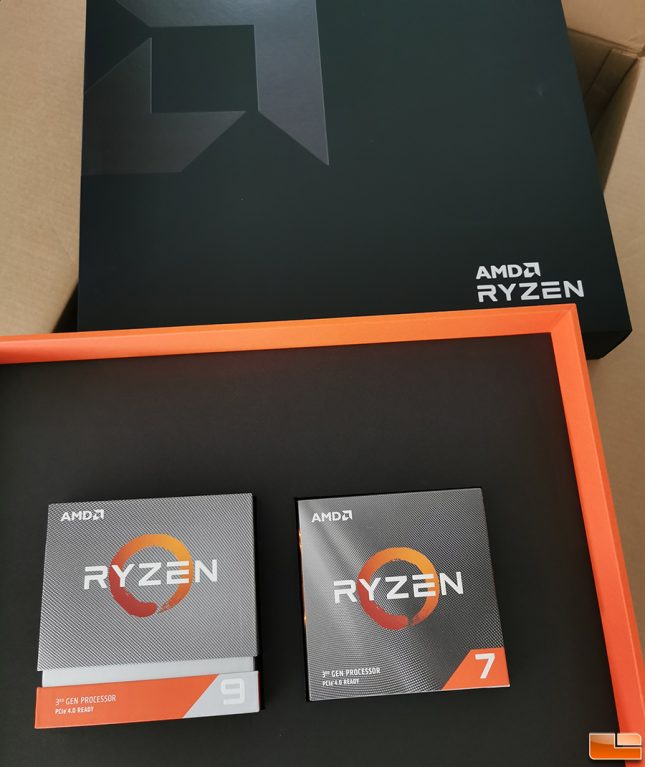 AMD sent over two processors for us to look at and they would be the AMD Ryzen 9 3900X and the Ryzen 7 3700X. The Ryzen 7 3700X 8-core, 16-thread processor appears to be a tremendous value at $329. This processor is a 65W part with 3.6 GHz base and 4.4 GHz boost clocks. AMD believes that it will compete with the Intel Core i7-9700K. The AMD Ryzen 9 3900X on the other hand is a 12-core, 24-thread part with a 105W TDP. Despite having more cores this part has an even higher base clock of 3.8 GHz and a 4.6 GHz boost clock! This $499 part lines up against the Intel Core i9-9900K ($485) and the Intel Core i9-9900KF ($435).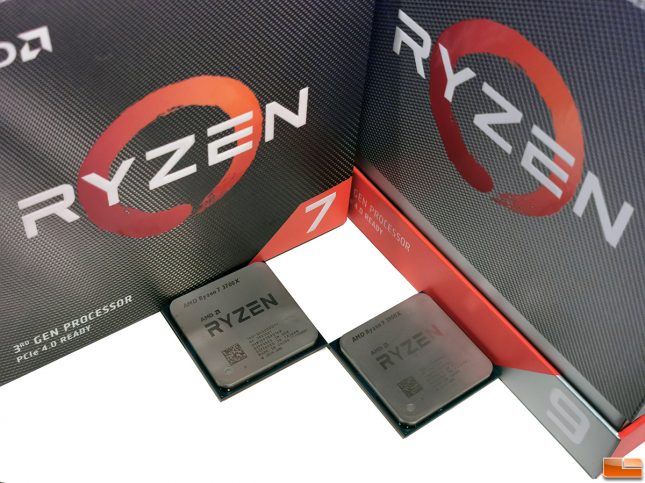 The 3rd Generation Ryzen 3000 series desktop processors look just like their predecessors and they thankfully work in most existing AM4 socket motherboards after a UEFI update. The only kicker is if you want to take advantage of new technologies like PCI Express 4.0 you'll need to step up to the latest and albeit more expensive AMD X570 motherboards. The AMD Wraith series of CPU coolers come with and remain unchanged, a testament to how well designed they were and how power efficient AMD has become.
Let's take a quick look at the test system and then get straight to the benchmarks.