AMD Ryzen 5 3600X Processor Review
By
Can Ryzen 5 3600X For $250 Steal The Show?
Today we'll be taking a closer look at the AMD Ryzen 5 3600X 6-core, 12-thread desktop processor. This chip will more than likely be one of the most sold Ryzen 3000 series processors due to its rather affordable price point of $249. Under the hood the Ryzen 5 3600X uses the latest Zen 2 chiplet architecture that is built on the 7nm manufacturing process. This design has given the Ryzen 3000 series an impressive uplift of 15% when it comes to Instructions Per Clock (IPC) over the Ryzen 2000 series. This performance boost helps AMD big time as you'll see improvements in all performance benchmarks – real or synthetic.

The AMD Ryzen 3600X ($249.00 shipped) is positioned against the Intel Core i5-9600K ($245.00 shipped) processor and it sure looks like the 3600X is the clear winner on paper. It has twice as many threads, nearly 4x the cache and it offers support for PCIe 4.0 if used with an AMD X570 motherboard. The AMD Ryzen 5 3600 at $199.00 shipped is a very appealing processor, but unfortunately we don't have a sample to test. The Ryzen 5 3600 comes clocked at 3.6 GHz for the base and 4.2 GHz for the boost, whereas the 3600X runs 200 MHz faster at 3.8 GHz base and 4.4 GHz boost. So, you are paying $50 more for the 3600X to get a 5-6% clock increase out of the box with the same number of cores and cache. The lower clock speeds of the Ryzen 5 3600 make it a 65W part, which might be appealing to some over the 95W rating on the 3600X for those that don't plan on doing any overclocking. Overclocking throws factory power specifications out the window!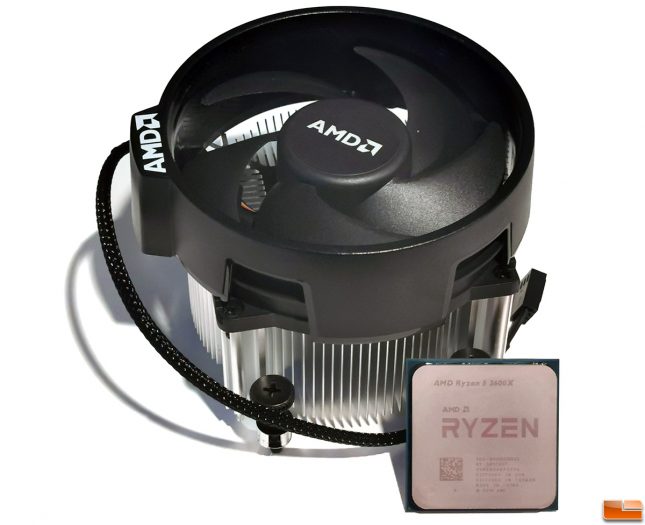 The AMD Ryzen 5 3600X also comes with the Wraith Spire CPU Cooler whereas the Intel Core i5-9600K does not. The 3600X is a 95W TDP processor and runs fine without any thermal throttling on the Wraith Spire, so we see the retail box cooler as a big time value booster. This is also a differentiator between the Ryzen 5 3600X and the Ryzen 5 3600 as the 3600 comes with the slightly smaller Wraith Stealth cooler. The cooler difference is also due to the fact that the 3600X has a higher 95W power rating versus just 65W on the 3600.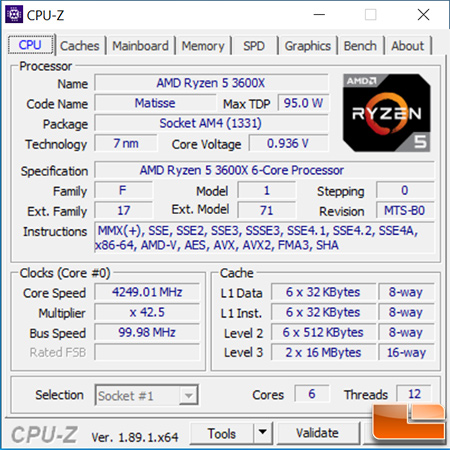 Before we jump into testing here is a quick look at the AMD Ryzen 5 3600 'Matisse' processor in CPU-Z 1.89.1.
Let's take a quick look at the test system and then get straight to the benchmarks.