AMD Ryzen 5 2600X Processor Review
By
AMD Ryzen 5 2600X Power Consumption and Overclocking
Power consumption is something that you should be aware of with regards to processors as someone is going to be paying the electric bill. The AMD Ryzen 7 2700X has a 105W TDP, but the Ryzen 5 2600X comes in slightly lower than that at 95W.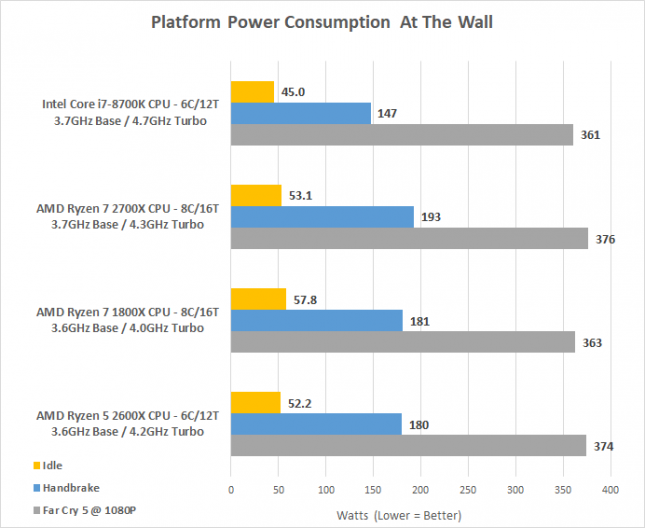 Our testing shows that AMD Ryzen 5 2600X used slightly less power than the AMD Ryzen 7 2700X processor at idle and when running a multi-threaded CPU workload like Handbrake. On Handbrake the Ryzen 5 2600X used used about 13 Watts less power and that is about what we expected to see with the 10W lower TDP. While gaming though we noticed that both the Ryzen 5 2600X and Ryzen 7 2700X use about the same amount of power and that is likely due to the fact that the processors are not at full load across all available cores.
Let's take a look at overclocking!
AMD Ryzen 5 2600X Overclocking
We wanted to see how the AMD Ryzen 5 2600X processor could overclock with the stock cooler by manually overclocking all the CPU cores. We are happy to report that we were able to get 4200 MHz on all cores by increasing the CPU multiplier from 36x to 42x and not messing with any voltages as this processor was already defaulting to 1.5V.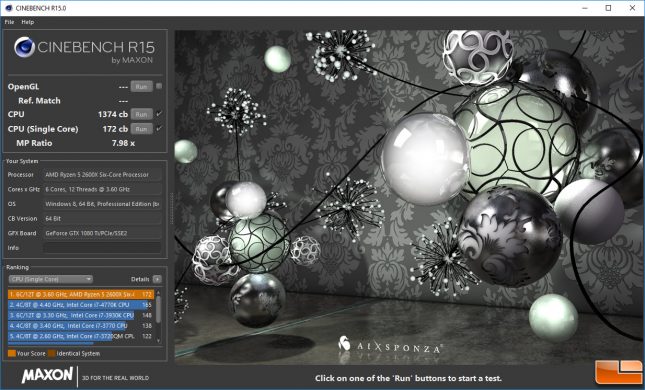 Before the overclock our stock AMD Ryzen 5 2600X processor scored 1374 on the Cinebench multi-CPU benchmark test and 172 points on the single core test. After overclocking all the cores to a fixed 4.2 GHz our scores went up to 1442 on the multi-CPU benchmark, which is a 5% performance improvement over stock CPU speeds. Not a bad performance jump considering we were on the stock cooler and there was no voltage increase.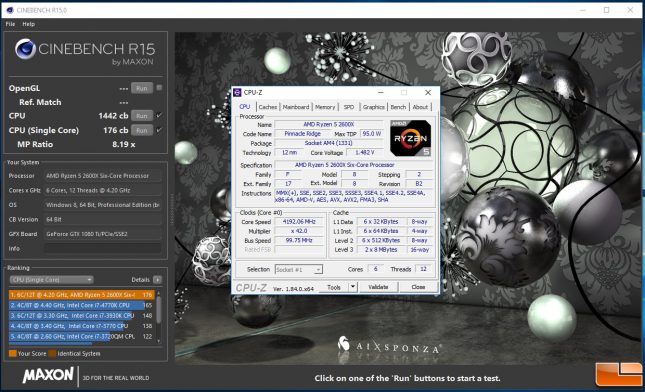 Just for fun we tried to run 4250 MHz with the 42.5x CPU multiplier with 1.55V set on the CPU VCore and we'd lock up Cinebench with those settings on the ASUS ROG Crosshair VII Hero Wi-Fi X470 motherboard. Reaching 4.2 GHz on all 8-cores with the stock cooler was still impressive for a $229.99 processor.
Let's wrap up this review!