AMD Radeon HD 7790 Video Card Review w/ Gigabyte & Sapphire
By
Final Thoughts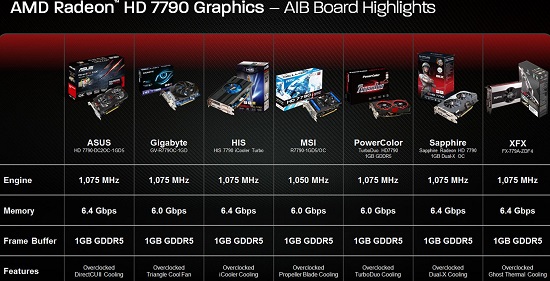 The AMD Radeon HD 7790 will be available in volume beginning April 2nd, 2013 and most companies will be offering overclocked cards from the start. It looks like almost all of them will be clocked at 1075MHz on the core and either 1500 or 1600MHz on the GDDR5 memory. The initial batch of cards will have 1GB of memory, but later in April we are told to expect to see the 2GB versions start to roll in. AMD informed us that the 2GB cards will cost about $20 more, so you are looking at around $149 for a 1GB version or $169 for a 2GB card. We noticed that on some of the games we tested that we were filling up all of the 1GB frame buffer at 1920×1080 with high image quality settings, so if you are gaming at 1920×1080 it might be a good idea to wait and snag one of those cards.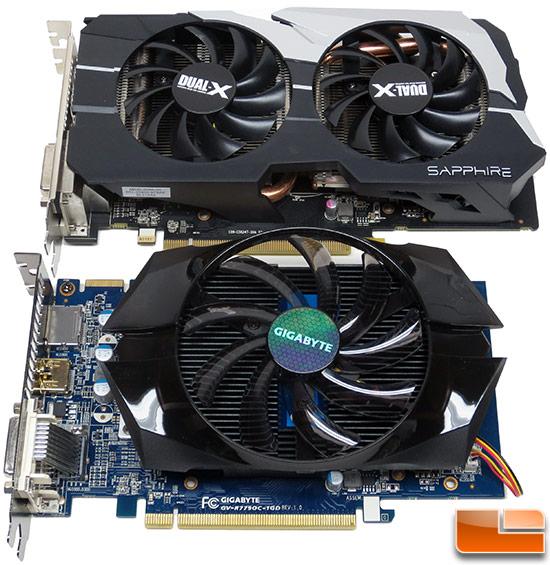 We were able to test the Gigabyte GV-7790OC-1GD ($149) and the Sapphire HD7790 Dual-X OC ($159) and found both to be stellar cards. The Sapphire Radeon HD 7790 Dual-X OC lead the performance benchmarks thanks to the higher memory speed it had, but when we overclocked the cards they both maxed out at 1200MHz core and 1600MHz. This means overclocked performance was identical. The Gigabyte card was shorter, costs less and was quieter when gaming. The Sapphire card looks better, performs better out of the box, is more power efficient and runs cooler when gaming. Both cards have strong areas, so it really depends on which depends the most to you!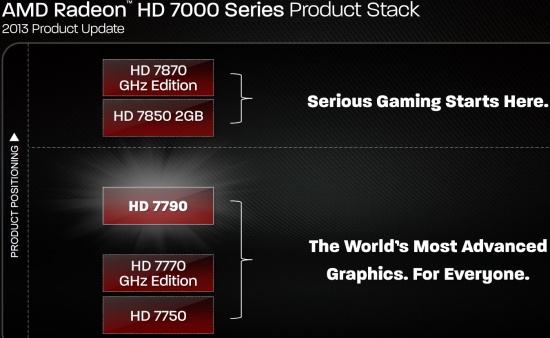 At the end of the day, AMD set out to fill the product gap between the Radeon HD 7770 GHz edition ($95 shipped) and the Radeon HD 7850 2GB ($180 shipped). The AMD Radeon HD 7790 at $149-$159 for 1GB versions and $159-$169 for 2GB versions does just that.There was a very big hole between the $100 and $180 price points, so this card should appeal to mainstream gamers.
That said we expect pricing to fall just a bit in the weeks ahead due to a number of reasons. For starters the XFX Radeon HD 7850 2GB at $180 shipped after rebate and many gamers will want to jump up to that card for better performance for a bit more money. You also have the NVIDIA GeForce GTX 650 Ti with Boost that is rumored to be coming out next week. Since the AMD Radeon HD 7790 won't be available to purchase until April 2nd, 2013 we advise to sit back and see what NVIDIA has to offer in the $150-$200 price range as you know they won't be letting AMD have all the fun in this price segment. The Sapphire HD7790 Dual-X OC runs $159 and was able to manhandle the EVGA GeForce GTX 650 Ti that runs $165 in this review, but that is before NVIDIA slashes some prices and releases their new card for this price segment! Let the spring GPU wars begin!
Legit Bottom Line: The AMD Radeon HD 7790 was found to be a solid card for the $150 price point, but NVIDIA has yet to release this cards true competition!