AMD Radeon HD 7790 Video Card Review w/ Gigabyte & Sapphire
By
AMD Radeon HD 7790 – Bonaire GPUs Arrive
AMD knew it had a performance gap between the Radeon HD 7770 GHz Edition ($95) and Radeon HD 7850 ($180) desktop graphics cards and wanted to fill that gap with another graphics card. Today, that gap has been filled thanks to the released of the AMD Radeon HD 7790 at $149.

The AMD Radeon HD 7790 features a brand new ASIC design (GPU) that goes by the codename Bonaire. The Bonaire graphics processor is based on AMD's 28nm Graphics Core Next (GCN) architecture and features 14 compute unites, a die size of 160 mm2 and 2.08 Billion transistors. In case you forgot, the other AMD Radeon HD 7000 graphics cards are based on Cape Verde, the Radeon HD 7800 series uses Pitcairn and the Radeon HD 7900 series uses Tahiti.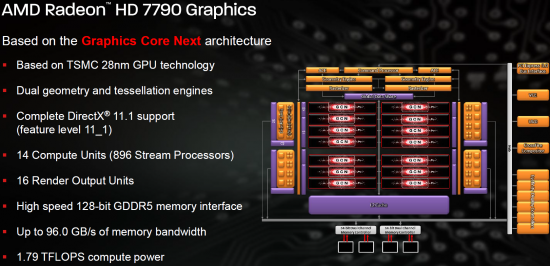 The AMD Radeon HD 7790 has 896 stream processors that operate at up to 1000MHz on the reference design, but you'll see factory overclocked cards from all the board partners on day one. AMD Radeon HD 7790 graphics boards will also be equipped with 1GB or 2GB GDDR5 memory on a 128-bit bus. These specifications should give the AMD Radeon HD 7790 considerably higher performance compared to the Radeon HD 7750 and Radeon HD 7770 GHz Edition cards. It also fully supports DirectX 11.1, OpenCL 1.2, OpenGL 4.3, PCI Express 3.0, AMD Eyefinity 2.0, ultra high-definition output support using DisplayPort 1.2, HDMI 1.4a, optimized power consumption (Eight DPM States), integrated 7.1 audio controller, stereo-3D/Blu-ray 3D support, and other new technologies.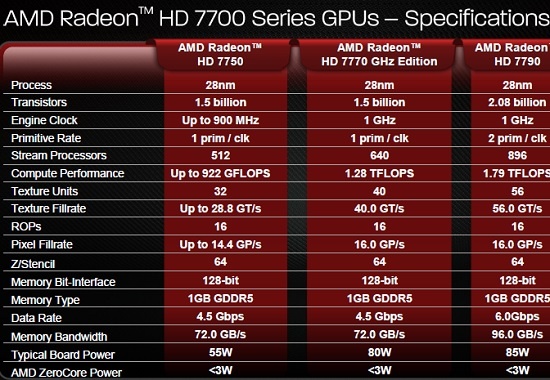 The chart above gives you a closer look at the AMD Radeon HD 7790 graphics specifications compare to the other AMD Radeon HD 7000 series cards. As you can see the HD 7790 has 40% more stream processors and Texture Units than HD 7770 GHz Edition, increased memory bandwidth when compared to both the HD 7750 and HD 7770 GHz Edition thanks to faster memory clocking and an increased Primitive Clock Rate at 2 prim / CLK. Having 1.79 TFLOPS compute power and ~96.0GB/s of memory bandwidth is not bad for a card that costs around $149!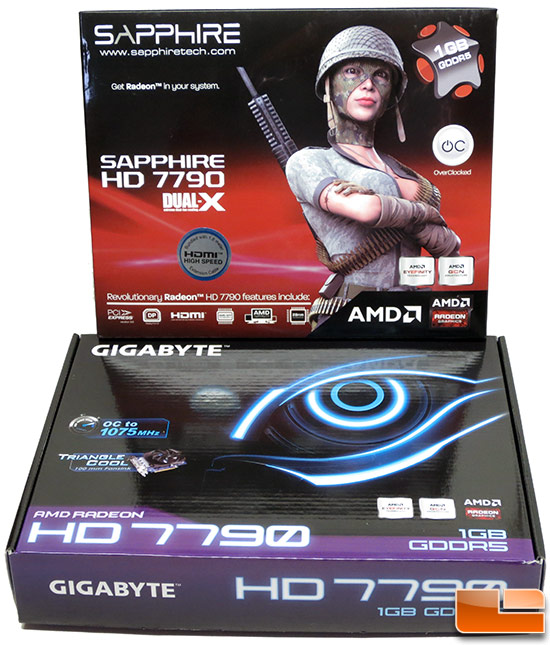 We did not receive an AMD Radeon HD 7790 reference card, but our friends over at Sapphire and Gigabyte did send us some retail boxed cards to take a look at! Sapphire sent the HD 7790 Dual-X OC 1GB card, which retails for $159 and is factory overclocked to 1075MHz on the core and 1600MHz on the memory. Gigabyte sent the GV-R7790OC-1GD, which retails for $149 and is factory overclocked to 1075MHz on the core and 1500MHz on the memory. Both Sapphire and Gigabyte will be releasing 2GB versions of the Radeon HD 7790 in late April and expect them to retail for $20 more. That puts the upcoming Gigabyte GV-R7790-2GB at $169, but is better suited for those gaming at 1920×1080 and higher due to the need of additional memory. Sapphire also has a version that features the AMD Radeon HD 7790 reference clock speeds for $149. It should be noted that all AMD Radeon HD 7790 video cards are part of the Never Settle campaign and will be bundled with BioShock Infinite from participating retailers.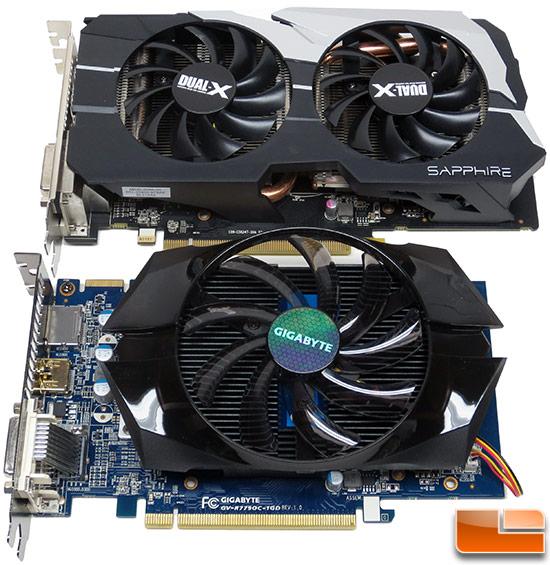 You can see that Sapphire and Gigabyte went totally different directions when it comes to the Radeon HD 7790 cards that they will be selling. Sapphire went with the usual Dual-X GPU cooler design that has a dual-slot cooling system with two fans and a pair of U-shaped copper heatpipes that are not direct touch. The black PCB on the Sapphire HD7790 Dual-X OC measures 8.5″ in length. Gigabyte also went with a dual-slot card with a custom GPU cooler that has 'triangle cool' technology with a single large 100mm cooling fan. The blue PCB on the Gigabyte GV-R7790OC-1GD card is just 7.5″ long, so it is an inch shorter than Sapphire.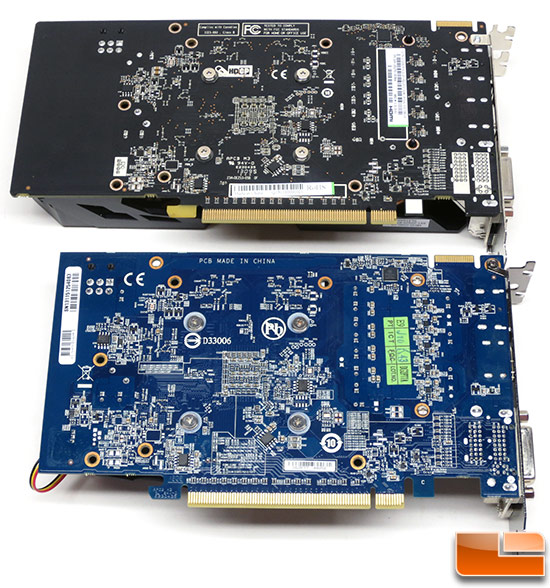 Neither card features a backplate and none of the memory chips for the 1GB of GDDR5 memory are located on the back of the card. The Sapphire Dual-X GPU cooler actually makes contact with all the GDDR5 memory chips on that card, while the Hynix GDDR5 IC's are left open on the Gigabyte card. Both cards use 42mm mounting holes, which is good to know if you plan on changing the GPU cooler or adding a water block down the road.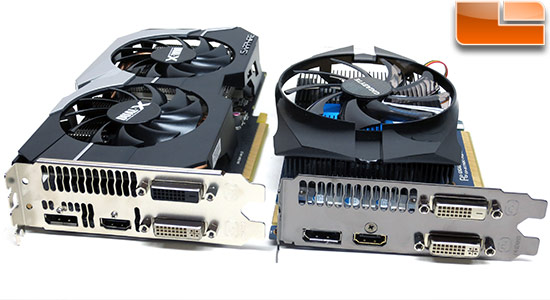 The hot air exhaust slots differ on the cards respective backplates, but the video outputs are the same. You have DisplayPort 1.2, HDMI 1.4a, DVI-I and DVI-D.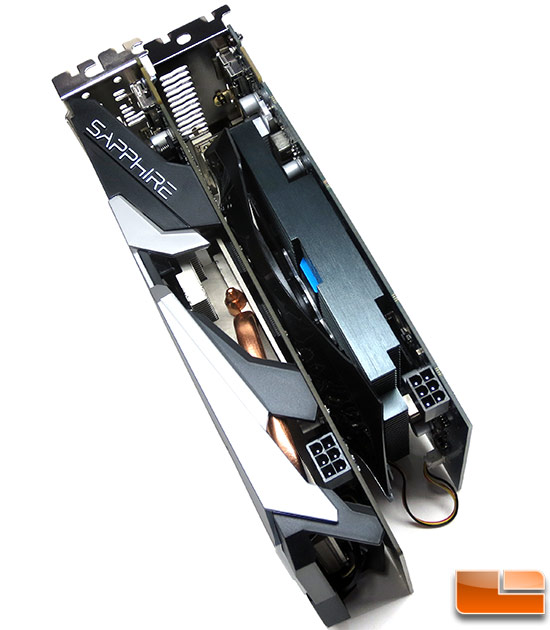 Both cards have a single 6-pin PCI Express power connector located along the top of the video card near the end of the PCB. Both Gigabyte and Sapphire recommend a 450W or greater power supply with one 75W 6-pin power connector for this video card to operate properly.
Now we can get to testing since we know what the AMD Radeon HD 7790 is and more about the Gigabyte and Sapphire retail cards!