AMD Mantle API Real World BF4 Benchmark Performance On Catalyst 14.1
By
Final Thoughts and Conclusions
Mantle is a new unproven technology by AMD for their HD7000, R7 and R9 video cards that are Graphics Core Next (GCN) compatible. We were lucky enough to test the first beta release driver by AMD we saw a significant performance improvement with the first driver release. As the technology matures we hope to see bigger performance gains from Mantle and we really hope that AMD can work with FRAPS to get the benchmark utility to work with the Mantle API. Pretty much every hardware review site relies on FRAPS, so hopefully that will come sooner rather than later.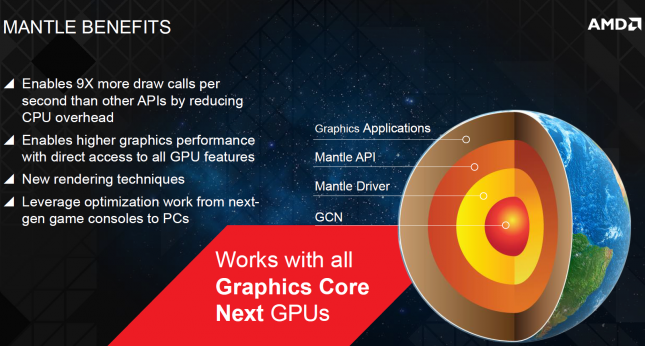 Both AMD and EA-DICE released some performance improvement numbers and shows substantial performance gains at 1080P in Battlefield 4. AMD found an estimated average of 13.28% performance boost in BF4 at 1920×1080. Our testing of the driver on a platform with the previous generation Intel Ivy Bridge processor and AMD Radeon R7 260X resulted in a 15.8% performance boost, just slightly higher than AMD's average. Taking into account the differences in our test system and their configuration this is a pretty good average and a heck of a performance boost from a driver and game updates.
For StarSwarm, we received a 28.58% performance boost across all four of the scenarios when looking at DirectX versus Mantle performance on Catalyst 14.1 beta drivers However, the very first time that we ran StarSwarm we used Catalyst 13.12 drivers and the difference between DirectX 11 performance on Catalyst 13.12 and Mantle performance on Catalyst 14.1 beta was found to be a staggering 85% at 1920×1080. (We were also told by AMD that a StarSwarm update was pushed out on steam, so that could be a major reason too) Those scores were not shown, as we figured that once the Mantle drivers come out, everybody will be utilizing the drivers whether running DirectX 11 or Mantle.
Legit Bottom Line: Overall, Mantle is a very interesting technology for GCN compatible video cards. As more games support Mantle we will be able to see exactly how this new API compares, and will make comparing nVidia cards to AMD cards a little more difficult.