AMD Beema and Mullins APU Performance – 3rd Generation APUs
By
AMD Beema and Mullins APU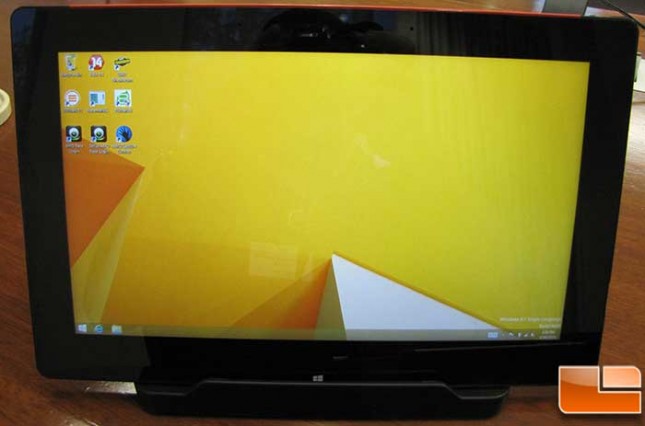 During CES 2014, AMD announced their development of their next generation low powered APUs being designed for tablets, notebooks and small form factor systems. Detailed information is finally available for their new "Beema" and "Mullins" APUs. Beema is being targeted at the notebook, ultrabook and small form factor type systems, while Mullins is geared towards tablet usage. For this generation of APU, AMD has achieved integrating an ARM Cortex A5 for platform security processor, quad Puma+ GPU cores, lowering power usage for CPU, GPU and I/O, increasing the frequency, and increasing the memory bandwidth. In April 2014, AMD invited Legit Reviews to their corporate office to have some hands-on time with their Mullins APU. Before we take a look at what we found, let's get some background on the the APUs.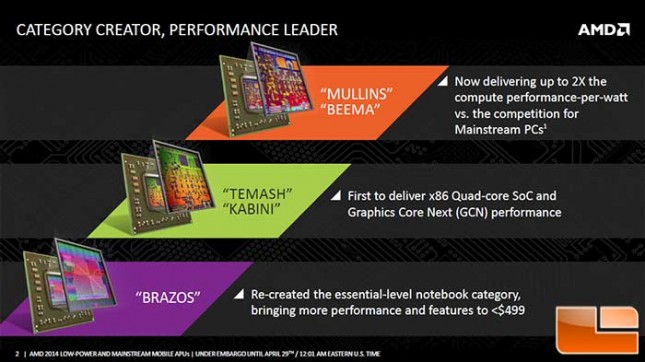 The AMD APU based on the Temash chipset was released in Summer 2013 for tablet and ultra-low powered systems, less than a year later a new generation, Mullins, is now being announced. The Temash chipset was the first x86 quad-core SOC APU for tablets and also included AMDs Graphics Core Next instruction set. Mullins expands those features and doubles the performance per watt when compared to similar processors. Intel is just beginning to enter this market with their Baytrail solution.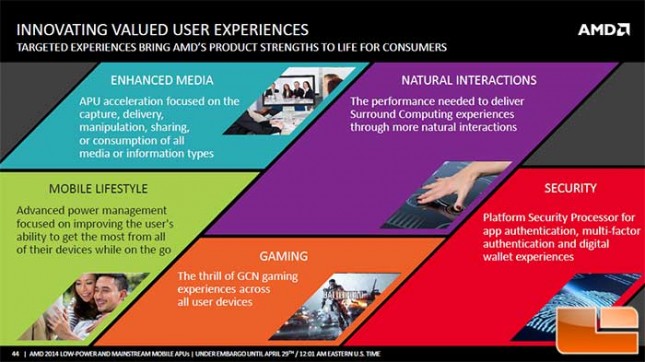 AMD includes many added features to enhance the user experience. The Mullins APU includes AMD Quick Stream which will prioritize the network bandwith over other network streams from the device to make sure the desired experience is smooth and uninterrupted. Their Picture Perfect makes streaming video better by reducing shaking, dynamically increasing the resolution to improve the overall quality. For the user interface, they have accelerated gesture control and facial login. AMD has also partnered with BlueStacks to provide a sandbox for Android applications, allowing your Android applications to run as if they were on your Android based mobile device.