AeroCool Touch-2000 LCD Fan Controller Review
By
Final Thoughts & Conclusions
When the AeroCool Touch-2000 is installed, it is a thing of beauty. It's very modern and touch screens are all the rage these days and are showing up virtually everywhere. At $53.99 shipped, you can certainly find a cheaper fan controller but not one with an integrated temperature monitor, touch screen operation and the added bonus of audio jacks, eSATA and USB ports. Although I didn't get into it specifically in the article, I tested each of these and they performed as expected. The use of a lock on the screen is smart and the overall screen layout is logical and easy to read.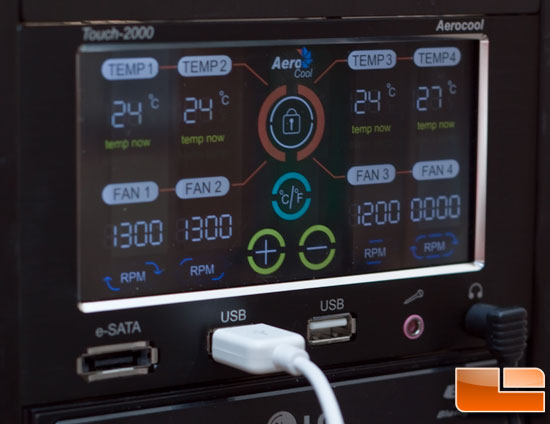 I have some minor complaints, the main being the included manual. It's a bit difficult to follow due to the way it is laid out as grouped by instruction rather than language. It's also missing some basic information such as what parts are included in the package and how loose parts are intended to be used. The viewing angle, while good, could be a problem for those who keep their case on the floor and may require some bending to see it properly. The temperature alarm may be a little too low in volume to be of any use unless you are in the same room as the PC and it failed to provide speed readings or control one fan I tested on it. In fairness, the Panaflo is probably the oldest fan I have lying around and I didn't list three of the fans I actually have in my case, all of which had no problems with the speed display or control. Seven out of eight isn't bad.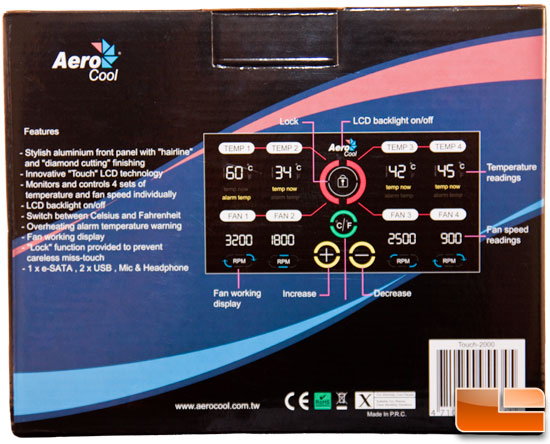 Overall, I think the AeroCool Touch-2000 is a good value and delivers what it promises. I've already donated my previous no-frills rheobus fan controller to a Legit Reviews forum member and he will be using the Touch-2000 in his main case full time. If you like this model but your case lacks the dual bays it requires, a single bay size version is available with the Touch-1000.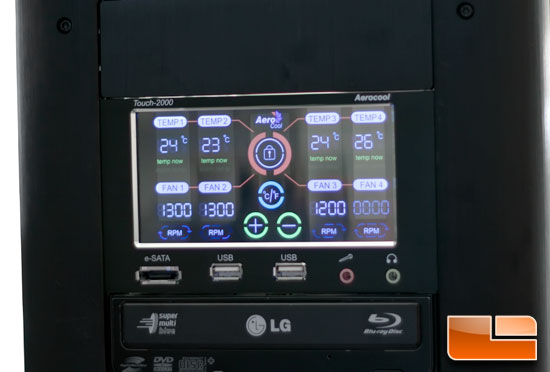 Legit Bottom Line: The AeroCool Touch-2000 provides touch screen fan control, temperature monitoring, and expansions for eSATA, USB and audio connects all in one elegant package. I haven't found anything to prevent me from recommending this product for those looking to add some style and thermal control to their PC case.