AeroCool Touch-2000 LCD Fan Controller Review
By
AeroCool Touch-2000 Introduction
As their name implies, AeroCool makes a wide array of cooling products for PCs as well as cases, power supplies and other accessories. Ive recently had the opportunity to spend some time with their newest fan controller and temperature display panel designated as the AeroCool Touch-2000 (EN55345). It can be found at retailers for around $53.99 and in this article Ill break down the performance and features to determine if this is a good value.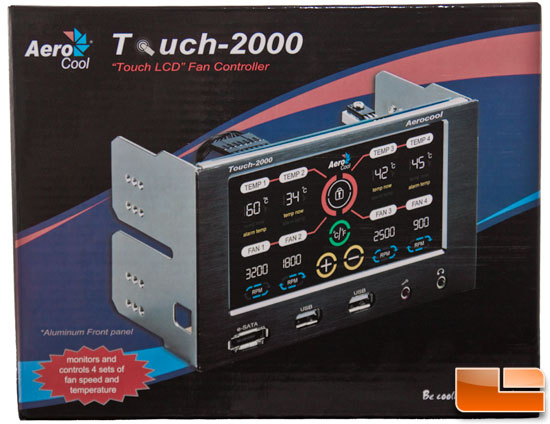 About AeroCool:
AeroCool.US was established in the US in 2002 and is committed to sharing our technical expertise and innovative designs in providing a total-solution for thermal management. Although AeroCool.US is a new player in the cooler market, we offer the latest cooling technology and solutions for industrial and personal computers. Our strengths lie in our RD abilities, advanced manufacturing facilities, strong cooperative partners, high performance, and unique products. Our engineering and RD staffs specialize in airflow analysis, material conductivity, heat transfer technology and efficiency designs. AeroCool.US not only has expertise in cooler technology and product design, but we also play a vital role in the enhancement of production efficiency and marketing analysis. We are constantly developing new products and technologies to meet market demands and to generate new markets for our thermal products. As a thermal solution provider, AeroCool.US will continue to expand and lead the market in technology. Our mission is to work closely with our partners and customers and to continue to manufacture the highest quality products to satisfy the market demand. We will continue to strive to achieve our goals and continue to improve our marketing and customer service through "e-business" and "e-marketing". We always welcome customer suggestions and recommendations.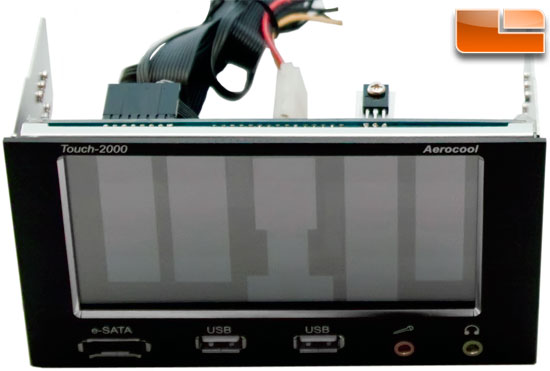 Out of the box, I noticed the Touch-2000s screen was covered with a clear protective film to keep the display scratch free and it peeled right off to show that it was indeed free of defects. The overall construction of the Touch-2000 feels solid and it comes partially pre-assembled with the temperature probe and fan connectors already attached to their respective connection sites. The features & specifications of the Touch-2000 are as follows:
Features:
Large LCD screen (2 x 5.25 bays)
Innovative "Touch" LCD technology- Stylish "hair brushed" alum front panel w/ Diamond cutting
Monitors and controls 4 sets of temperature and fan speed individually
LCD backlight on/off
Switch between Celsius and Fahrenheit
Overheating alarm temperature warning
Fan working display
"Lock" function provided to prevent careless miss-touch
1 x e-SATA , 2 x USB , Mic & Headphone
Specifications:
Dimension
149.5 (W) x85 (H) x 70(D) mm
LCD viewable area
115 (W) x 57 (H) mm
Connectors
4 x 3-pin connectors
4 x heat sensors
Material
Brushed aluminum front bezel w/ steel bracket
Max wattage per fan channel
6W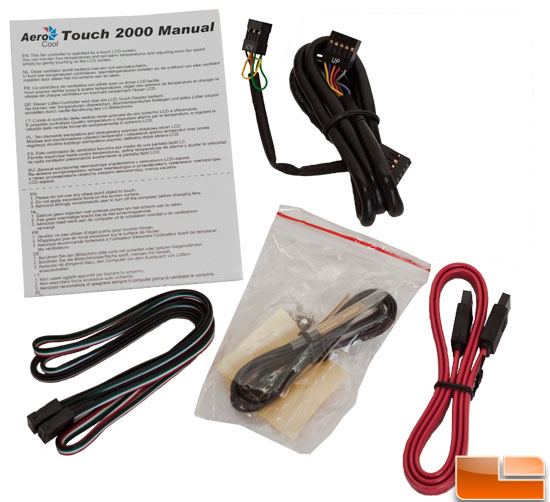 Besides the unit itself, included is a multi-lingual manual, an HD audio cable, a SATA cable, extra temperature probes, securing screws, thermal tape and an internal USB cable.