AeroCool 620W Zerodba Power Supply Review
By
Conclusion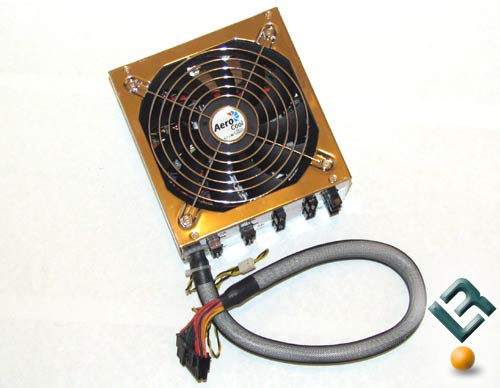 Justin's Thoughts
AeroCool's 620W PSU offers stable performance that will rival any PSU maker out there. With every quality, high-end PSU comes the question, 'How much does it cost?' The AeroCool 620W Zerodba PSU comes in with a $120 price tag at the time of writing this article. Those of you who are new to system building will compare this to the generic PSUs you find for less than $50 and will think this is a rip off. Allow me to be the first to inform you that this is a fairly competitive price for a high-quality power supply that will definitely give any of today's new PC's the juice they need to run rock solid!
When it comes to thermal management companies, there is a lot to be said about reputation and the history behind a companies brand. Some will overlook AeroCool as an option for their next high-quality PSU simply because they are just recently beginning a strong push in the US market, but many others will give them the benefit of the doubt. I, for one, am one of those that will give AeroCool a chance and will have this PSU running 24/7 in my Folding @ Home rig to really test the durability and quality that this PSU has to offer.
Besides the stability, another aspect of this PSU that really impresses me is the specifications. With a combined total of 30A supplied to the +12V rails, this PSU meets the 30A requirement for a high-end SLi PC according to this page over at SLI-Zone! If you are building an ATI CrossFire system you will soon find out that ATI doesn't mention 12V Amp requirements on their certified site and only list two brands of power supplies that are in their voluntary program. We contacted ATI and they informed Legit Reviews that their X1900 CrossFire solution needs at least a 550W power supply with a 38A 12V rail, which means the AeroCool 620W power supply will not meet the requirements for both ATI and NVIDIA power requirements. Being able to use this PSU in your future system upgrades will be a big deciding factor for many PC builders.
Modular PSUs have also been very important to many enthusiasts and gamers as they cut down on wire messes by eliminating the wires that you don't use. AeroCool has followed the standard method of implementing modularity to their PSUs which is to have all wires connect to the PSU itself.
There are also going to be a lot of people interested in this PSU for its Zerodba (0 dBA) technology. During testing, I unplugged all my case fans and the only fan I could hear was the CPU fan. I am so used to having 4 case fans plus two more in the old PSU, I never knew a PC could run so quietly since I could also no longer hear my old PSU fans running!
AeroCool has greatly impressed me with their Zerodba 620W PSU and so far, it looks like they will have no troubles becoming a great contender in the American market!
Legit Bottom Line:
The AeroCool Zerodba 620W Modular PSU offers superior voltage stability at virtually silent performance. This power supply unit should be on your short-list of considerations for the most important piece of hardware in your system!