AeroCool 620W Zerodba Power Supply Review
By
The Modular Implementation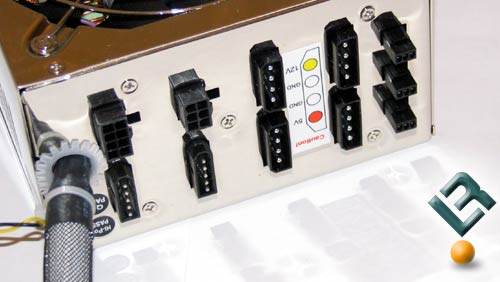 AeroCool's modular implementation is back to the more typical design we find in modular PSUs. All of the power cables connect directly to the PSU which can still cause things to get a little hairy when it comes to cable management. However, for those of us who never have enough compontents to max out the connectors of a power supply, the end result is a much cleaner looking case without having to hide all the unused wires.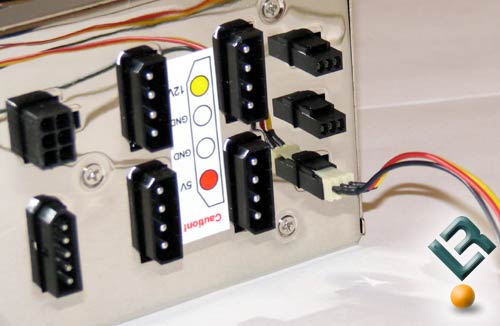 One of the unique features that AeroCool included on this PSU was three 3-pin fan wires. I can't tell you how many times I've had to leave a fan out of a case because I do not have enough fan headers on my motherboard. Well, with this PSU, that is no longer an issue.
Next to the three fan connections are four ports four 4-pin molex connections. All of the included 4-pin molex wires feature two 4-pin molex connections and two of these wires also have a floppy connection. So this PSU supports eight 4-pin molex devices and two floppy drives.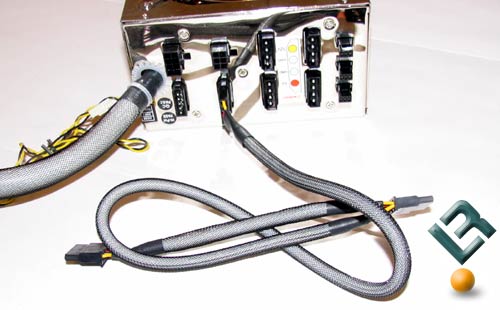 The Serial ATA cables also connect to a 4-pin port that differs from the molex design. The port for the SATA power headers is rounded on one side and square on the other in order to make sure it can only be inserted one way. There are two SATA power cables, each of which can power two SATA devices. So a total of four SATA devices are supported.
The two connections above the SATA power cable ports are the 4/8-pin 12V cable connection which is on the 12V2 rail, and the high-end graphics card power cable connection. There is one graphics power cable that supports two graphics cards. So SLi and Crossfire are both supported.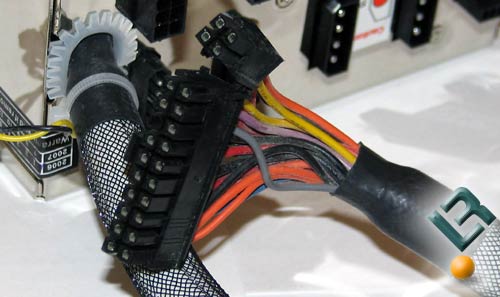 The one thing that is not modular on any PSU that I have seen is the ATX power cable. This supplies the motherboard most of the power it needs to run stable. So this is arguably the cable that is the most important and the one that everyone will use. Since this PSU is ATX 12V 2.02 compliant, this ATX connection features the detachable section in order to support both 20-pin and 24-pin ATX motherboards.