ADATA XPG Spectrix D40 16GB RGB DDR4 Memory Review
By
Adata XPG Spectrix D40 DDR4 RGB Memory
Years ago picking out memory was fairly easy, as long as it was compatible with your motherboard you were good to go. Now there are many things to take into consideration, such as the heatsink, speed, timings, overclockability and design. The recent trend is to put RGB LEDs on everything possible, allowing the user to customize the color to their specific color scheme. Memory is just the latest product to get RGB LEDs installed on them. The XPG Spectrix D40, is part of ADATA's gaming line that includes RGB LEDs, along with compatibility with ASUS AURA Sync.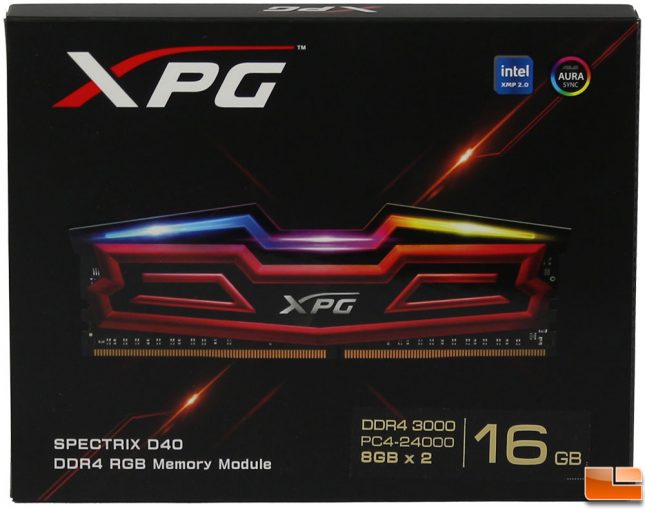 The XPG Spectrix D40 is available in speeds starting at 2400MHz, and going up to 4400MHz (not all speeds are currently available), in 8GB and 16GB modules. Today, we are looking at their 16GB (8GB x 2) DDR4 3000MHz kit, which has dual XMP 2.0 profiles, and runs with a latency of 16-18-18. This kit is currently available under part number AX4U300038G16-DRS, $186.99 shipped and the kit is backed by a lifetime warranty. All versions of the Spectrix D40 include both Intel and AMD compatibility, with a red "armor-inspired" heatsink with a RGB LED strip at the top edge.
Speed
Part #
Latency
Voltage
Price
2400MHz
8GB x 2 – AX4U240038G16-DRS
CL16-16-16
1.2V
$189.99
2666MHz
8GB x 2 – AX4U266638G16-DRS

16GB x 2 – AX4U2666316G16-DR40

CL16-16-16

CL16-16-16

1.2V

1.2V

$184.99

3000MHz
8GB x 2 – AX4U300038G16-DRS

16GB x 2 – AX4U3000316G16-DR40

CL16-18-18

CL16-18-18

1.35V

1.35V

$186.99

3200MHz
8GB x 2 – AX4U320038G16-DRS

16GB x 2 – AX4U3200316G16-DR40

CL16-18-18

CL16-18-18

1.35V

1.35V

$199.99
Features:
Features an armor-inspired design with a shining RGB LED strip at its peak
Supports ASUS AURA Sync software
Provides a wide frequency range from 2400MHz to over 4000MHz with support for the Intel X299 platform with a baseline SPD setting of 2666MHz implemented. It is also compatible with the AMD AM4/Ryzen platform – and is made for overclocking!
Lifetime Warranty
Inside the retail packaging, the memory is packed in a standard plastic snap pack which protects the memory rather well. The front label on the memory tells you exactly which memory is included; ours is AX4U300038G16-DRS, with latencies of 16-18-18 1.35V.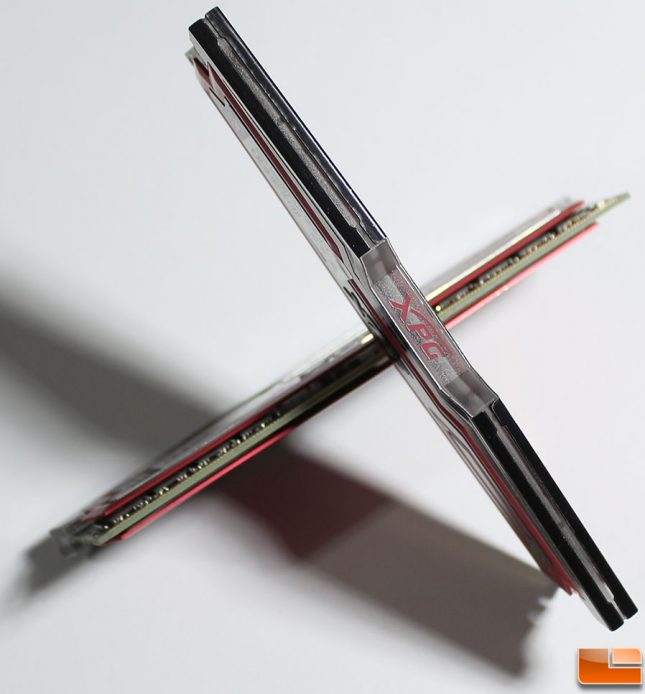 Looking at the top edge of the memory is the side that most users will see the majority of the time. The top edge is translucent to allow the LED's to shine through. Right in the middle of the memory is the XPG logo.
Let's take a glance at the Intel Z270 test system, and the DDR4 memory that we will be comparing to the ADATA XPG Spectrix D40.