ADATA Ultimate SU800 512GB SSD Review
By
ADATA Ultimate SU800 SSDs Feature 3D TLC NAND
The ADATA Ultimate SU800 is the first SSD series from ADATA that features 3D TLC NAND Flash memory components. Despite having 'Ultimate' in in its product name, the Ultimate SU800 is a SATA III 6Gb/s SSD that is aimed at the price-conscious consumer in the SSD value market. As you might have guessed, this means you'll get decent performance at rather affordable price points. ADATA's Ultimate SU800 SSD series is available in 128GB, 256GB, 512GB and 1TB capacities. Inside you'll find the Silicon Motion SM2258 controller (four NAND Flash Channels and LDPC ECC technology) paired up with more than likely 3D TLC NAND. ADATA is not giving out what manufacturer makes the 3D NAND Flash, but after taking a look under the cover we discovered that they are using Micron 3D TLC NAND.
ADATA SU800 Ultimate SSD Performance, Endurance & Pricing:
| | | | | |
| --- | --- | --- | --- | --- |
| Model | ASU800SS-128GT-C | ASU800SS-256GT-C | ASU800SS-512GT-C | ASU800SS-1TT-C |
| Capacity | 128GB | 256GB | 512GB | 1TB |
| Controller | Silicon Motion SM2258 | Silicon Motion SM2258 | Silicon Motion SM2258 | Silicon Motion SM2258 |
| NAND | 3D TLC NAND | 3D TLC NAND | 3D TLC NAND | 3D TLC NAND |
| Max Sequential Read (ATTO) | 563MB/sec | 564MB/sec | 564MB/sec | 564MB/sec |
| Max Sequential Write (ATTO) | 300MB/sec | 511MB/sec | 519MB/sec | 519MB/sec |
| Max Random Read (4K QD32) | 50,000 IOPS | 80,000 IOPS | 85,000 IOPS | 85,000 IOPS |
| Max Random Write (4K QD32) | 75,000 IOPS | 85,000 IOPS | 85,000 IOPS | 85,000 IOPS |
| TBW | unknown | unknown | 400 TB | unknown |
| Warranty | 3-Years | 3-Years | 3-Years | 3-Years |
| MSRP in USD | $59.99 | $79.99 | $139.99 | $269.99 |
When it comes to performance numbers on the Ultimate SU800 series you are looking at sequential transfer speeds of up to 560 / 520 MB/s for reads/writes and random 4K performance of up to 85,000 / 85,000 IOPS for reads/writes. The SU800 lacks support for AES 256-bit hardware encryption, but does support DevSLP (Device Sleep) and uses 12mW of power at idle and 0.65W of power for daily operation on the ADATA SU800 512GB model.
When it comes to the endurance information the Ultimate SU800 is said to be able to withstand more read/write cycles thanks to the use of 3D NAND Flash. Thanks to the SMI controller the SU800 also fetures LDPC (low density parity check) error correcting code, data shaping, and even a RAID Engine. ADATA backs all Ultimate SU800 drives with a 3-year warranty and says the MTBF is 2,000,000 hours. Unfortunately ADATA only says that the TBW value is 'high' and fails to give the exact number.
"All Ultimate SU800 models provide high TBW (Total Bytes Written), meaning the number of times an SSD can write its entire capacity in one lifespan. The Ultimate SU800s TBW rating outranks comparable models, indicating a longer-lasting SSD." – ADATA
We asked ADATA for the the exact TBW rating values on each drive in the series one week and have yet to get an answer back as ADATA USA didn't know the answer and ADATA Taiwan is out on holiday (September 15th was the Mid-Autumn Festival (Moon Festival) and that is a national holiday in Taiwan).
UPDATE 9/20/2016: ADATA has let us know that the 512GB version of this drive features a 400TB TBW endurance rating, which is actually very good for a 512GB capacity drive!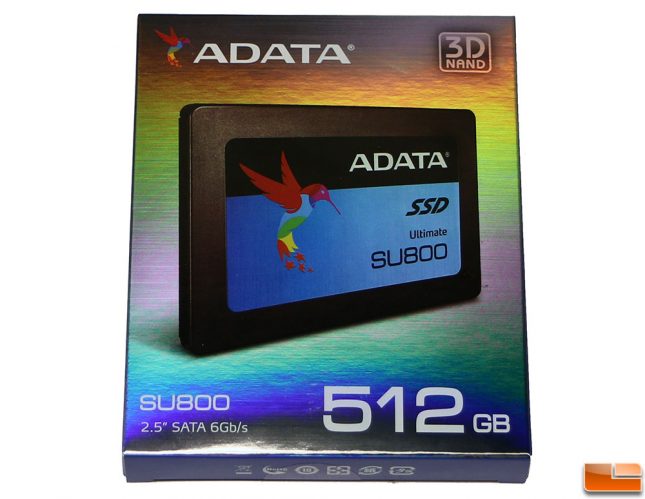 The drive that we'll be looking at today in-depth is the ADATA Ultimate SU800 512GB model that is sold under part number ASU800SS-512GT-C for $139.99. The packaging looks good and inside you'll find the drive, spacer for 9mm housing applications and the warranty guide.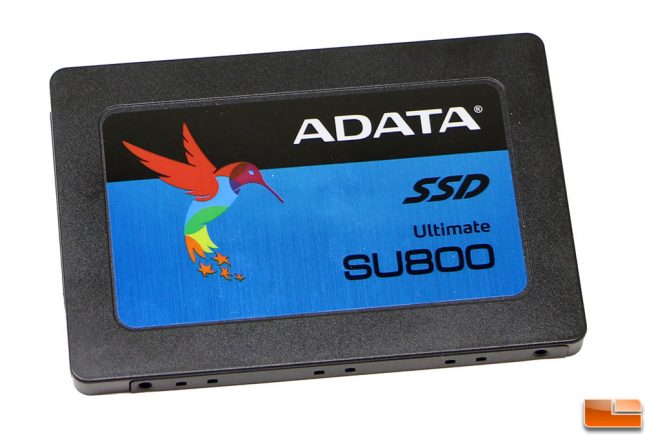 To remove the cover you need to remove the top sticker as there is a screw right in the middle of the drive drive that holds the top plastic lid to the bottom metal cover. You also need remove the warranty sticker on the side of the drive. We were able to pop open the drive to see that Micron NAND Flash with FBGA code NW838 were being used. This converts over to Micron part number MT29F768G08EECBBJ4-37:B, which are 768Gb density 3D TLC NAND (3 bit per cell) chips.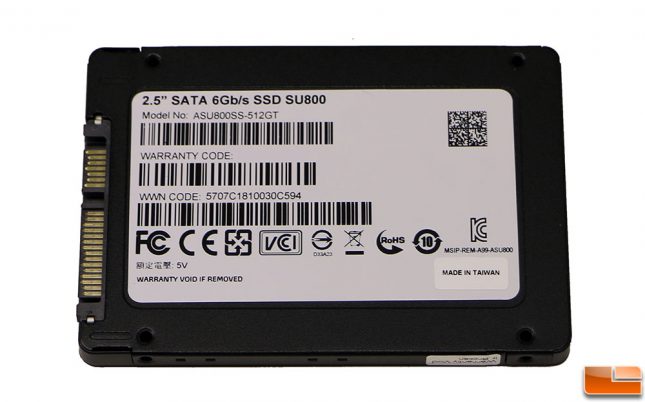 The ADATA SU800 Ultimate 2.5″ drives come in a black metal enclosure and feature a standard SATA III interface. ADATA includes a software key for Acronis True Image HD software for those that might need cloning software to move from their old hard drive or SSD to this new model and a spacer bracket to help the 7mm thick drive fit securely in notebooks that originally came with 9.5mm thick hard drives.
Let's move along and take a look at the test system and then the benchmark numbers!