Acer Aspire 7551G Laptop Review – AMD Phenom II X4 N930
By
The Acer 7551G Laptop
The LCD screen is called a "CineCrystal HD" and is a 17.3″ TFT display. It has a native resolution of 1600×900 with LED backlighting. It's powered by an ATI Mobility Radeon HD 5650. At the top of the bezel is a web camera with a resolution of 1280×1024.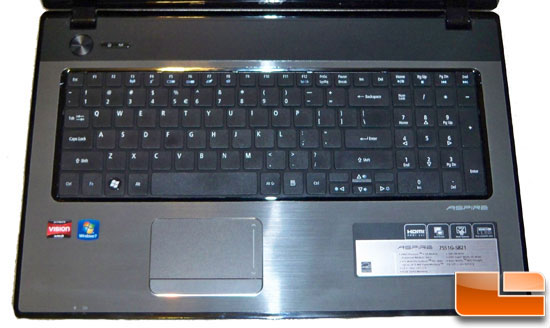 As we stated on page one, the keyboard is full-size and includes the side number pad. The keys are well spaced and are completely flat, so it can be easy to mistake one for another. There are no backlights for the keyboard and no outboard illumination so in the dark you'll have to rely on the screen's brightness to help you find any key you're not familiar with.
The track pad area is set directly below the spacebar and has a nice smooth surface to it. The multi-gesture touchpad supports up/down and left/right scroll, pinch, rotate, flip. The "mouse" buttons require very little force to activate which means the laptop isn't going to move when you push them.
On the top of the Aspire 7551G you see a great looking finish and the Acer logo, it also has a very nice feel.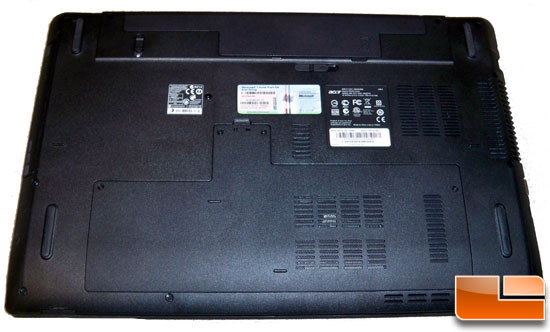 The bottom of the Aspire 7551G is all business, with many vent slots to help keep the underside of this monster cool. What you can't really see behind the vent slots is that there are dust covers inside to help keep the mainboard and fan clean. The warm part of the Aspire 7551G is on the right side of this photo, where you may just be able to make out the fan behind the lower right vent holes. The fan is never very loud and does a good job of keeping the system from burning your legs.

On the right side of the Aspire 7551G we see the two USB 2.0 ports, DVD R/W drive, and a Kensington lock slot.

On the left side we have the AC adapter plug, RJ45 LAN adapter, the primary exhaust vent, the VGA out connector, HDMI out, and a third USB port.

The battery is a 6-cell 4400mAh lithium ion which Acer rates at up to 5 hours.
Now that we've had a look at the hardware, let's take a look at how it all performs.