Wintec Industries PC5400 DDR 2 memory
By
Final Thoughts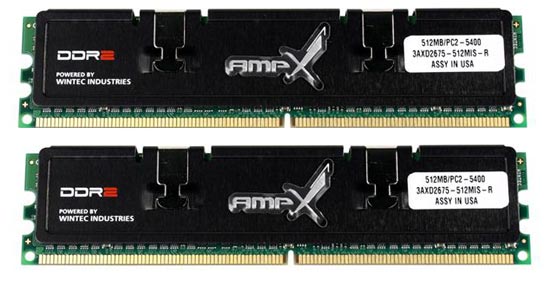 Overclocking
After I finished benchmarking the different modules, I decided to push the Amp-X modules a bit to see how they performed. While both Kingston's and Centon's memory crapped out right around 700MHz during earlier testing, the Wintec Amp-X PC5400 cruised right past the 700MHz barrier, ending up at a healthy 720MHz! Also, consider it did this while at some decent timings of 4-4-4-12 and 2.3V! I loosened the timings up to 5-5-5-15, but got no further with any stability. No matter, the end result made me very happy. From our experience the only thing holding these modules back are the "small body" Micron D9 IC's and if more head room is needed then you need to look at a pair of modules that use "fat body" IC's.
Final Thoughts
Well, what can you really say? This is a good day for the DIY crowd on a budget. Sub $200 DDR2 that performs on par with some pretty good kits, while it didn't match the results at stock of the more expensive and well known Corsair or Kingston, the Wintec Amp-X memory more than held its own in a tough crowd and really shined when pushed to its limits
Legit Bottom Line
Those of you looking for some budget DDR2 modules to match up with that Intel Pentium D 820 really should consider Wintec's PC5400 offering. Featuring good performance at less than $200, you won't be disappointed.