Wintec Industries PC5400 DDR 2 memory
By
Introduction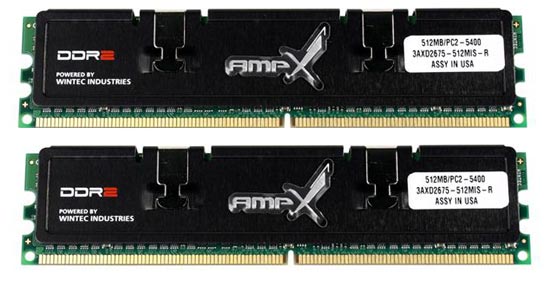 With DDR2 memory looking better each and every day we are starting to see many companies enter the enthusiast memory market trying to get a piece of the action. Wintec Industries was founded in 1988, but only just recently entered the enthusiast memory market. Today, Legit Reviews takes a look at the Wintec AMP-X PC2-5400 DDR2 1GB memory kit and see how it compares to the other big name companies. Read on and find out how Wintec's memory holds up against our Corsair, Kingston and Centon modules that we used during testing.
"Designed with industry-leading technology, Wintec's award-winning AMPX, DDR2 memory modules, are engineered and tested specifically for higher speeds and systems, which require over-clocking.
Ideal for data intensive system requirements such as gaming or high transactional processing systems, AMPX provides superior performance with its low latencies and excellent reliability. Developed with your memory-intensive programs in mind, AMPX provides quality products you can count on.
AMP-X Gamer Memory is designed, optimized and tested to support intensive gaming and breathtaking performance. The 675MHz guarantees that users will achieve maximum bandwidth utilization without any compromise in stability. Dual Channel Kits with matched memory pairs are also available for those seeking additional performance and benchmark gains! All AMP-X Gamer memory modules feature integrated aluminum heat spreaders (with thermal paste) for optimum thermal dispersion and increased performance."
Sounds like the AMP-X line is geared toward the gaming crowd, as their website describes! Let's take a look at our test systems and see some numbers.