Wintec Industries PC5400 DDR 2 memory
By
Testing
For testing purposes I rounded up every 1GB kit of PC5400 DDR2 memory I had, to include kits from Kingston, Corsair, and Centron. the quality and price various widely with these kits so we should get a pretty wide variety of performance.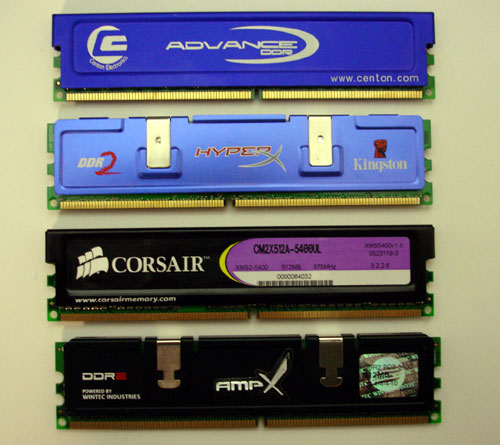 For testing the following system was used.
ASUS P5WD2 Premium motherboard
Intel Pentium D 820 dual core processor
Sapphire ATI X850 XT PE video card
Maxtor DiamondMax 10 SATA HDD
OCZ Powerstream 520W PSU
Antec TX640B case
Memory Timings:
Corsair 3-2-2-8 *
Kingston 4-4-4-12
Centon 4-4-4-12
Wintech 4-4-4-10
* I chose to run the Corsair 5400UL at its best rated timings to show a better spread of performance.
All test were done on a fresh install of Windows XP w/ service pack 2, and the latest drivers for each component. Though the CPU was cooled by ECT's Mach II phase change cooler, all components were run at their rated speeds.