Warpia Wireless USB Display Adapter Review
By
Installation and Usage
Installation was very straight forward. Simply insert the CD and install. I was pleasantly surprised to see a feature on installation that I wish more vendors would use – I was given the option of either installing the driver on the CD, or connecting to the internet and installing the latest driver available. This is always nice as drivers seem to be upgraded on a semi-regular basis and provided drivers are frequently out of date.
Upon completion of the driver install, you are presented with a screen that tells you the default mode of the adapter.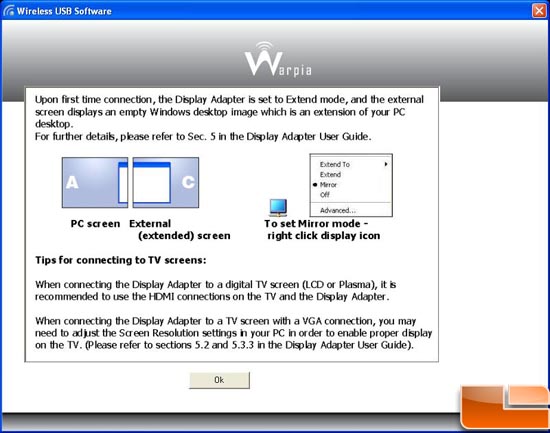 Most important is the note at the bottom about making sure to set your screen resolution on your PC. I found that when using Extend mode, you are able to set the resolution using the utility provided by Warpia. When using mirror mode however, the resolution settings are grayed out. The DisplayLink manager that lets you do this has many other features such as the ability to change rotation and modes of operation.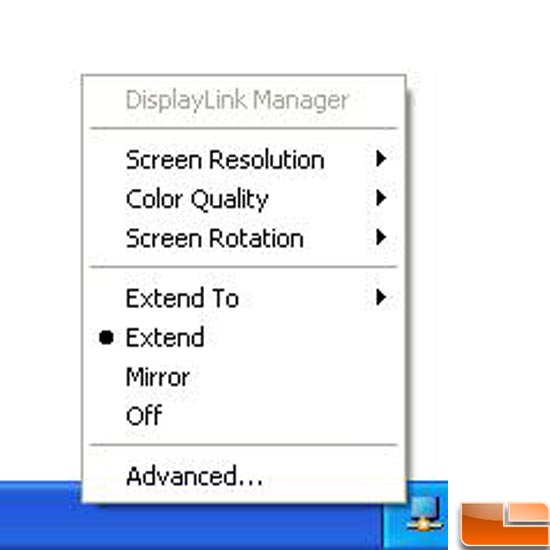 The wireless USB manager shows details about your connection. The advanced settings button offers the ability to change "channels" (similar to channels on your 802.11 wireless network).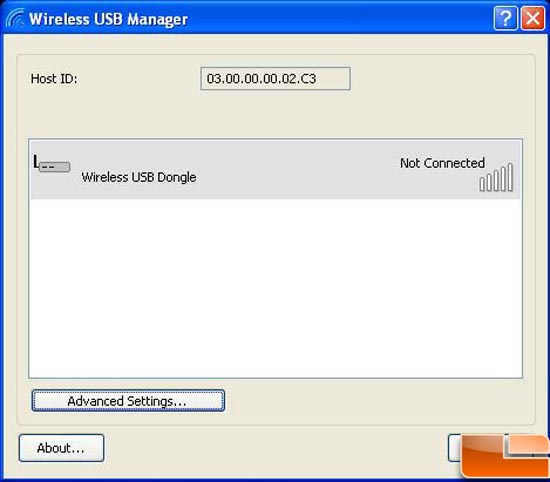 The Advanced Settings screen of the USB manager shows the following: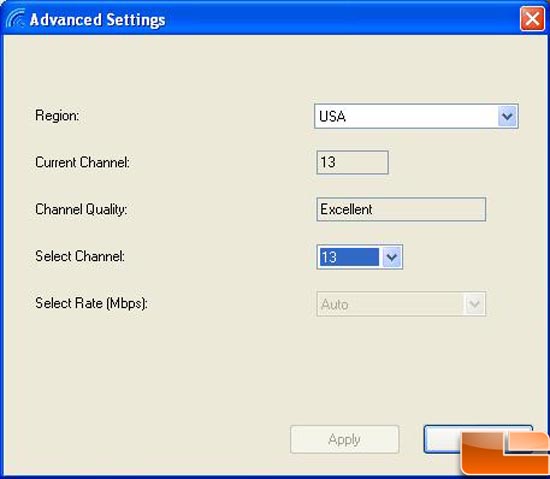 While there is a "Select Rate (Mbps)" section, it was always grayed out and hard-set to "Auto." Wireless USB data rates vary based on distance and line of sight. Data rates are anywhere between 65 mbps at 10 meters and 110 mbps at 1 meter. Also, you will note in the first screen a Host ID. Both the sender and receiver are paired devices (similar to Bluetooth pairing). There is an ability to re-pair the two units which I attempted following the procedure in the PDF manual. The procedure did work flawlessly.
"Extend" and "Mirror" modes function as you would expect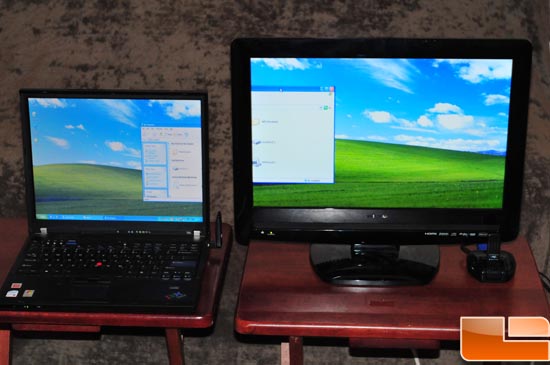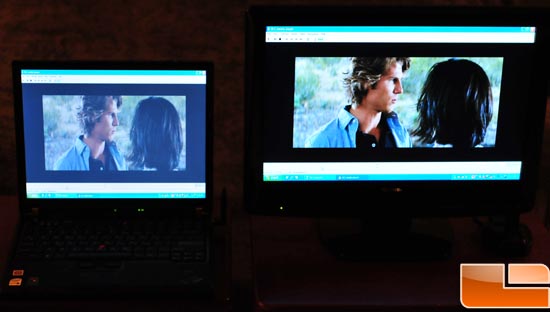 With the laptop and monitor this close, I saw very little if any degradation in quality. The adapter does not send audio, however, so if you are watching a movie, you will have to rely on the sound from your sending system. After discussing the adapter with some of my associates, whenever the lack of sending audio was mentioned, there was a crest-fallen look on their faces, so if audio is important to you to also be sent wirelessly, this may not be your solution. My viewpoint is that Warpia has sacrificed audio to allow for more bandwidth available to stream video content. With the ability to send 720p HD content, the adapter would need as much bandwidth as possible to successfully send HD video over any distance.
To check the effect of line of sight and distance, I moved the laptop behind a wall while playing a movie
Even almost 6 feet away behind a wall (no line of sight) the movie on the TV suffered NO ill effects. Audio was in sync, and video quality did not seem affected. Time to move the laptop even further!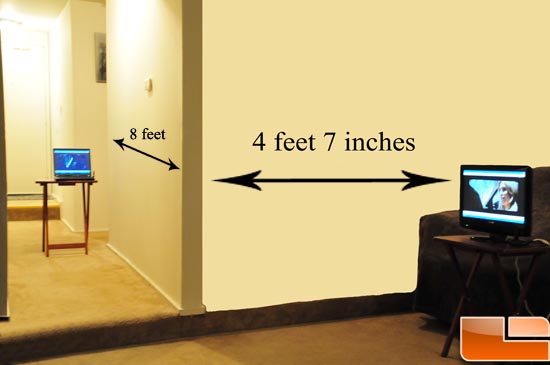 It was at this distance, still behind a wall, that I started to notice some signal loss. There was much more pixelization, and a few frame drops. The video was still watchable however, and as Warpia points out, the device is meant to be line of sight, and given that the device was still usable this far behind a wall, I would say that even pushed to its limits, the device exceeded expectations where bandwidth with video was concerned.
When I moved past this point, I got the familiar Windows "ding-dong" of a USB device being unplugged. The connection simply dropped, at which point, I moved back into range, and the device automatically reconnected. Warpia points out the plug and play capabilities of the adapter, and this test also passed.
A feature worth mentioning that I was unable to test is the adapter's "Point-to-multipoint" capability was that Warpia states that THREE base units (the receiving unit) can be driven by one PC (sending unit). In my office, we sometimes do large PowerPoint presentations spread out across a large area. With such a large space we have installed multiple monitors throughout the area so that everyone can see the presentation. Ironically, with have 3 monitors driven by 1 PC. Had a solution such as this been available at the time, we would not have needed the extra expense of VGA extenders and associated wiring.