V3 Components Voltair TEC CPU Cooler Review
By
V3 Voltair TEC CPU Cooler Introduction
We have taken a look at many different types and brands of CPU coolers over the years, with each manufacturer coming up with their own unique way to control the massive amounts of heat your CPU can throw off. A new company, called V3 Components, wants to start off by introducing a cooler with little used technology called Thermoelectric Cooling (TEC) – We'll get more into the specifics on that in a bit. Basically what V3 is targeting is your liquid CPU coolers, stating that this cooler should be as good as or better than the AIO liquid cooling kits on the market today; not to mention safer due to no liquid. This should make for a very interesting comparison!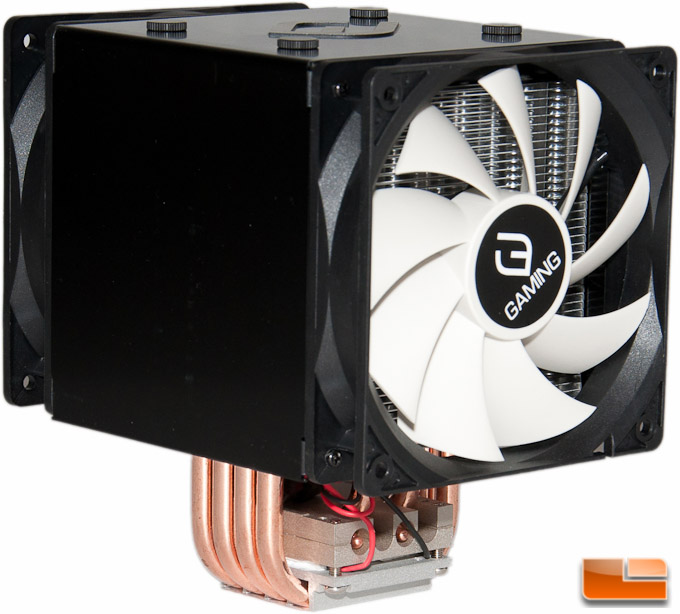 We can only imagine that many of you aren't familiar with TEC technology, so what the heck is it? TEC stands for Thermoelectric Cooling, or also known as the Peltier Effect, which basically works through the use of electrical current (DC) through an element to transfer heat from one side to the other. Basically what's happening here is the CPU side is getting cooler while the heat sink side gets hotter and then the heat gets dissipated via the heat pipess, flanges, and fan system. Theoretically the CPU side of the plate will go below room temperature, thus providing superior cooling performance over many other coolers.
Should you want an even better and more in-depth explanation, please check these two articles on Wikipedia for the Peltier Effect and Thermoelectric Cooling, or you can search Google for more information.
So basically the Voltair is made up of three different cooling components: two heat sinks and a single TEC plate. The first heat sink is the massive, high-performance heat sink, designed to dissipate as much heat as possible via direct contact heat pipes that connect to cooling fins. This heat sink directly contacts the CPU's IHS and has the cold side of the TEC plate just above it. The TEC plate will suck up heat from the first plate and transfer it to the warm side, which is attached to a smaller secondary heat sink that includes more heat pipes. In the end, dual 120mm fans will then cool off the system, dissipating the heat. The TEC plate itself is connected to your computer's power supply via a 2-pin Molex connector. The video below can help graphically explain this to you, should you be a visual learner.
V3 Components is expecting to have the Voltair available for your purchase at Newegg for $129.99 plus shipping. The MSRP on this cooler is $129.99, so it is selling for the MSRP right now. If this cooler can live up to the claims of targeting a liquid cooler, this is right in the ballpark of many popular liquid coolers today. Should you purchase a CyberpowerPC, you can customize select models with this cooler inside right now!
The Voltair is an air cooler by design, which many well performing air coolers are massive and this one sure is! It is designed to be an easy install, having the ability to remove the shroud and fans, plus it is compatible with most oversized memory modules.
V3 Components Voltair TEC CPU Cooler Technical Specifications:
CPU Socket:

Intel Socket H (LGA 1150, 1155, 1156), Socket R (LGA 2011, Square ILM), Socket B (LGA 1366)
AMD Socket AM3+ / FM1 / FM2

CPU Support:

Intel Core i3, i5, i7 (All Generations) / Pentium / Celeron / Xeon
AMD FX / A4 / A6 / A8 / A10 / Athlon X2 / Athlon X4

Dimensions (L x W x H): 167 x 120 x 172mm (6.69 x 4.72 x 6.77in.)
Net Weight: 1.45kg (3.2lbs)
Material: 8 Cu Heat pipes (4 DCT Base), Aluminum fins
Heat Pipe Dimensions: 8 @ 8mm diameter
Fan Type: 2x white 9 blade variable speed
Fan Dimensions: 120mm x 120mm x 25mm
Fan Speed: 800-1800 10% RPM
Fan Airflow: 116.43 CMH (68.57 CFM)
Fan Air Pressure: 1.958mm H2O
Fan Life Expectancy: MTBF 40,000 hours
We'll take a look and see how the Voltair stacks up against the many other liquid coolers that we've reviewed and we'll simulate what would happen if the TEC plate were to fail or not get power. But first, let's take a look at the retail packaging and see what this cooler looks like!