Upgrading The Dell e1705 Notebook Graphics Card
By
Sometimes You Need More Power
Just a couple of months ago I decided I was going to move all of my writing/editing/photoshopping to a laptop for portability, convenience, and space. I really wanted to continue working on a decent size screen, so i started looking at 17″ laptops, which are not known to be great for portability, but are great for a desktop replacement. A friend of mine ran across a good deal on a couple of Dell e1705 laptops, so I bought one from him, and was very pleased with it. It will be upgradeable to Merom, can use 2GB of ram, and the version I bought had an ATI x1400 in it, which was also replaceable. Once I got the laptop, my conclusion was that it was perfect for what I needed it for in every area but one… gaming! Now, I admit, i do not game like I use to, but I still have those moments where I just have the urge to shoot someone! (After all, I have 5 kids, and two are teenagers!) The x1400 is basically an entry level card for discreet graphics, so it was nothing to write home about at all. After doing a little research, I found that I could drop an NV card in my laptop, so I set out to find the one I wanted. Why Nvidia? Well, at this time, Dell does not offer a higher end ATI card, so that made my choices limited. I ended up with a NV 7800Go for a decent price, and set out to do the upgrade. What you will find over the next few pages is the experience I had with the process! First off, here is a picture of the actual laptop we will be working on: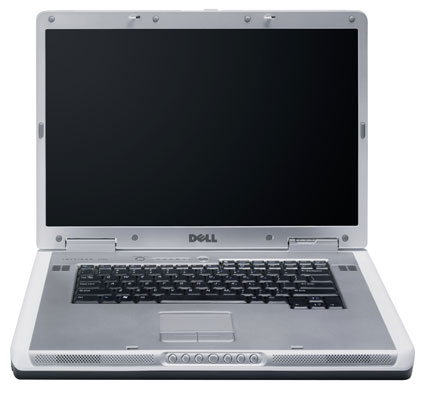 Before you dive into the guts of the laptop itself, if you are already running an ATI card as I was, you will need to uninstall the driver for that card and then run a simple little utility called Driver Cleaner.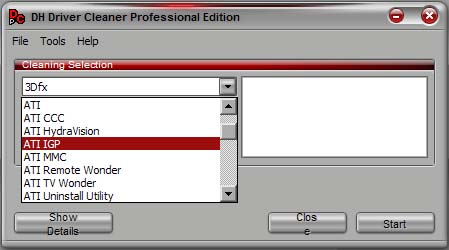 The professional version of this program is free, and can be downloaded from their site here. Once you download it, click on everything ATI and let it uninstall the program. You will then be set to start ripping things apart.