Tt eSPORTS THERON Gaming Mouse Review
By
Tt eSPORTS THERON Gaming Mouse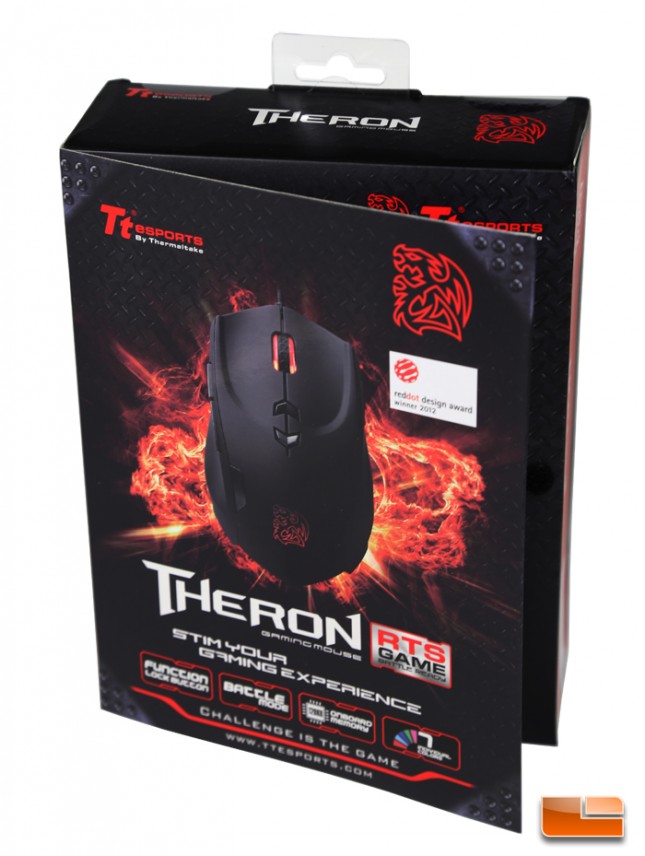 True to its name, Tt eSPORTS has backed some of the biggest professional gamers, teams, and personalities in eSports including White-Ra (Starcraft II) and Team DK (DOTA 2.) The mouse were looking at today has a little history going for it being released back in 2012. The Tt eSPORTS Theron is designed as a real-time strategy gaming mouse having been designed in partnership with Ball or TtApolloBall, a long-time professional Starcraft II player from Taiwan. Ball retired from pro gaming earlier in Febuary 2014.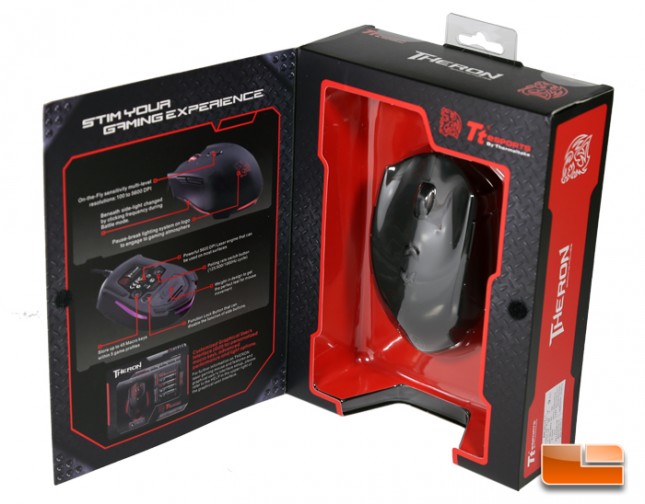 The packaging for the Theron could use some updating since Ball is no longer an active player. However, the mouse arguably still remains modern with features such as a 5600 DPI laser sensor, an adjustable weight system, and onboard memory storage for macros and sensitivity settings. All Tt eSPORTS mice are backed by a 2-year warranty and the Theron gaming mouse can be purchased for $50.10 shipped from Amazon.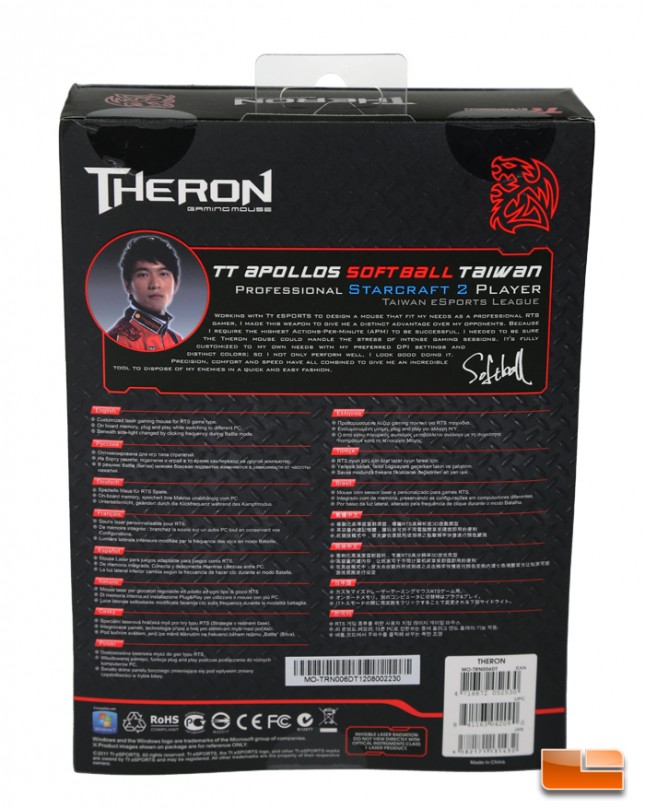 Tt eSPORTS Theron Gaming Mouse Features:
On-the Fly sensitivity multi-level resolutions: 100 to 5600 DPI
Beneath side-light changed by clicking frequency during Battle Mode
Pause-break lighting system on logo to engage to gaming atmosphere
Powerful 5600 DPI Laser engine that can be used on most surfaces
Polling rate switch button (125/500/1000Hz cycle)
250Hz polling rate available via downloadable firmware update
Weigh-in design to get the perfect feel for mouse movement
Store up to 45 Macro keys within 5 game profiles
Function Lock Button that can disable the function of side buttons
Customized Graphical Users Interface (GUI) for personalized macro keys, advanced performance and light options
Tt eSPORTS Theron Gaming Mouse Specifications:
Color: black
DPI: 5600
Sensor Type: Laser
No. of Buttons: 8
Game Genre: RTS
Memory Size: 128kb
No. of Macro Keys: 40
No. of Game Profiles: 5
PULSE Lighting: Yes
Pause-Break Effect: Yes
Color Options: 7
USB cable length: 1.8m braided
Weight-In Design: Yes
Graphical UI: Yes
Coating / Finish: Industrial Rubber (Matte)
Gold-Plated USB: Yes
Dimension: 123.65 x 73.8 x 40.2mm
The Theron mouse comes with a carry pouch, a Multilanguage quick start guide, a disk containing software, a Multilanguage warranty booklet, and two Tt eSPORTS dragon logo stickers.
Can the 2012 Theron continue to match-up with the times? Read on and find out!