Transcend JetDrive Go 300 Review – iOS Mobile Storage
By
Final Thoughts On The JetDrive Go 300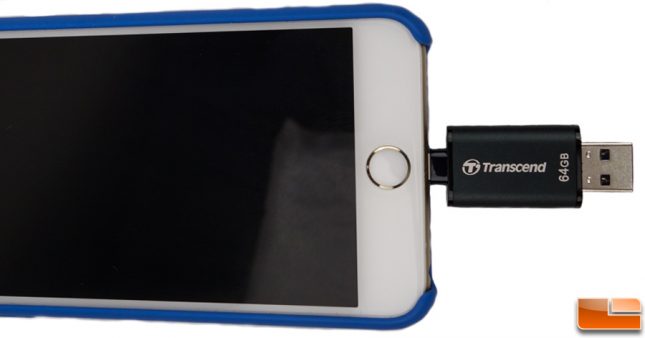 Overall, in terms of usability the JetDrive GO 300 is a great little drive that can save money in lieu of larger iOS device capacity as well as provide a simple way to back up your photos and videos without fussing with iCloud or iTunes. The 32GB version can be had for around $44.99 and the 64GB and 128GB for $65.00 and $80.99 respectively. Backing up or saving off media files also maintains the integrity of 'special' files like slo-mo and time lapse videos which is great to see. The ability to back up on the fly without intervention from an actual computer makes it a very flexible option. Besides backing up, you can take pics and videos directly to the drive, skipping the host device storage altogether though if you sync photos through the cloud, these will not get picked up. Where we start to see a few negatives crop up in in the physical use of the drive.
Obviously, having this stick out of your iOS device while you are active and taking pictures or video, you run the real risk of breaking the Lightning plug off the drive and/or damaging the Apple device. One slip and that's it. It can't really be helped until flash chips become uber small so I can't knock Transcend for a design flaw nor blame them for the fragile nature of the Lightning plug. Another more reasonable gripe is something they already addressed with the Go 500 drive and that's the end caps that will get lost in no time at all. There's no way to secure them on or place them where they stay with the drive. It doesn't hurt the drive any but could make it more susceptible to damage in transit. On the Go 500 they are absent altogether but do have a lanyard and key ring slot which are not found on the Go 300 which would make keeping track of the drive a little easier when on the go but again, not really a deal breaker.
***ADDENDUM – For a true real world use case…Immediately following this review I took my iPhone for an accidental swim (long story) and killed it. Dead. I replaced the phone and was able to restore everything except my photos/videos from my camera roll for some reason. Fortunately, I had backed them up with the JetDrive Go 300 and was able to restore them to the phone without losing a thing. Now that's handy!***
Legit Bottom Line: If you are short on capacity on your iOS device or just hate using iTunes or the cloud to back up your precious data, Transcend has a very slick solution with their JetDrive Go 300 external mobile storage drive.
//