Transcend JetDrive Go 300 Review – iOS Mobile Storage
By
Transcend JetDrive Go 300 For iOS
There are a few long standing complaints about iOS devices and they are somewhat related. First is the high price of flash storage when buying larger capacity models and the second is the lack of expandable storage via secure digital cards or other digital media cards. The Android platform offers this pretty widely but Apple sees its absence as a way to mitigate risk of hacking/infection. Basically, this has pushed consumers with financial limitations to get the more affordable low storage capacity models. Those that have one know that 16GB gets used up in no time all. Add in apps and all the pictures and videos taken and even 32GB is not nearly enough. In fact, I have nearly 16GB of music alone on my phone and even with a 64GB overall capacity, I only have 3GB free. It's true enough you can offload some of those pictures and videos, but not when you are out and about and find out you're short on available space in the middle of a selfie session with the celebrity you just ran into. Also true, you can stream your music rather than store it locally on the device but that adds potential expense for expanded data plans and you're at the mercy of a quality cell/Wi-Fi signal. Good news though! Transcend has just the solution for the iOS device storage blues with their JetDrive Go devices.
Notice I refer to them as iOS devices and not specifically iPhone or iPad as it can used interchangeably on both as long as they are one of the newer models with a Lightning connector (or you have the adapter to convert to the older 30-pin connector models). Generally though, this will probably be most used by iPhone users but owners of both devices can switch back and forth as it's not locked into one device. Transcend offer two iOS compatible drives – the JetDrive Go 300 and Go 500. Both are very similar in use but a little different in form. The Go 500 drive lacks 128GB capacity option but includes a leather lanyard and a key ring slot. Nearly all of the remaining of the specifications from the 2-year warranty to the read/write performance are the same. We'll be specifically looking the 64GB Transcend JetDrive Go 300 they sent us to see what we think. It currently retails for around $65.00 but you can probably catch it on sale here or there. There are also 32GB and 128GB versions that sell for $44.99 and $80.99 respectively. Considering the leap in storage cost from a 16GB to a 64GB iOS device is around $100, this is a much more affordable and scalable option since you can use it on the next device if you should upgrade.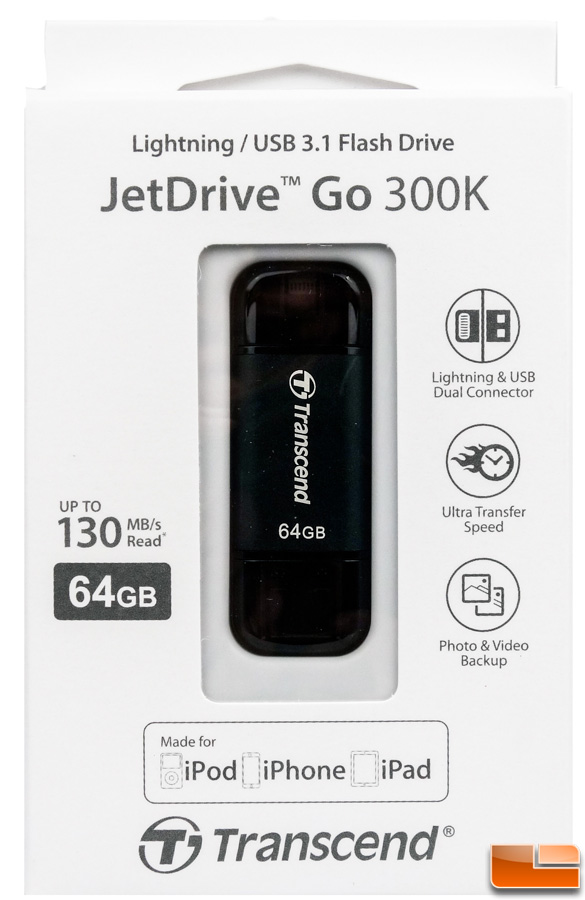 Transcend JetDrive Go 300 Features and Specifications
Part Numbers:

Black (32GB, 64GB, 128GB): TS32GJDG300K, TS64GJDG300K, TS128GJDG300K
Silver (32GB, 64GB, 128GB): TS32GJDG300S, TS64GJDG300S, TS128GJDG300S

Dimensions: 56.5mm x 20mm x 7.8mm (2.22″ x 0.79″ x 0.31″)
Weight: 8g (0.28 oz)
Capacity: 32GB, 64GB, 128GB
Color: Silver, Black
Connection Interface: Apple MFi Certified Lightning & USB 3.1 Gen 1 Type A connectors
(backwards compatible with USB 3.0/2.0)
Maximum Performance*:

Lightning: 20MB/s
USB 3.1 Gen 1: 130MB/s

Supported devices:

iPhone (iPhone 6s Plus, iPhone 6s, iPhone 6 Plus, iPhone 6, iPhone 5s, iPhone 5c, iPhone 5)
iPad (iPad (4th generation), iPad Pro, iPad Air 2, iPad Air, iPad mini 4, iPad mini 3, iPad mini 2, iPad mini)
iPod (iPod touch (5th generation), iPod touch (6th generation))

File System: FAT32 / exFAT
Operating Voltage:

Lightning: 3.3V5%, USB 3.1 Gen 1: 5V5%
USB 3.1 Gen 1: 5V5%

Operating Temperature: 0C (32F) ~ 70C (158F)
Certificates: FCC, CE, BSMI, RCM, KC
Performance varies by capacity, user hardware and system configuration.
Warranty: Two-year Limited Warranty
System Requirements: Desktop or notebook computer with a USB port and one of the following operating systems:

Microsoft Windows XP\Microsoft Windows 7
Microsoft Windows 8
Microsoft Windows 8.1
Microsoft Windows 10
MAC OS 9.0 or later
Linux Kernel 2.4.2 or later

Device requirements for running the Transcend Elite App:

Apple devices with iOS 8 or later

*Note:

Both USB/Lightning connectors cannot be used at the same time
Performance varies by capacity, user hardware and system configuration.

At first glance it appears to be a run of the mill thumb drive but note the semi-opaque caps on each end rather than just one. The overall dimensions are 2.22″ x 0.79″ x 0.31″ and comes in just under 0.03 ounces in weight.

A very compact device and is very easy to carry around in a pocket or bag. No place to hook a lanyard or attach to a keyring though so keep track of it!

Taking the caps off reveals that one end of the drive has a Lightning connector and the other is a USB 3.1 connector. Sadly, the caps are not connected in any way and therefore are easy prey to loss which isn't a huge deal but the Lightning connectors can be a bit fragile so without the cap the risk of damage increases. Note that you cannot connect both ends to their respective devices at the same time, i.e it's not a conduit from one to the other. One at a time please.