Transcend 1GB DDR500 Memory
By
Benchmarks:
AIDA32 Version 3.85:
AIDA32 is a professional system information, diagnostics and benchmarking program for Win32 platforms. It extracts details of all components of the PC. It also tests the actual read and write speeds of your memory giving a fairly accurate look of true memory performance.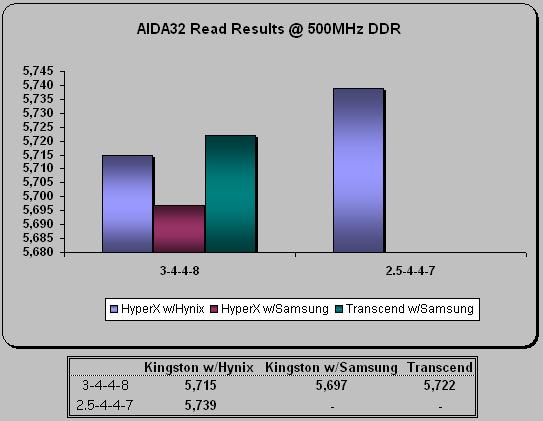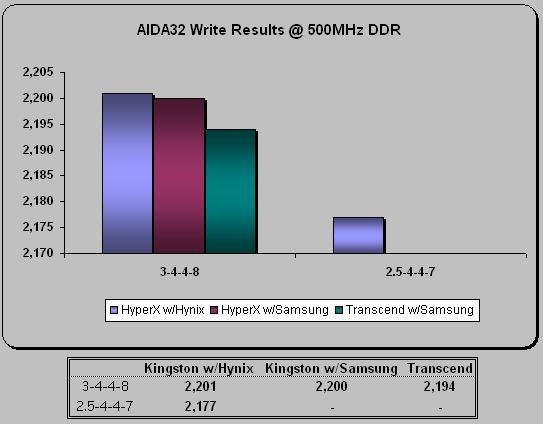 Results: AIDA32 showed that the Transcend modules did very well in the Read tests as it beat out both Hynix and Samsung IC's on the Kingston HyperX modules. When looking at the Write scores both Kingston HyperX modules make a come back and beat out the Transcend modules. Since we are looking at mb/sec on the "Y" axis in this chart it we are only talking about a 7mb per second or a 0.3% performance difference between the modules, which is not a significant difference.
Epic Games; Unreal Tournament 2003:
Using the full installation of Unreal Tournament 2003 along with the newest patch gives us a very nice real world benchmark! We also used [H]ardOCP's UT2003 Benchmarking utility version 2.1. A resolution of 1024×768 was tested in Direct3D on the built-in CPU test to see if any differences could be observed.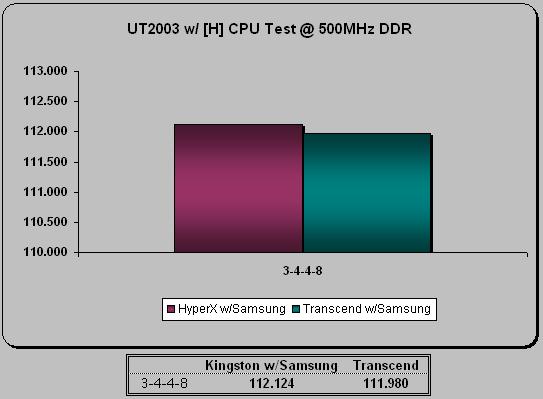 Of course we also used the built-in benchmark utility also!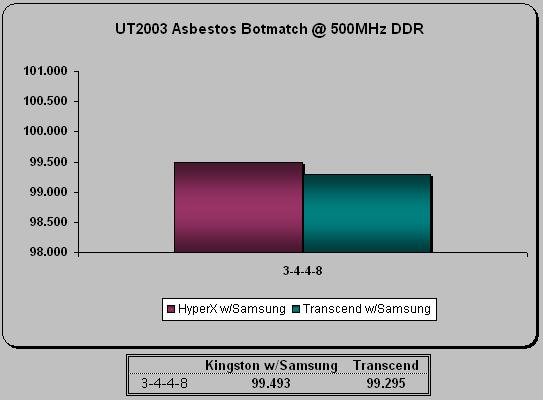 Results: By using the built-in benchmark utility and the [H]ard|OCP benchmarking utility we found that both modules are operating at about the same level of performance. We observed a 0.2 FPS (Frame Per Second) difference after we averaged our 10 test runs.
Conclusions:
This being our first time using Transcend memory modules were pleased with our initial experience. The SPD's were properly programmed and the modules did not throw any errors while RSTPro2 testing. We were able to plug the modules in and they worked the first time. (You'd be surprised what we get!) This was also nice to see from "unmatched" DDR500 modules.
In terms of performance the modules were stable at DDR500, overclocked to a maximum of 513MHz DDR, and could not run a lower CAS Latency (CL) than 3. These results are what we expected and is on par with other brands that use Samsung Revision "C" IC's. The "on par" results is shown fairly well in our benchmarking versus the Kingston HyperX PC-4000 modules with both Hynix and Samsung IC's.
The next time you purchase your memory be sure to check out Transcend and see what they are offering! We look forward to seeing what Transcend has up their sleeve for 2004, as it looks like they are again testing the waters in the enthusiast market.
Legit Bottom Line: Transcend's 512mb PC-4000 memory modules are stable and on par with the leading "enthusiast" lines of DDR500 memory.
If this line of memory does not suit your needs check to see if Transcend has any memory for your individual needs!