Transcend 1GB DDR500 Memory
By
Introduction:
When one thinks of DDR500 memory Transcend is not usually a company that comes to mind, but they have had DDR500 memory on the market for some time now. It is common knowledge that many memory manufacturers are just "sticker" companies, but we were happy to find out that Transcend actually assembles their own modules. If you have not heard of Transcend you should have by now! Their memory line alone includes over 2,000 memory modules for a multitude of devices. Transcend currently does not sell modules in "paired" memory kits for dual channel boards, but this doesn't mean they can't be used on dual channel systems. We used two 512mb modules and made our own "paired" kit just like the old days before the kits were around. We were pleased with the results we found after testing the Transcend DDR500 modules!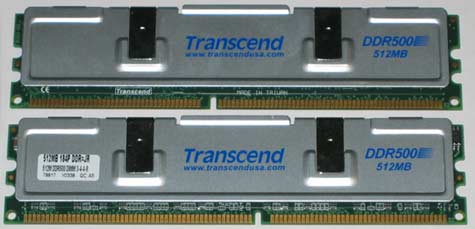 Features:
The Transcend modules came in the common clear plastic clamshell that also contains a warranty information card, a Transcend product guide, and detailed directions on how to install your memory. The 512mb modules we have (model # TS64MLD64V5F) is a 512 MByte, two-bank memory module that has heat spreaders clamped on.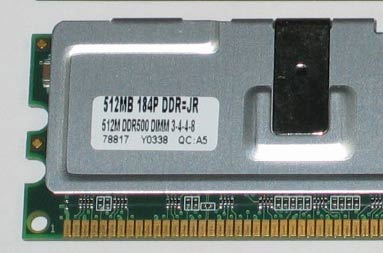 The modules are rated at DDR500 (500MHz) with timings of 3-4-4-8, 1T, but only require 2.6 Volts for operation. This is lower than any DDR500 modules that we have seen! It will be interesting to see if these modules run cooler and see how the headroom is with higher voltages.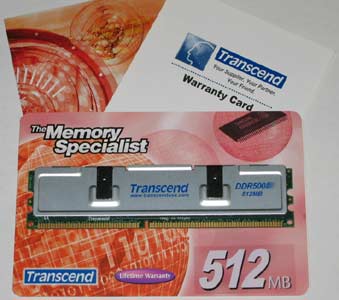 The above image is the "bundle" that each memory modules comes with. The Transcend modules are lifetime warrantied so a warranty card is included for this purpose. There is also an installation guide along with a product guide that showed the thousands of memory products Transcend makes.
Key Features:
Memory amount: 2x 512MB
Access time: 4.0ns Samsung IC's
500MHz (PC4000)DDR Modules
CAS latency: 3 clock cycles
RAS precharge: 4 cycles
RAS active to precharge: 8 cycles
Command rate: 1T (1 cycle)
Aluminum heat spreader for thermal diffusion (Silver w/ Thermal Tape)
Latency: 3-4-4-8-1T
2.6V
Lifetime Warranty