Thermolab Trinity CPU Cooler Review
By
Thermolab Trinity CPU Cooler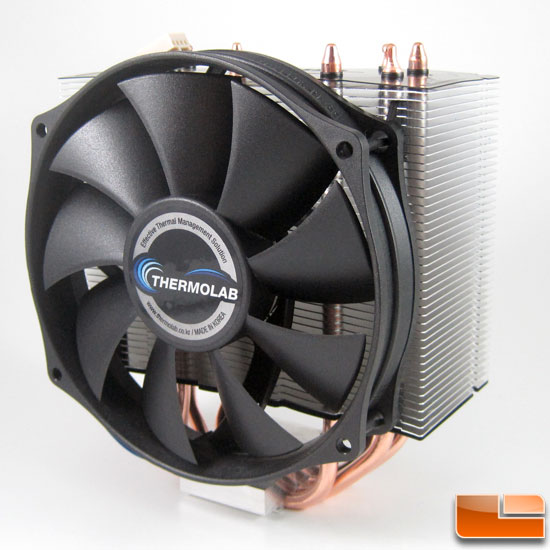 Thermolab was established in 2005, and started by supplying companies with thermal solutions. While doing this they noticed there was a growing need for small PC systems. The server market has several coolers for small systems, but Thermolab noticed there was not much for the SFF PC market, so they developed the Silencer Series coolers. The Silencer Series coolers are low noise, low profile, heatpipe coolers. Thermolab then released their first tower cooler, the Baram in 2009. Today we are looking at their newest tower cooler, the Trinity. Thermolab calls it trinity because its design is a balance of sound, performance, and compatibility.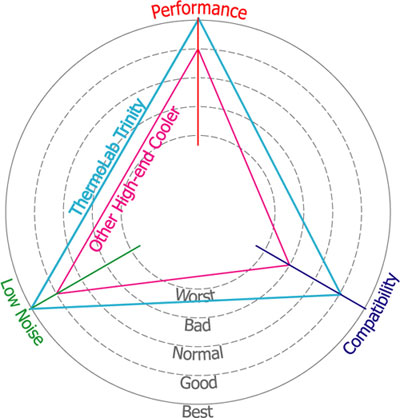 The Trinity is a Heatpipe Direct Touch style cooler, meaning the heatpipes of the cooler sit directly on the CPU heat spreader, more efficiently transferring heat. The Trinity also has a non standard fan. The fan for the Trinity has a 130mm fan rather than a 120 or 140mm fan. It is a nine blade PWM fan that operates in 600 to 1,800 RPM range at 16 to 32dBA, respectively. To aid in the noise reduction side Trinity's fan is mounted to the cooling fins with rubber isolators to limit vibration.
With a height of 150mm, width of 136mm, and depth of 85mm the Trinity is on the smaller side of coolers we have looked at recently. The Trinity also has 43mm of clearance to first cooling fin. Depending on the orientation of the ram slots to the CPU socket, with the 43mm clearance combined with the shallow 85mm depth, use of tall RAM sinks with the Trinity could be very possible.
Specifications of the Thermolab Trinity
Product Name: TRINITY
Dimension(HxWxL): 150 136 85mm
Socket Compatibility:
Intel: 775, 1155, 1156, 1366
AMD: AM2. AM2+, AM3
Weight: 735g
Material: Pure Copper and Pure Aluminum
Heat Pipes: Four 6mm diameter copper Heat Pipes(Sintered powder type)
Dissipation Area: 7,050 cm
Thermal Grease
Color: Gray
Thermal Conductivity: 4.0W/mK
Specific Gravity: 2.6
Operating Temperature: 0~150*C
Capacity : 2g
Fan Dimension: 130 x 130 x 25mm, 4-pin PWM type
Fan Bearing Type: Long Life Hypro Bearing
Fan Speed (PWM Duty):
600-1,800rpm +/- 10% (0-100%) / Performance Mode
600-1,200rpm +/- 10% (0-100%) / Silent Mode : +SC3
Fan Noise Level:
16-32 dBA / Performance Mode
16-24 dBA / Silent Mode : +SC3
Warranty: 1year