Thermaltake Meka G-Unit Illuminated Mechanical Gaming Keyboard Review
By
Using the Meka G-Unit Illuminated and Conclusion
The Meka G-Unit Illuminated continues the Meka G-Unit line by adding backlighting as the biggest feature. With the exception of the G-Unit Red Switch keyboard, all the keyboards in the G-Unit line are pretty much identical, utilizing the Cherry Black switches, which have the heaviest operating force (typically around 60g) requirement to be activated.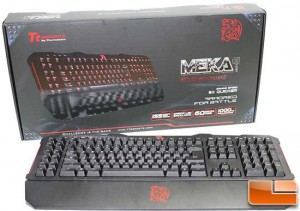 All in all, the Thermaltake Meka G-Unit Illuminated is a great keyboard. The only issue I have with it is the placement of the \ and the size of the right shift (most gamers probably wont use these keys all that often). This takes some getting used to, however after using the keyboard for a week, I have become comfortable with it. Now when I go back to a normal keyboard, itll be confusing.
I did not find a maximum number of keystrokes, creating a macro for an address and phone number came to 68 characters with spaces, and punctuation. Once it is created, you can change the order of keystrokes, or delete them, however there is no way to edit or replace keystrokes. It would be nice if we could edit the macro after its been created. In addition, I did find a small issue with the macro system. It would omit the comma , . While creating the macro for my shipping address, I would place the comma after the city, and once executed, either it would omit the comma, stop the macro from finishing, or would add in a bunch of spaces. A comma would never appear. Thermaltake is aware of this, and is looking into it.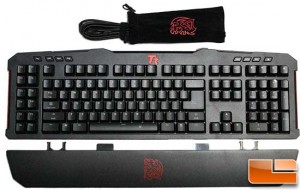 A gaming keyboard is going to take some abuse during intensive battles; as such Thermaltake provides a 2 year warranty on their gaming keyboards. Being priced around $113 shipped puts the price in line with other high quality mechanical keyboard. Keeping in mind the large number of macros, media keys, N-key anti-ghosting capability, integrated I/O ports and the backlighting, the Meka G-Unit Illuminated is worth the price tag.
Legit Bottom Line: The Meka G-Unit Illuminated is very responsive, however the placement of the \ and right shift size takes some getting used to. The macro capability is top notch, and allows up to 20 macros per profile, utilizing the 12 T keys and 8 keys of your choice with virtually unlimited number of keystrokes.