Thermaltake Meka G-Unit Illuminated Mechanical Gaming Keyboard Review
By
Closer Look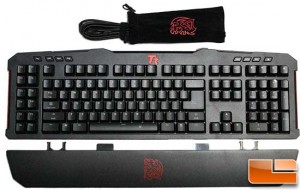 Taking a quick look at the keyboard overall, it looks to be a pretty standard keyboard with a few extra keys. The included detachable palm rest is a great feature for those that wish to use a palm rest, especially during those long gaming sessions. A 1.8m braided cable is included along with a small carry pouch.

The bottom of the keyboard doesnt have anything too exciting. At the top edge are two feet to raise the keyboard. Between the feet there is the cable guide so the cable can come out the opposite direction if necessary. Finally, in the middle is the product sticker with appropriate certifications, and serial number.

The top edge is where we find the necessary I/O ports. The USB mini-b is used for the keyboard cable. There are two standard USB 2.0 ports and then the headphone/microphone ports. In addition there is a cable guide to help guide the cable to the bottom of the keyboard into the guides if desired.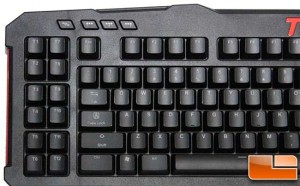 The left edge of the keyboard is where the built-in macro keys are found. These are identified as T1 T12. Previously it was mentioned that the G-Unit Illuminated is capable of 60 macros across three profiles. That leaves 8 keys unassigned for each profile. In Gaming mode, you can select any key to be a macro to make up those 8 unassigned macro keys. In the top left corner, there are four additional buttons, the first selects normal or game mode, while the other three are the previously mentioned three profiles.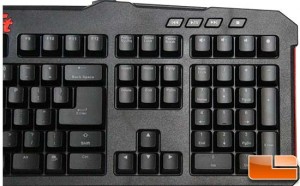 The right side of the keyboard looks nearly identical to most keyboards. On the far top right, the multimedia buttons are found, while right above the number pad is the volume keys and lighting option key. If you notice I said nearly identical, there is a significant difference, the \ and right shift share the space normally utilized for the right shift key. This makes the right shift key about half the normal size and with the new location for the \ it takes some getting used to.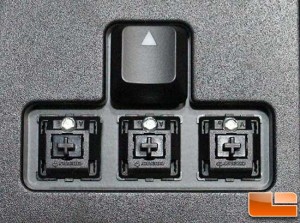 Taking a couple of keys off, we can see the Cherry Black switches. Directly above the switch is the red LED.