Thermaltake Meka G-Unit Illuminated Mechanical Gaming Keyboard Review
By
Meka G-Unit Illuminated Overview
Thermaltake is constantly looking at the market and developing products that exceed expectations. The Meka G-Unit mechanical keyboard line has been around for several years; however, that doesnt stop Thermaltake from expanding the line and making refinements. The G-Unit line has integrated dedicated macro keys, Cherry Black switches, N-key anti-ghosting capability, and media keys. Thermaltake has added another keyboard to the line, the Meka G-Unit Illuminated edition. As the name indicates, it is illuminated, so it has LED backlighting.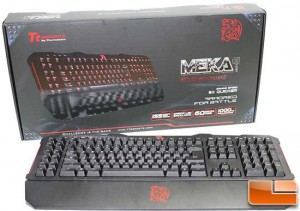 The Thermaltake Meka G-Unit line currently consists of five different models, all of which are slightly different. G-Unit Combat White, and the G-Unit Battle Edition do not have the backlighting, and have a different color scheme. G-Unit, the basic edition, is different in that it does not have the backlighting. Finally the G-Unit Red Switch does not have the backlighting either, however it uses Cherry Red switches, instead of the Cherry Black switches. In addition, it has a little suggested retail price, from $129.99 to $149.99. However, it can be found online at a lower price, around $113 shipped at Amazon.com.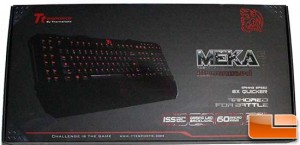 The front of the Meka G-Unit Illuminated box has a nice view of the keyboard with the included palm rest. A few of the major features is called out, specifically the macro capabilities, backlighting, Instant Shift System, and the polling rate.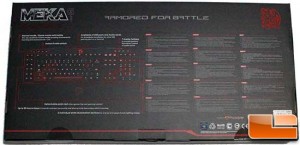 The back of the box provides a little information on what the Meka G-Unit is capable of. With a few of the features highlighted anybody should know what this keyboard can do.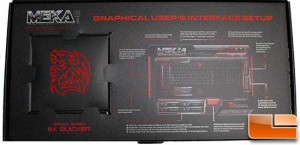 Opening the box a picture showing the software interface is shown, this is the interface that will be used to program and use the Meka G-Unit to its full potential. On the left of the GUI is an envelope that contains the documentation.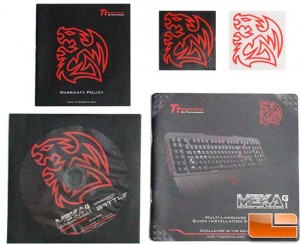 In the little Thermaltake envelope the documentation is included. This includes a warranty policy, two Thermaltake Dragon stickers, a driver CD and a multi-language user manual.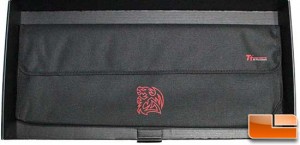 At the very bottom of the box is a nice bag to carry or store the Meka G-Unit. It can carry the cables, keyboard, and palm rest (detached).
Thermaltake Meka G-Unit Illuminated Features and Specifications:
Part Number KB-MGU006USB
Cherry Black Switches
Fully Red LED backlight with 5 settings (off, 3 brightness, and breathe)
64KB on-board memory
1000Hz polling rate
USB with detachable 1.8m braided cable, integrated cable management
Two USB ports and audio ports
Multimedia keys
60 Macro keys across three profiles
Dimension (LxWxH): 553 x 271 x 70mm / 21.77 x 10.67 x 2.76 inches
Weight: 2530g / 5.6lbs