Thermaltake Jing Silent CPU Cooler Review
By
Introducing the Thermaltake Jing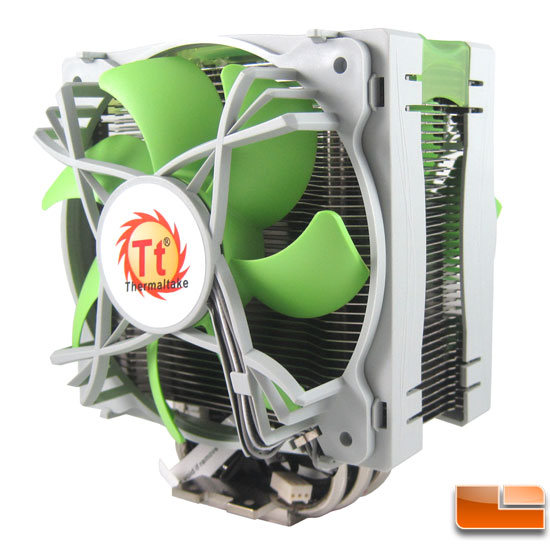 For a little over a decade Thermaltake has been making everything from cases to power supplies to CPU coolers. When it comes to CPU coolers Thermaltake runs to the beat of a different drummer. Their designs in the past all had flare and a unique look to them; one that jumps out in my mind is the SpinQ. Just sitting on the desk the SpinQ looks like it could hurt you. The last couple of coolers they have released have gone with the more traditional tower design, but with Thermaltake flare, like the Frio. The Frio was release as their high-end cooler, but with a 43dBA rating at full speed was a little loud for some users. Thermaltake set out to take the Frio design and quiet it down and the Jing was the result. A dual 120mm tower cooler with a noise rating of 16-28dBA, and the Jing still has enough cooling power for CPUs up to 200W TDP.
Unlike the Noctua fans that use notches on the blades to reduce noise, the Jing has open frame fans. Being open on all sides means there is less chance of turbulence which causes noise.
Features of the Thermaltake Jing
Optimized cooling performance
Large Aluminum fins with five 6mm heat-pipes offer good cooling capacity. It supports to OC 4.0G in i7 CPU.
All nickel plated fins, copper base and heat-pipes for better heat transmission.
2 extremely silent 120mm VR fans, speed from 800~1300RPM
Ultra quiet operation with 16 dBA under minimum fan speed.
Dual unique inhale-exhaust 120mm reverse fan design generates greater air flow to enhance thermal performance.
Vibration-absorbent gaskets decrease noise while operation.
Universal Socket Compatibility & Accessory Package
All-in-one back-plate design for accelerated installation
Universal support: Intel socket LGA 1366/1156/775 and AMD socket AM2/AM2+/AM3.
Superb thermal grease maximizes heat transfer
Specifications of the Thermaltake Jing
Model: CLP0574
Compatibility
Intel 775/1155/1156/1366
AMD AM2/AM3
Supports All CPUs up to 200W TDP
Heatsink Dimension: 131(L) x 123(W) x 162(H) mm (with 2 Fans)
Heatsink Material
Aluminum Fins
Aluminum & Copper Base
Heatpipe: 6mm (x5)
Fan Dimension: 120(L) x 120(H) x 25(W) mm
Fan Speed: 800 ~ 1,300 RPM
Noise Level:
Air Flow: 42 CFM
Max.
Air Pressure
Air Intake = 0.85 mmH2O
Air Exhaust = 1.43 mmH2O
Power Connector: 3 Pin
Rated
Voltage: 12 V
Started Voltage: 6 V
Rated Current: 0.2 A
Power Input: 2.4 W
MTBF: 50,000 Hrs @ 40*C
Weight: 920 g (with 2 Fans)