Thermaltake Core V71 Full-Tower Case Review
By
Thermaltake Core V71 Full-Tower Case Review
Thermaltake has a history of making high quality hardware with the features that computer enthusiast are looking for. As such, they are constantly adding new models to their product line. One of their newest cases is the Core V71, a Full-Tower case designed to support extremely long video cards, multiple cooling options (both air and liquid), and a customizable hard drive cage layout.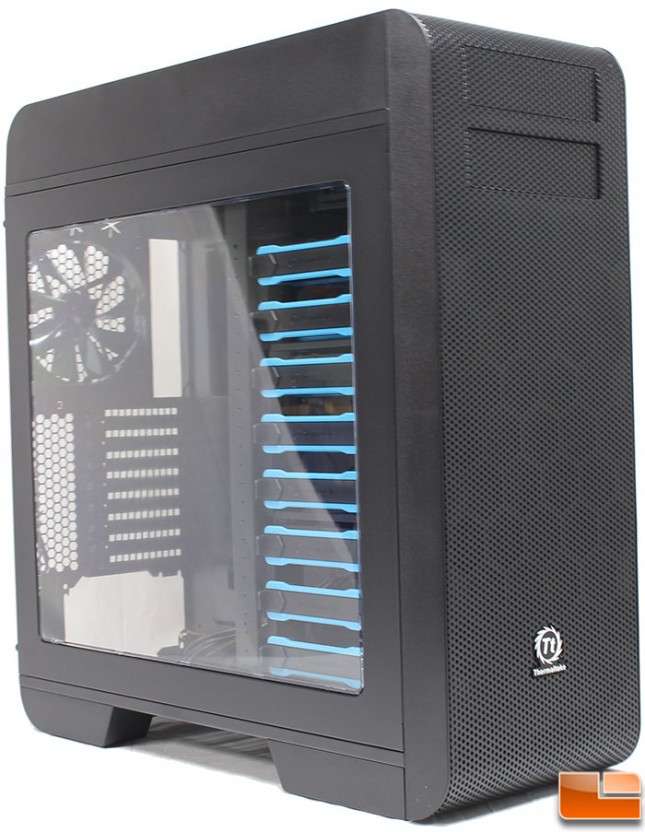 The Core V71 is available only in black with light blue highlights on the 3.5″ drive trays, which provides a nice contrast against the black of the case. Sold under part number CA-1B6-00F1WN-00, it can be found online for $144.99 shipped. The main side panel has a very large window, that should provide a full view of the interior. Inside the Core V71, it comes with support for eight 3.5″ or 2.5″ drives, and two 5.25″ devices. With all the hard drive trays used, the video card will be limited to just over 12in, which can be expanded by removing one or two of the hard drive cages. While the Core V71 comes with three 200mm and one 140mm fans, that is not the only cooling options available to the Core V71, it has a large amount of space for more air cooling, or it can support up to 420mm liquid cooling radiators! Thermaltake also includes a 3 year warranty on their cases.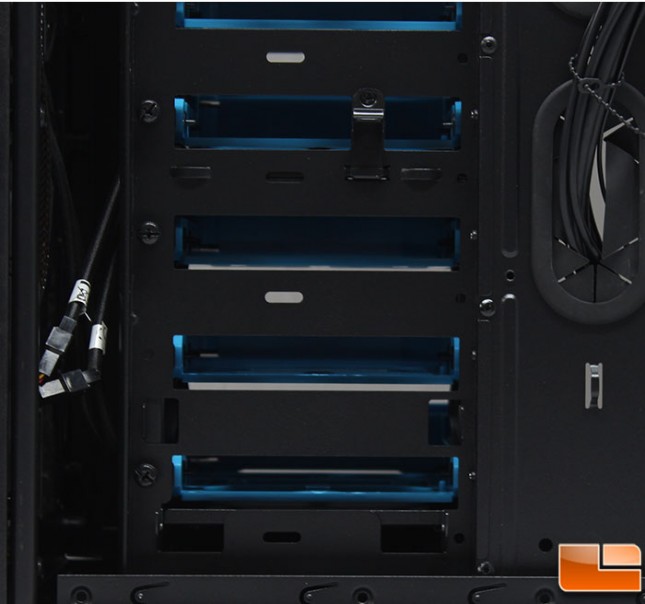 The Thermaltake Core V71 includes many of the features we have been seeing on most cases, which includes the option to hide 2.5″ drives behind the motherboard tray. What Thermaltake has done differently though is taken it a step further and instead of just 2.5″ drives, you can hide 3.5″ drives as well. We'll take a closer look at this feature, and show you exactly how Thermaltake has accomplished this.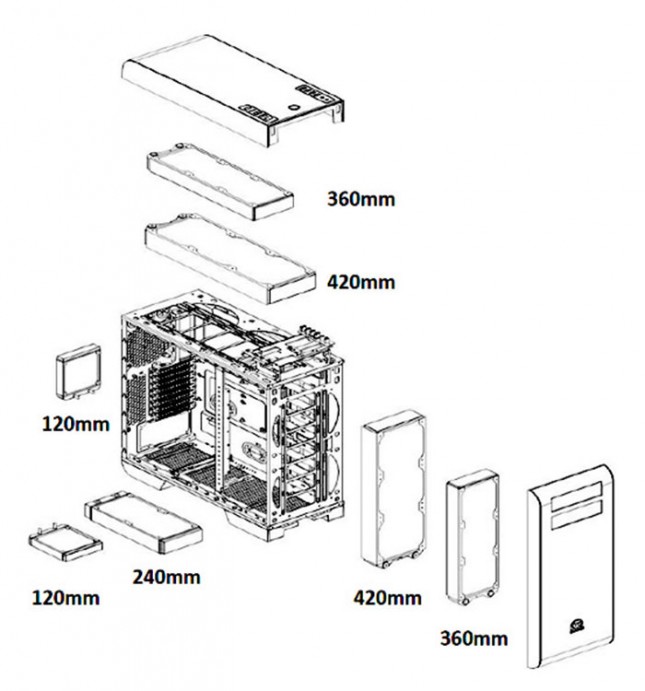 For an enthusiast level case, many features have to be included. One of the important features is a multitude of liquid cooling options. The Core V71 allows for liquid cooling solution to be installed in either of four locations, and allows for 120mm to 420mm radiators. Thermaltake has a nice graphic showing providing an exploded view of the case and it's liquid cooling options.
[youtube]http://www.youtube.com/watch?v=Cp75iD9Mm50[/youtube]
Features and Specifications:
Core V71 pushes the envelope and utilizes a high-end water-cooling solution that feature front 360/420mm, top 360/420mm and bottom 120/240mm radiators to support extreme performance.
A highly customizable 5.25 & 3.5 drive bay feature enables users to freely interchange the 3.5 hard-drive cages to suit their needs and remove the 5.25 & 3.5 drive bays to gain maximum interior space for advance cooling performance or liquid system build.
Thermaltake Core V71 Full-Tower Specifications
Model
Core V71
P/N
CA-1B6-00F1WN-00
Case Type
Full Tower
Dimension (H x W x D)
583 x 230 x 560 mm (23 x 9.1 x 22 inch)
Net Weight
13.2 kg
Side Panel
Transparent Window
Color
Exterior & Interior : Black
Material
SPCC
Cooling System

Front (intake) : 200 x 200 x 30 mm Blue LED fan (600~800rpm, 13~15dBA) x 2

Rear (exhaust) : 140 x 140 x 25 mm Turbo fan (1000rpm, 16dBA)

Top (exhaust) : 200 x 200 x 30 mm Blue LED fan (600~800rpm, 13~15dBA)

Drive Bays
Accessible : 2 x 5.25 Hidden : 8 x 3.5 or 8 x 2.5
Expansion Slots
8
Motherboards
9.6 x 9.6 (Micro ATX), 12 x 9.6 (ATX), 12 x 13 (Extend ATX)
I/O Ports
USB 3.0 x 2,USB 2.0 x 2, HD Audio x 1
PSU
Standard PS2 PSU (optional)
LCS Upgradeable
Supports 1/23/81/4 water tube
Fan Support
Front: 1 x 120mm or 2 x 120mm or 3 x 120mm 1 x 140mm or 2 x 140mm 1 x 200mm or 2 x 200mmTop: 1 x 120mm or 2 x 120mm or 3 x 120mm 1 x 140mm or 2 x 140mm 1 x 200mm or 2 x 200mmRear: 1 x 120mm or 1 x 140mm Bottom: 1 x 120mm or 2 x 120mm
Radiator Support
Front: 1 x 120mm or 1 x 240mm or 1 x 360mm 1 x 140mm or 1 x 280mm or 1 x 420mmTop: 1 x 120mm or 1 x 240mm or 1 x 360mm 1 x 140mm or 1 x 280mm or 1 x 420mmRear: 1 x 120mm Bottom: 1 x 120mm or 1 x 240mm
Other
CPU cooler height limitation: 185mm VGA length limitation: 310mm(with HDD rack) 400mm(without HDD rack)
Before taking a close look at the Thermaltake Core V71, let's check out the packaging and accessories.