Thecus N0204 miniNAS Pocket RAID Storage Review
By
The Thecus N0204 miniNAS
The Thecus N0204 miniNAS is said to be the worlds smallest fully-featured NAS device. Measuring in at just 132 x 88 x 63 mm exterior, one could easily mistake the N0204 as a regular external hard drive. However, look closer and you will see a very capable two-bay NAS device that fits right in the palm of your hand. Thecus manages to make this work by using two 2.5 SATA hard disks, providing up to 1TB of storage. That means that this device uses laptop SATA hard drives or 2.5″ Solid-State Drives (SSDs), which has some pros and cons as you could imagine. At just $149.99 plus shipping, the Thecus N0204 miniNAS also just happens to be the least expensive 2-bay network attached device sold at e-tailers like Newegg.com among others.
The Thecus N0204 is a 2-bay NAS, so you have your choice of RAID 0, 1, and JBOD for this fairly robust and pocketable storage device. Let's open this little guy up and see what comes with it!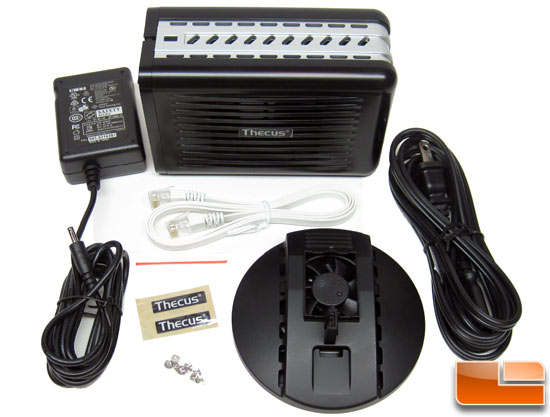 The Thecus N0204 miniNAS comes with everything you need to get it setup and running, so you don't have to worry about buying anything else as long as you already have a switch or router. Included in the retail bundle are a flat Ethernet cable, hard drive screws, power adapter, power cable, and some stickers.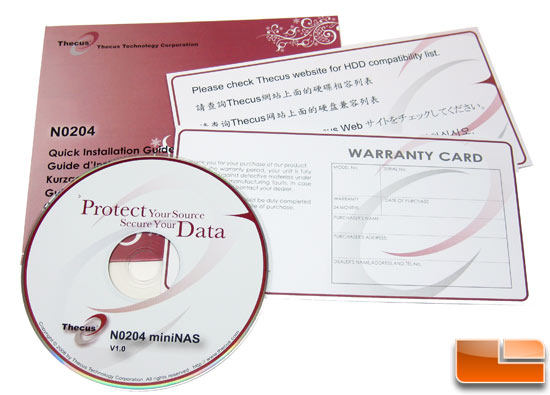 When it comes to paperwork and such, you will find a setup/driver CD, quick start guide, and a warranty card. The warranty card states that the warranty is for 24 months and that during the said time period your unit is fully warranted against defective materials under normal use or manufacturing faults.